Whether you purchase kits to make realistic dollhouse furniture or help kids make it out of recycled materials, making doll furniture can be fun. Start by cutting three strips of plain white paper to the height of your finished book pages (just shorter than you want the finished book to be). Stack the three strips and cut them into pieces twice the width of the finished  pages.  Keep the pieces stacked in threes.
Stack the signatures together with the folded sides facing the same direction.  This will be the spine of your book.
Apply several light coats of Mod Podge around the other three edges to hold all of the pages firmly in place.  Again, pinch the stack until the Mod Podge is dry.
Mask off the spine of the book with masking tape.  I like to use blue painter's tape because it peels off nice and clean without hurting the cover of the book. Play around with different stripes on the spines of the books.  Look at real books for inspiration. 7) lay the wet paper over the surface of the can then make ripples and things to make it look like rough tree bark *see photo below.
11) using the other acrylic colors highlight some areas of the bark and also darken up some areas of the bark and let dry.
12) paint over any areas you feel needs it, highlight more ares or add in more shadow if it needs it. Gunter found a lot of the pieces of furniture on eBay and specialist miniature shops but also made many pieces herself.
Katrina studied planning and design, did the hard yards working in a big office building and then traded it all in for a relaxing (!) life at home with four children.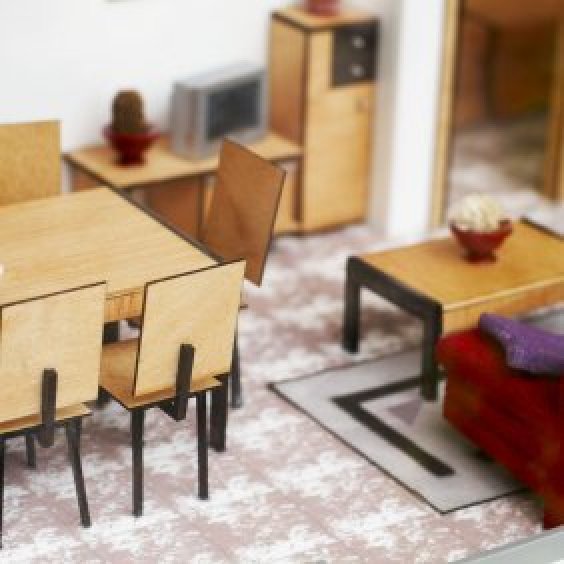 We also have special newsletter-only offers and competitions that are exclusive to Babyology subscribers. Doll house enthusiast Annina Gunter set about creating a doll house that includes coats and shoes crowding the hallway, a bathroom with a veneer of grime and coffee mugs left on the kitchen sink.
Look closely to see lampshades made from pen tops, handstitched bedding and cushions and perfectly scaled plywood replicas of Ikea furniture.
She now fills her time with writing, completing a degree in genetics and taxiing her children around Melbourne to their various sporting commitments (not necessarily in that order). I made a video tutorial that will walk you through all the steps I took to make the bark for both of these.
She managed the iMac by photographing her own computer screen, reducing the size, printing it and sticking it to wood and aluminium foil.
If you can pop the mirror out of a compact without breaking it, it's a good scale for dollhouses. If your child has a Barbie play-set many times items can be used from it in the doll house. You can get small amounts of fabric, which can be bought at a discount in the remnants bin at Walmart.
Magazines and newspaper ads are great sources of scaled down pictures of foods, book and magazine covers and posters. Cotton swabs and round toothpicks make handles for brooms and mops (kite string for the mop head). Hot glue a bead on top for a finial, attach a lollipop stick to the inside center, and a large heavy button to the bottom for a base.
Or can be the base for a teeter-totter, just lie on side and add a short paint-stirring stick (or Popsicle sticks).Take a large 2-piece plastic Easter egg. For the headboard, use cardboard or posterboard, cut to the shape you want for the head of the bed and use batting and scrap material to pad the headboard and attach headboard to bed with paper fasteners. Finish the look by making matching pillows, curtains and bedspread with same scrap material. For the legs, I cut out a 2-d silhouette of what I wanted the leg to look like, wider at the top and bottom for support, cut slits in those 2 areas, then cut silhouettes of the other legs and inserted them into the slits. Cover the bottom with a piece of card or thick fabric, then glue on sliced rounds of cork to use as feet. I have produced a photostory of how it was made, if you're interested in seeing it or getting tips please contact me and I will be more than happy to send it you. You can kind of tell what I used for everything, and the little table is a cap for a baby bottle with grosgrain ribbon wrapped around it. Also, I am going to add wood trim for crown molding at the top of each room, as the paper is not large enough to cover to the ceiling.