You must have JavaScript enabled in your browser to utilize the functionality of this website.
The sign is very good and i was pleased with it.I thought the postage charge was high the parcel was very very light i did think it would be heavier when i saw the charge for postage.
A man's shed can be a mysterious place where all matter of things that don't dare mentioning can go on. Makes a great birthday present for Dad or even Grandad on his special day or perhaps a Father's Day gift idea.
A personalised shed sign made from rustic, recycled, fencing wood (20cm x 12cm) Personalised using a weatherproof, paint pen in black. A fabulous gift for birthdays, fathers day,, new shed, retirement, anniversary or just a nice surprise for someone! This quirky, rustic sign is made from recycled fencing wood and painted with a weatherproof, water-based paint in cream. As we are using recycled wood there may be knots and slight indentations which add to the character of the sign. Lovely seller, would highly recommend, went out of way to make sign extra special and they loved yet.
Loved the sign but the personalised gift tag wasn't even as good as I could have done myself!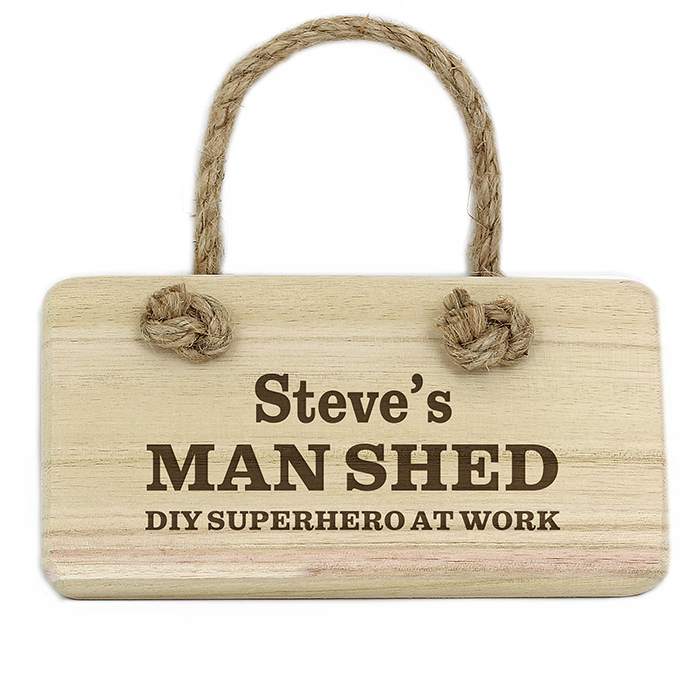 Grandad loved it - and it's progressively harder to find him interesting presents at his age! Really happy with the sign, arrived promptly and message on it was exactly as I had requested. Thanks for your feedback and we're sorry to hear that you're not totally happy with your purchase. Please contact us via your order enquiry if you have any additional comments or if we can assist you further. More rustic than I thought, but none the less pleased and so was my son-in-law with his present.
Nice item but not as high quality as I was expecting- you can see the pencil marks through the paint where the letters were stencilled. If you know or live with someone who likes nothing better than pottering in the shed, then this personalised wooden sign makes the perfect gift. It is slightly distressed and hand written in a whimsical, childlike style using a black, weatherproof, paint pen.
We do stress we use recycled wood, the wood is sanded multiple times and painted multiple times with weatherproof paint. Although we hand write every sign, as in all sign writing, we use some pencil lines to guide us.

We have carefully selected the best photographs and written detailed descriptions to portray an accurate and true representation of our products.
As stated in the description it is handwritten in a childlike, whimsical font with a weatherproof crafters paint pen used by most sign makers. As a rule each sign is carefully checked before it is sent out to make sure any pencil marks are removed. We thank you for your comments and will be looking into our product photographs and descriptions to see how we can improve them.
The whole process is very time consuming and a lot of effort is put into each sign so we are very concerned when our customers are not happy with the product. It would appear that we missed checking your sign and we offer our sincerest apologies for this. If you have any further enquiries regarding this matter, please contact us via your order enquiry.