09.11.2013
To inquire about the accessibility of SIMS events, such as wheelchair accessibility or seating for those with visual or auditory disabilities, email the accessibility administrator.
SIMS wishes to thank Cora Edmonds and Craig Rowley for the use of their photography throughout our website. The Seattle Insight Meditation Society (SIMS) is a nonprofit organization founded by a group of longtime practitioners. The mission of Seattle Insight Meditation Society (SIMS) is to offer the Buddha's teachings on insight and awareness to all those who seek them and to support a spiritual community centered in the Pacific Northwest.
Affordability – SIMS is sustained by the generosity of the sangha, allowing it to make the teachings freely available to all regardless of ability to pay.
Welcoming Community – SIMS values diversity and is dedicated to creating a space that welcomes all people. Service – Recognizing the interconnectedness of all beings, SIMS values service as a living expression of the dharma. Living the Teachings – SIMS encourages living the dharma and deepening our understanding through all the challenges of life, at all times and within every environment.
Environmental Stewardship – SIMS promotes expanding our conscious involvement to include stewardship of the planet and its natural resources. The term "Insight Meditation" refers both to a spiritual practice shared by all forms of Buddhism, and to a particular historical Buddhist tradition. As a spiritual practice, Insight Meditation helps cultivate the qualities of mindfulness and equanimity, which in turn foster the deepening of wisdom and compassion, the gateways to liberation and freedom. This statement articulates IMS's vision for a more diverse sangha of retreatants, teachers, staff and friends. When the Buddha awakened, he decided to teach out of compassion for the suffering of all beings. But it became increasingly clear over the decades that, in terms of racial diversity, people of color were largely absent from our sangha of retreatants, teachers, staff, Board members and volunteers. Larry Yang, an IMS teacher of color and pioneer in deepening our sensitivity to issues of race and their effect on our sangha, told us that this is a long journey. IMS is actively engaged in an organization-wide process, led by its Board of Directors, to deepen sensitivity to issues of diversity so that we can provide an ever more welcoming and respectful retreat environment.
To deepen the understanding and undoing of internalized and institutional racism in order that leaders and members throughout IMS's community can act with wisdom and compassion, informed by sensitivity to racial and cultural realities. To enhance the sense of welcoming, community and inspiration that people of color feel about practicing and serving at IMS. To offer the teachings in a way that resonates with a racially diverse sangha by enhancing cultural sensitivity on the part of our faculty and by increasing the number of teachers of color. To define organizational strategies for sustaining focus on our diversity vision and carrying it forward. Generosity is the first of the ten parami, or qualities of character, that the Buddha taught his students to cultivate.
Giving is said to benefit both the giver and the receiver – the giver practices sharing and letting go, and the recipient practices acceptance of what is presented.
Here in the midst of contemporary Western culture, our teachers are continuing the ancient Buddhist monastic tradition of freely offering the teachings.
There is an opportunity to offer contributions to the teachers and to IMS at the end of your retreat, as well as anytime throughout the year.
Whenever you are inspired to offer a donation, you join a community directly engaged in alleviating suffering and bringing greater wisdom and compassion to the world. Joseph Goldstein '65 answers questions during a mindfulness meditation retreat at the Insight Meditation Society in Barre, Mass. In 1975, with colleagues Sharon Salzberg and Jack Korn-field, Goldstein co-founded the Insight Meditation Society in Barre, Mass. The origins of Goldstein's interest in meditation can be traced to his years at Columbia and to the years immediately thereafter.
In 1974, Ram Das — another prominent figure in the nascent world of East-meets-West spir­it­uality — invited Goldstein to teach meditation during a sum­mer course at Naropa Institute, in Boulder, Colo. Goldstein's work has influenced everything from Buddhist-informed psychotherapy to mindfulness-based stress reduction programs to cutting edge research on meditation and neuroscience.
On the first Saturday of every month a small group of Valley Insight sangha members drive to the New Hampshire Department of Corrections in Berlin to meet with the inmates for an afternoon of meditation practice, Dhamma reflections and discussion. Being a part of the Prison Sangha can be a very personally rewarding and heart-moving experience.
We recently got permission to photograph the group in the prison chapel, the room where we usually practice. The intention in taking and sharing these photos is to help establish a felt-sense of connection between the people in our Berlin sangha and the larger Valley Insight community.
Recently, during our time with the men, we reflected on the roots of the word "conspiracy" as being "to breathe together," and laughed as we considered ourselves as a practice group conspiring towards freedom in the heart of the Berlin prison. This issue includes news about our Forest Refuge Teacher-in-Residence and 2015 schedule, our latest wallpaper image, and two new recipes. The Forest Refuge Teacher-in-Residence plays an essential part in the smooth running of the center.
We're delighted to announce that Caroline Jones will officially step into this position in December 2015. In a few days, on April 1, the Forest Refuge schedule of teachers for 2015 will be posted on our website.
As many of you know, IMS is actively working to ensure that our centers offer an environment that is fully welcoming and safe for all who want to practice or serve here. Key to accomplishing this is to increase the sensitivity and awareness of IMS teachers, Board members and staff around a range of diversity issues. Check out these two popular recipes served at our centers - Muhammara, a roasted red pepper and nut spread, and Vegetable Mulligatawny Soup.
IMS guiding teacher Rodney Smith, founder of Seattle Insight Meditation Society also has a new book out.
For many years, the print journal Inquiring Mind listed local insight meditation sitting groups. Rodney Smith and Teacher-in-Residence Sky Dawson are guiding retreatants at IMS's Forest Refuge this month.
Steve Armstrong, Deborah Ratner Helzer and Mark Nunberg will teach an insight meditation retreat, Awareness with Wisdom, August 1-10. The word "insight" is a common translation of the Pali word vipassana, which means "clear seeing." Developing "clear seeing" helps people live their lives with growing skillfulness and ease. IMS began a quest a few years ago to better understand contributing factors and to fully address them.
Our aspiration is to ensure more places at the table for people of color – in our halls, on our teaching faculty or Board, and among our staff and volunteers. The practice of generosity develops lovingkindness and compassion, deepens awareness of our interconnectedness and encourages non-attachment. Offering a small favor, a kind thought, a meal, or funds to help sustain a meditation teacher or center is a sincere form of spiritual practice. Your donations help many teachers to lead a life devoted to teaching at IMS and also in other parts of the world. We count on your generous support to operate our centers, to provide affordable rates and to give financial assistance to approximately a third of our retreatants. As the first large residential center in the United States to offer seven-day to three-month retreats in mindfulness meditation, IMS annually attracts 2,700 retreatants from more than 80 countries.
Goldstein still feels the influence from the Core Curriculum, his course in 20th-century literature with Lionel Trilling '25, and his classes on Eastern religion and Western philosophy, especially the metaphysics of Descartes and Spinoza. Following this concen-trated period of practice, Gold-stein was poised as one of the few Westerners at the time who possessed such a depth of meditation training.
Ultimately, this experience proved to be the watershed moment in Gold­stein's career from which he began teaching grassroots retreats both in the United States and worldwide, a period of work that culminated in the founding of IMS. Columbia's preeminent Tibetan Buddhist scholar, the Jey Tsong Khapa Professor of Indo-Tibetan Buddhist Studies in the Department of Religion Robert Thurman affirms, "Joseph has been a great teacher for many, many people, helping them enormously. For an initial visit, you can come as a guest (application must be made with the prison and we can assist you with this process). A number of our sangha members keep in touch with inmates via letter writing and, again, this is a wonderful way to put generosity and compassion into practice.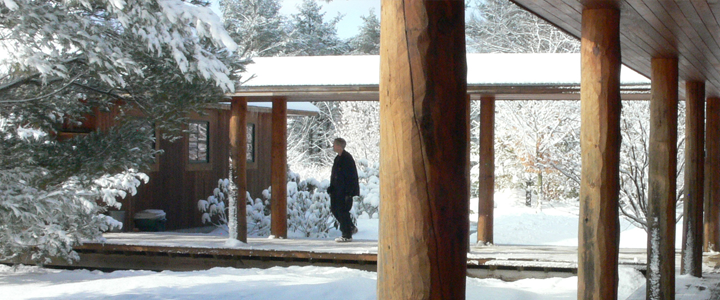 The size of the group in any month varies as does the size of our more local sitting groups – with between 8 and 15 men each month. Just as for most prison happenings, we were not given much advance notice that our request from several months before was being granted this past February.
We have been personalizing this connection in recent months though having local sangha members sending Buddha-image notecards to individuals in the Berlin group in an effort to acknowledge and actualize our shared journey towards freedom. May the men in these photos, so restricted and challenged in their daily life options, remind and inspire us in our practice and in the habit of mindfulness. It also spotlights new books from IMS teachers and an illustrated piece on retreat life by artist Maira Kalman. The person in this position not only guides retreatants in their practice for many months of each year, but also provides much-needed continuity as visiting teachers come and go. Applications from experienced meditators for a personal retreat next year will be accepted from that date on. Undoing racism trainings and acquiring greater cultural competence are vital aspects of this undertaking. Sharon gives us meditations and exercises to help us develop what she calls the eight pillars of happiness in the workplace: balance, concentration, compassion, resilience, communication and connection, integrity, meaning, and open awareness. She captured her experience in a delightful and whimsical illustrated piece that first appeared in Mindful Magazine. In this interview with the Huffington Post, she describes how being unplugged from technology during the course deepened her awareness and benefited her practice.
The course took place this past week with teachers (L-R) Christina Feldman, Narayan Helen Liebenson and Madeline Klyne.
Based on the strong attendance at our annual People of Color Retreats for the last 10 years, enthusiasm for the dharma is clearly evident. We are clear that, if people of color feel IMS is just like many other predominantly white institutions in the country, then it cannot be a true spiritual refuge.
It is vital that these voices be included in shaping IMS's culture and future, so that this refuge continues to be vibrant for generations to come in this increasingly multicultural nation and world.
Your gifts also allow teachers to take time for their own practice, ensuring that their teachings are continuously enriched.
And while some people might question the relevance of spending even seven days in meditation, Goldstein speaks resolutely to its benefit: "The practice here [at IMS] revolves around what the Dalai Lama calls the art of happiness. His recent book, One Dharma, has been influential in reducing divisiveness and sectarianism in the extremely diverse American Buddhist community.
To be a regular visitor, you must first attend the New Hampshire prison volunteer training which consists of an afternoon of learning details of how the prison operates, etc.
A few of the men in the group have been participating regularly for almost all of the nine years while some men are newer to the group and some more sporadic in attendance. We encourage you to participate in our programming survey, and check out retreat spaces available and job openings. We look forward to welcoming Caroline to IMS - although not yet in the new role, her first teaching month will be in April next year. What actually occurs when we slip beyond consensus or conventional reality, and why would we undertake such a journey? As a result, the Buddhist Insight Network (BIN) has initiated an online, interactive and searchable database for insight meditation communities and sitting groups around the world.
It's about understanding ourselves — our minds and our emotions — deeply enough so that we know for ourselves the causes of genuine happiness in our lives and the causes that perpetuate suffering and greed. The Insight Meditation Society has been an important force in American culture, and it is well positioned to carry on its work for generations. Long-term volunteer Barbara Woodard happened to not be there; nor was our newer volunteer Sara Goodman. This training in mindfulness gives people a direct experience of this, rather than simply an intellectual understanding.