17.11.2014
Short scripts can become mantras, or words to be repeated again and again, slowly and calmly.
Continue with your natural breath, feeling the air enter through your nostrils, then exit through your nostrils. On the next inhale, feel the belly rise, then the ribs expand and finally the chest lift, coming to the top of the breath below the throat.
With the third exhale, begin to feel the breath as a wave coming up from the belly and rising to the top of the breath beneath the throat.
Hold this breath for two counts, then let the breath go in a wave from the chest out the belly.
Continue with this wave-like breath, rolling in and up, then counting to two, and rolling out like a tide. Finish a final cycle of this breath and after the complete exhale, return to the natural breath.
As you begin awareness of your breath, start to notice what thoughts are going through your mind.
Do not get caught up in your thoughts, but just begin to notice them as they travel across your mind.
Find a large, leafy tree and begin to descend from the sky to land safely and softly on the tree branches.
These scripts can be adapted to fit your own personality, using language you find comfortable. Meditation techniques vary from person to person, but using a guided script for meditation can help demystify the practice and also ease you into regularity. Last month, two (awesome) colleagues and I led a "Week of Mindfulness" for our 1st, 2nd, 3rd, 4th, and 5th graders. After Winter Break, I asked our four Kinder teachers if I could use my time with them (average of twice a week) to bring mindfulness practices to the kids. Awaken that lightness in each part of the body, from the top of the head to the tips of the toes.
Practicing meditation for even just a few minutes a day can help with mental clarity, bringing about a feeling of calmness and centeredness.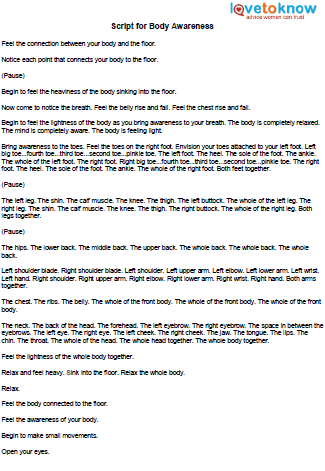 The words will help you remain focused during meditation, so you can aim to stay in the present moment to bring about greater awareness and full consciousness. You can make each script yours by adapting the language to suit your style and personality. Ten of the 15 teachers who responded to our survey said they have continued mindfulness activities in their classroom, ranging from 1-2 times a week to 4-5 times a week. One hundred percent of teachers who responded to our survey said they would like to learn more about how to bring mindfulness into their classroom.
The book talks about the "monsters" inside us that create various emotions throughout the day, and how not the "feed" the monsters. Inspired by this, I brought in a wolf puppet as my "monster" and visually showed how when I get angry, my wolf starts to snarl and growl and moves up from my stomach into my chest and finally into my throat, which makes me want to cry or yell.