03.12.2013
From the stunning lake stage accessed only by boat, to the hidden forest wonderlands, random acts of debauchery, or art installations; every minute detail of the festival is well thought-out and integral to the Garden magic. This year's theme was Superstition, and it is one of the only UK festivals where the fancy dress is as important as the programming.
The Colo-Silly-Um, as you might guess from the name, is where you find much of the debauchery, from blindfolded boxing to naked mud wrestling, and even a game involving poppers.
With so much going on it can be easy to forget that SGP is still a music festival at heart. An example was the feel-good sounds of group General Roots, who made us get our skank on to sun soaked reggae beats. On the main stage The Strypes, a young four piece rhythm and blues band, blasted out their classic rock n roll sound that was reminiscent of a 60's Dr Feelgood. The festival is well-known for their fireworks, and this accompanied with the lighting of the Lake Stage this is by far one of the highlights of the weekend. Another highlight of the weekend was the discovery of secret gigs and, like Glastonbury, many artists turn up just for the sheer love of the festival. This unlikely collaboration was exactly the feel-good set we needed and was made even more special by the intimate setting it was in. However the best performance without a doubt was a short but sweet set from London Grammar on Sunday Night. As well as the live performance SGP also puts on a great dance program with stages such as The Drop, Temple of Boom and Pogoda providing the beats and taking the festivities into the small hours. Once at the end we danced to sets from the likes of Eats Everything, Futureboogie and No Artificial Colours, taking in the summary house vibes under a canopy of lit-up trees. Other dance acts enjoyed over the weekend included Jamie Jones, Damian Lazarus and Matthew Johnson, who rocked the packed Sunday afternoon Pagoda stage with a tougher-than-average set. Regina Spektor finished off a beautiful Sunday night and as we sat on the hill listening to the lovely Samson, we reflected on 4 days of utter exhilaration. The crowd is great, the fancy dress is fun, the food is delightful (the toilets not-so-much), the activities are bonkers and setting spectacular. Set in a 10 acre landscaped garden, bordering a river and lake, The Secret Garden is a garden-party-gone-crazy.
Gorillaz Sound System headline featuring music of Gorillaz mixed and remixed with a visual display, plus Mercury Rev, Marina & The Diamonds, Skatalites, Horace Andy And Dub Asante, Caravan Palace, Dreadzone, Animal Kingdom, Fionn Regan, Eliza Doolittle, Goldheart Assembly, Darwin Deez, Hybrid, Fenech Soler, Example, Killa Kela, Losers, Doorly, Jakwob, Eddy Temple Morris, Cloud Control, The Loose Cannons, High Rankin, Burn The Negative, Tommy Sparks, Killaflaw, King Cannibal, Goldierocks, and many more. This year's theme will be 'Fact or Fiction' with the festival exploring the theories, fantasies, mysteries, legends, visions and illusions that create a rich world between reality and fiction. As well as music there's loads of activities for kids and adults alike, and this event is more of a party experience Parades, Art tents, Walkabout Theatre & Theatre workshops, Big Wheel Rides, Boat Rides, Swimming, Treasure Hunts, Bands in trees, a festival-wide train service, open mic stages and as always, participatory games of all descriptions.
The festival offers restaurants, food talks, cocktail bars, ale tents, massages and the delights (if your pockets are deep enough!) of the Bellboy-served boutique camp ground. The festival is spread out over two sides of a lake with a large main stage area, 'The Great Stage' and then smaller tent venues dotted around, like 'Where the Wild Things Are', 'The Living Room', and 'Small World' which all have artistic decor.
New for 2010 is an entire land for young gardeners, featuring Egg Hunts, Fancy Dress, Discos, Kite Flying, Circus shows & workshops, Jewelry Making and Karaoke. From the minute you walk through the gates it is clear that the aim is to take you on a journey.
Move to dance-off stage and you have beatboxers and chicken dancers, or people who read your bums in the Clairvoyance tent and remember to dodge the pigs racing for their life. Shying away from the big headliners in favour of credible artists, breaking acts or underground musicians, a quick glance at the line-up would leave you feeling unimpressed, yet that would be missing the point.
Their high energy performance and personal nature created a great atmosphere and succeeded in getting everyone moving – a perfect soundtrack to a sunny Friday afternoon. Django Django, who brought their psychedelic rock to the Garden, played their first ever main stage headline set to a roaring crowd, their perfect blend of guitars, synths and visuals creating an infectious vitality.
Slot a 30 minute firework display in between these two and you have yourself the start of a pretty special evening. There are not many events that you can congregate 80% of the audience in one space at once but this is exactly what makes it so extraordinary. We caught an outstanding set from 2manydjs and Jarvis Cocker in the Black Cat, a gem of a find and a climax to the weekend.
Other surprise gigs over the weekend included a DJ Set from Chase & Status, as well as not one but two back-to-back sets from Disclosure, Skream and Artwork. One stage which we spent most of our sunrise shifts in was the appropriately-named Labyrinth.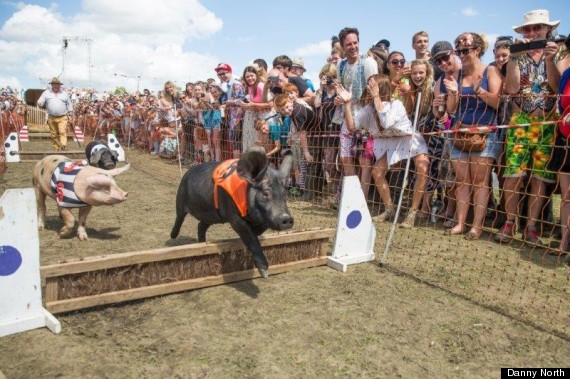 As well as music there's loads of activities for kids and adults alike, and it is more of a party experience. With inspiration taken from Heath Robinson, Escher, and Dali, as well as inventors and scientist who changed the way we view the world. New for 2010 is the Forest, an area of woodland dedicated to acoustic music, barefoot discos and twilight fire circle tales.
The happenings on the main stage side are generally more dancey and louder, and the other side has a more acoustic and chilled vibe.
The crowd is a blend of twenty-something hipsters, old school hippies and music loving families, and they all get involved in the dress-up… bar one or two naturists.
This festival is just as much about stumbling upon genres you've never heard of, as it is discovering new acts or reliving old ones. A bass and garage-lovers dream, the packed set was lively and every drop was met with sheer delight from the crowd.
A hidden woodland passage filled with scenes from Alice in Wonderland made the find even more special, as we coasted our way through pianos, hanging mirrors, hidden doorways and a meeting with the Mad Hatter himself. In fact it's the one downside of the festival as a whole, the sound was just too quiet after hours and sadly ruined some of the sets. But where it falls behind in in big headliners and sound levels it more than makes up for in hedonism and brilliance. The festival has been granted a permanent licence with a capacity of up to 26,000 for each of the four days.
A teen ticket (13-17 years old) is priced at ?110, child aged under 12 tickets are free, and campervan tickets are priced at ?45. There was also a deposit scheme where festival goers could pay 50% of the ticket price for 2010 now and the remainder by 1st March.