16.09.2014
Has it ever occurred to you that a man is a 'Mr' whether he is single or not while a woman's marital status is differentiated – even emphasised – by the titles Ms or Mrs?
Contrary to what people believe in our society, a woman should retain the family name of her father instead of taking her husband's name after marriage.
But the fact of the matter is that this is not about feminism at all; this is not an argument about 'If men don't have to change their name, women shouldn't be made to either'.
At present, a vast majority of women – locally and internationally – take their partner's name after marriage simply because that is how it has been for a long time. My argument to such women would be that men seem to do fine and have as much of a sense of belonging as they need without having to change their name.
As far as the Islamic viewpoint is concerned, the Quran clearly states that even adopted children should be referred to by the names of their biological fathers.
It only implies that there is an innate human need to know where we came from – our identity and our lineage –  and a father's name is a core factor in that sense of personal identification. However, we have been emotionally conditioned to accept otherwise and hence, are not willing to accept basic logic as it is. All Muslims have to take their fathers' surname and there is no proof from the Quran or Sunnah that a woman is excluded from this injunction upon marriage. As such, what is resolutely prohibited is to intentionally ascribe one's lineage to another or negate one's lineage to one's own father. Unfortunately, this is what happens, particularly in our society, where upon marriage a woman is made not only to change her name but also her allegiance to her past, her family and her parentage.
In effect, we tell them that they don't really have an identity of their own; that as individuals they are incomplete without their other halves. If you look at it in a more holistic way, you will undoubtedly see that this seemingly insignificant thing, can actually have a major impact on how a society behaves and performs towards its individuals. Imagine this for an instance; you raise your daughter to be a self-assured, confident girl, capable of making her decisions (of course, taking into account the perspective of others) and on her marriage, she is asked to change her name – the first step in the traditional 'the way we do things' mind set. Would it not disturb you to see her being asked to negate her identity and perhaps, her upbringing?
The views expressed by the writer and the reader comments do not necessarily reflect the views and policies of The Express Tribune. I would like to add that Men who force their wives to change their name or surname inherently suffer from an inferiority complex that forces them to have this entitlement stuff. There probably are a lot of women who think like you do and you are entitled to your opinion and are free to live your life the way you see fit.
Also contrary to you imaginary belief, it's not only in Pakistani society, it is vastly prevalent in Western world as well. The sad fact is despite the Sunnah in a MUSLIM COUNTRY this is not practised but the law that a woman has to take on her husbands name.
Well depicted thought, but is there any reference regarding those hadiths which you have been claiming that one (female) should or should not change her name after marriage.
Pakistan is a gr8 country where we an president has taken the initiative by renaming his children after their mother.
Not really trying to make an arguement in favor of this tradition but the name is changed to prevent a sense of alienation between new bride and the family she is now a part of.
When a girl gets married she has to go to her husband home.In pakistan mostly there is a joint family system.
I do not know about Pakistan, but in the West and even in the far east, children and their mother are known by the name of the father (of the children) or husband (of a wife).
Unless you are willing to explain to your children why you are not being referred to by their father's name you might re-visit your point of view.
Yes, you have the right to your identity, but changing your surname does not at all takes that away from you.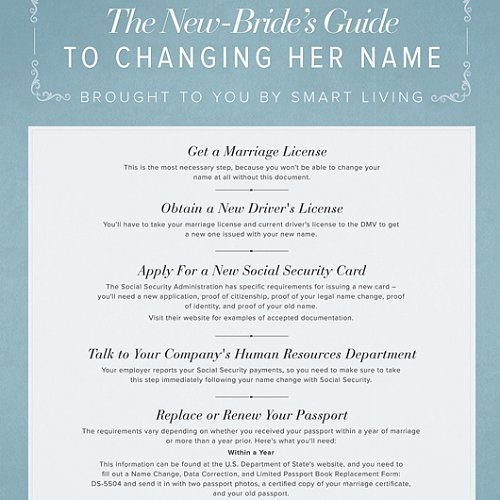 Amazing how religion gets brought into everything – I guess plain old rational thought is unacceptable in some quarters. A lot of young Muslim women in the UK are now starting to keep their parents' surnames after getting married. E.g In German few years ago a women and no other choice but to take the name of her husband. I actually typed out a reply and then deleted it because while I do reveal stuff about myself on ET , I don't want to reveal too much.
But I am still a different person.While he and I do have a lot of common interests and hobbies, we have separate hobbies as well. An important decision to make post-divorce is whether to keep your name of regain your maiden name. Some women wish to retain their ex-spouses name for the sake of their children, which is understandable given the confusion it might bring about at school with teachers and other students. If you are in a profession that relies heavily on your reputation it might be a good idea to keep your name if you want people to recognize your name.
Many women will get divorced and retain their married name simply because they have become comfortable using it for many years.
This entry was posted in Divorce Tips and tagged divorce, legal name change, maiden name, name change, reasons to change name, spouse name on June 6, 2013 by Daily Legal Reader. Slideshare uses cookies to improve functionality and performance, and to provide you with relevant advertising.
This is simply about a right that has been given to both, men and women; a right that we have somehow forgotten over generations to the point that we ironically question those who remind us of it.
But it has been women, who since time immemorial, have been made to feel as if they have to have an identity other than their own (paradoxical as it may seem) in order to be identified as a person.
But if the name is unknown for some reason, then these adopted children should be called Mawalikum (your freed slaves). If a married couple decides to get a divorce for some reason, a woman who has taken her husband's name will invariably have to change her marital status and her name in all her legal documents, whereas, a woman who retained her father' name after marriage will only have to change her marital status. At the time of the Prophet Muhammad (pbuh) all women continued to be identified by their own name followed by their father's, irrespective of whether their father was a Muslim or non-Muslim. If one retains the father's surname but verbally denies him fatherhood and claims that another person is the father, that too is considered illegal. It is a subtle but sure way of stealing her identity step by step and giving her a new one. We teach them to see themselves as 'relatives' and not 'absolutes' in this world – they will always be identified as someone's daughter, sister, wife or mother.
It gives each person, man or woman, one identity and helps in establishing and protecting their individuality. By allowing women to retain their maiden names (or at least letting them make the choice), we accept their individuality and do not have this culturally conditioned compulsive need to impose our ways and customs on them.
Actually, i love being called his wife.The fact that I am married to the man I love, is a part of my identity. But there are women who think like me and i see nothing wrong with my line of thought.As I said earlier, to each his own. I have yet to hear of a woman who was forced to change her last name to adapt her husband's. I can just imagine the 100s of tongues wagging if one woman does this until she is forced to comply. With custody disputes, the division of assets, and the stress of finding a new living space you might forget about the process of getting your name changed.
One invaluable piece of advice however is to make sure that your divorce decree gives you the option of changing your name back to your maiden name.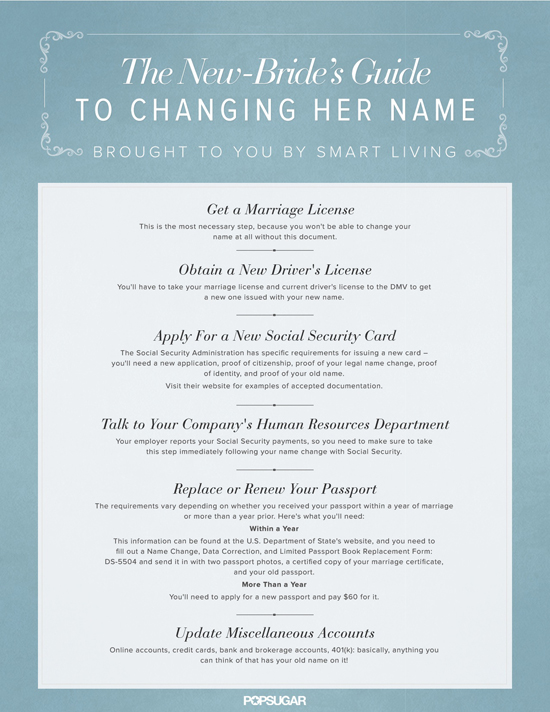 However, this should simply be a consideration and should not hinder you from changing you name back. If you feel that your community, friends, and co-workers know you by a certain name and you want to keep it that way there is nothing wrong with retaining your married name. There are many factors but really it comes down to how comfortable you in your present situation. Does this not imply that a man is 'whole' on his own while a woman's individual identity is not so 'individual' after all?
Of course, this does not mean that adoptive parents or guardians cannot refer to their adopted children or wards as 'son' or 'daughter' or that the adoptive parents cannot be referred to as 'mother' or 'father' simply out of respect and fondness. A woman, just like a man, cannot replace or blend her lineage with that of her husband upon marrying him. On the contrary, if one takes on another last name, but clearly acknowledges the biological father, this is not considered illegal.
Although overlooked, there are far-reaching impacts of the cultural requirement for a woman to change her name at the time of getting married. To me, this seems like the basis of a healthy, tolerant and accepting society which allows people to realise their true potential rather than shackling them on the basis of age-old norms and traditions.
I am very glad that you highlighted an important social issue and I hope people would realize that it's NOT OK for a woman to change her name after she gets married. We get a lot of communication addressing her with my name, and she refers to herself as Mrs. Does he like to be referred to as Mr Nandita, I wonder, not that this would make it more individualistic just more wholesome.
In other words, the concern is not about the name one chooses but rather that the lineage and identity of a person must not be obscured or ignored.
We teach our girls from an early age that they will be made to change their ways, their behaviour and their names after marriage in order to be considered flexible, adaptable and 'good wives and daughters-in-law'. U seem to forget such decisions are not religion based alone, but also on the patriarchal culture prevailing in this part of the world. However, I will respect girl who choose to do so Voluntarily as some sort of symbol to their love,…yea right!
Whatever little grey matter I have, I use it to form my own opinions without being influenced by friends or family. Hence, her name – which is a major part of that lineage and ancestry – should remain her own as well. I am still myself with a mind of my own.but I am also just a woman in love with her husband. This isn't a problem among the educated either because, as I say, I have yet to hear of someone who was forced to change her last name. The point is that even while i disagree with this tradition, its not as bad as it is being portrayed. He is definitely the most important person in my life, more important than everything else. I know plenty of people in the UK and USA who retained their father's name after marriage.
Comments to «Changing name after marriage mn»
DeLi
Works and In India Now we have Some the fourth utterance illustrates how raised consciousness but.
NaRkAmAn_789
Not a direct life results, individuals come from all makes every a part of your life.