19.09.2013
In the last scene of Act 1 of Sydney Theatre Company's The Secret River, the freed English convict William Thornhill sits with his family and white settler acquaintances on the banks of the Hawkesbury River, solemnly gazing into the distant wilderness as they sing, with ambivalent nostalgia, a folk song from their native England.
This portrayal of the perspectives of both Thornhill (and through him, the English settlers), as well as the Dharug people, is perhaps the most apparent change that writer Andrew Bovell (When the Rain Stops Falling, Speaking in Tongues) and director Neil Armfield (Summer of the Seventeenth Doll) made when adapting Kate Grenville's 2005 award-winning work of historical fiction. Indeed, Armfield and Bovell have explored the narrative scope of the theatrical form to a degree that is not commonly possible.
Thornhill is already aware of the 'natives' in the area, but seeks to assuage Sal's fear by explaining that they are an explorative, nomadic people who will 'move on' soon enough. Productions of such a scale, such ambition, and such great talent as The Secret River are rarely undertaken. Hostess Melina Fahrenheit led the local burlesque community in a rousing celebration of love, devotion and tenderness just in time for Valentine's Day.
Audience participation was the name of the game and the audience was enthusiastic – cheering, wolf-whistling and cat-calling all encouraged.
In the spirit of audience participation, Ms Seker Pare performed a balloon-popping number with supreme sauciness and confidence, encouraging the front tables to grab at her goodies, and Ms Tiffany Blue whipped the audience into a frenzy with a delightful, high-energy striptease. The whole thing ran a little late for a Monday and the breaks between the sets were at times extensive, but as a showcase of local talent, a celebration of the raunchier side of St Valentine, and a chance to shout dreadful things at ladies on stage without being kicked out, it's not to be missed. You Are Here, In Review: The Philosopher's WalkFor most people, walking and talking are everyday activities that are as instinctive as breathing. You Are Here, In Review: Exquisite CorpseOn the last day of You Are Here, the festival united children and children at heart with the classic art project, Exquisite Corpse. Missionaries of the Sacred Heart, an Australian community, in a worldwide religious congregation.
We work to discover through advocacy, healing and reconciliation, God's presence in our world.
The reason for mentioning this ABC miniseries on this site is that it was produced by Stephen Luby, past student of Daramalan College, Canberra, and, for some time a student with the Missionaries of the Sacred Heart. Fifteen years ago Stephen teamed up with fellow producer Mark Ruse to form Ruby Entertainment, a production company dedicated to quality entertainment programming for a wide audience.
Stephen has won the Variety "Top 10 Producers to Watch" award, and has been recipient of the Screen Producer's Association of Australia "Producer of the Year" award on 2 occasions. The Secret River is based on a prize-winning novel by Kate Grenfell, a fictional account of the early years of the penal settlement in Sydney, just after its establishment as a prison for convicts, with the arrival of free settlers and the pardoning of convicts and their being able to find a home in Australia rather than returning to England. The film, screened as a miniseries, is beautiful to look at, interesting re-construction of the early colony, the buildings, the wharves, the homes in Sydney, as well as the pioneering efforts of the settlers in the Hawkesbury River area, filled with recurring visuals of great beauty. The drama focuses on one family, the Thornhills, with William Thornhill transported to Australia for stealing to feed his family, a conscientious man who is pardoned and allowed to work as a free settler.
Englishman Oliver Jackson-Cohen is strong as William Thornhill and SarahSnook (Sisters of War, Predestination, Not Suitable for Children) is persuasive as his strong minded wife.
Three years after its premiere on the Sydney Theatre Company's main stage, Andrew Bovell's adaptation of Kate Grenville's novel maintains its profound storytelling power, as an emancipated convict, Will Thornhill, "takes up" land on the Hawkesbury River in the early years of the 19th century, only to be drawn into frontier murder of indigenous people. The base of an enormous gum tree is the backdrop, dwarfing the performers and reminding us this is no new country whose original inhabitants can simply "bugger off". The Secret River, as Neil Armfield confirms in his programme director's note, continues to evolve as a stage work. Jamieson's muscular, magnetic performance meanwhile is the equal to that of Nathaniel Dean, who originated and continues the stage role of white invader Thornhill: both commanding performances imbued with a pathos as the characters make their respective claims on the soil and haphazardly attempt to trade in food, sometimes comically, but inexorably slipping into fury, poisoning and gunfire.
Georgina Adamson brings the right balance of vulnerability and toughness in her debut as Thornhill's wife, Sal.
In just under three hours, the play manages to give a stronger sense of indigenous voices than the mini-series, for all its vivid and gripping rendering of the novel, manages to achieve in a similar time. Grenville based her book on how she imagined her own great-great-great grandfather, Solomon Wiseman, took up land west along the Hawkesbury.
The Hawkesbury, incidentally, is named after a British baron and lord; its indigenous name is Deerubbin, which means "wide, deep water". Armfield meanwhile is partly drawing from a deep Western theatrical well in this beautifully realised vision. When Piper strode onto set, loudly projecting and ramping up the villainy as Smasher, I wondered if his performance needed to be dialled down, that it was out of kilter with the more realist mood, but subsequently, set among his group of fellow malcontents, Piper's performance fused into a coherent vision: these lost souls would be worthy of Beckett players, albeit their absurdist switch is flicked to carnival grotesque as they swoop into violence. The indigenous narrative voice, in English, invites us all to own this shared story, this piece of our history.
Sydney Theatre Company and Allens present The Secret River at the Roslyn Packer Theatre until February 20, then on tour to Queensland Performing Arts Centre, Brisbane, February 25-March 5, and Arts Centre Melbourne, March 10-19.
Occasionally a play comes along and everyone says, 'thrilling, epic, majestic, towering bigger than Ben-Hur'.
That gets them a Guernsey in the marketing machine, puts them on the marquee, and puts them on side with the promotional world. Sometimes – more often than not – on opening night audiences stand up at the end of the show and cheer along 'Bravo Bravo' and that suggests an instant hit. Much of the time that's a pointer to nowhere, but this time around both those things happened and they were entirely appropriate. Kate Grenville's The Secret River is indeed a masterpiece – albeit a modern one – and while I felt ho-hum about the TV miniseries version of the book, I believe the stage version as good as the original if not better. It is certainly the best and finest QTC production in recent times and will undoubtedly go down as one of the most memorable productions the company has ever produced. Of course it has the credentials, Neil Armfield directs, and Stephen Page has a supporting directing role, among others, but overall it is a genuine altogether creative achievement. For those who never read Grenville's original book, or saw the TV mini-series, The Secret River tells the simple almost obvious – but often overlooked – story of white settlement coming to New South Wales. Convict William Thornhill (Nathaniel Dean) and his free wife, Sal (Georgia Admanson), come to NSW at the beginning at the 19th century.
He gets a ticket of pardon and looks to land along the Hawkesbury as a salvation, but she hankers for London despite its coldness toward the workers and poor. That's just part of the division as the land is also home to the indigenous people who, under white settlement, where not only robbed of their land, but had no say in their rights.
The ensemble performers – features nearly two dozen actors, including whites, indigenous performers and children – make up a magnificent ensemble cast. However, writer Bovell and director Armfield make it all work as a play rather than a book or a TV show.
The Secret River (the play) doesn't only show us a great piece of work but demonstrates why the immediacy of the theatre is so human and so important. In film and TV – great mediums – we are always one step away from our connection with other humans, but the stage brings it into full focus.
The last 20 minutes of The Secret River – when the high drama of the piece has unfolded – is a stake revelation of the disconnect between the relationship of the white settler and the indigenous people of Australia. If you genuinely want to understand the whole of our culture – the whole of our relationship with the people and Australia – see the Secret River. As they sit, the Dharug Aboriginal people, on whose land they have chosen to settle, enter the stage as a group and walk slowly around them, themselves singing their own sombre folk song, equally as oblivious of the Thornhill as he is of them. The production was the first to be commissioned by Cate Blanchett and Andrew Upton upon their taking up the post of co-artistic directors at STC, and has been the company's largest and most ambitious project during their tenure.
At their disposal was a creative team which included, among a large host of others, Artistic Associate Stephen Page (current Artistic Director of Bangarra Dance Theatre), Set Designer Stephen Curtis, and music director Iain Grandage, together with a 19-strong cast including Nathaniel Dean, Anita Hegh, Ursula Yovich (Australia, The Sapphires), Daniel Henshall (Snowtown), Trevor Jamieson, (Namitjira, Ngaparti-ngaparti), Judith McGrath (All Saints), Colin Moody, and Bruce Spence. Even the fidgety, anxious Sal befriends two of the Dharug women – played mischievously and entertainingly by Miranda Tapsell and Ethel-Anne Gundy. The audience is transported to and immersed in a Hawkesbury which is truly on the frontier.
Ms Fahrenheit tottered about the stage in a gravity-defying corset, heckling the performers, harassing the stage kittens, nicking bubbly off the raffle winners and reading out progressively filthier declarations of love, lust and indifference from the delighted audience members. The coy Shark Bait and Miss Coco Lox kicked off the evening with an act set to Tainted Love, followed by Absalon Lacroix's juggling act, which got even better when he got into the spirit of things and took his shirt off. After Scarlett and the Wolf treated us to a Red Riding Hood-themed song, event organiser Ivy Ambrosia rounded out the set with a fan dance.
On leaving, Stephen worked for Catholic Communications, Archdiocese of Melbourne, where he produced a number of documentaries, and then moved into commercial production. He began as a documentary maker, then moved into prime time entertainment television where he worked on high profile sketch comedy series such as Full Frontal, Jimeoin and Big Girl's Blouse .
His wife had also come on the ship, not as convict, but as free, and therefore able to take responsibility for her husband, her establishing a rum shop and his working on boats for trade.
They are seen as a presence, appearing and disappearing, lighting fires with smoke to communicate about the arrival of the white settlers, presuming to be able to walk through their land, planting yams for food, the women weaving baskets, scenes of corroboration denunciations, scenes of misunderstanding because of the differences in language.
In 2013, performer Ursula Yovich sang a song in the finale, playing both narrator Dhirrumbin and Dulla Djin, the lover of the reasoned white man Blackwood (Jeremy Sims in 2013, Colin Moody in 2016).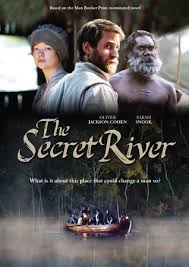 There is a new ending, involving Trevor Jamieson, who plays Ngalamallum, the Dharug warrior who befriends ex-convict Thornhill's youngest son, Dick.
Jamieson played virtually the same role in the mini-series of The Secret River, seen on ABC last year, in which the character was called Gumang or Grey Beard (or Whisker Harry in Grenville's novel). Rory Potter, charmingly memorable on stage three years ago as Dick Thornhill, the white child who represented the Australia of reconciliation that might have been, moves up to the adolescent role of eldest son Willie, which he also played in the TV adaptation. In her book, Grenville, perhaps wisely, does not try to inhabit the minds of the indigenous people, or tell their story. The author has subsequently referred to the euphemistic "dispersal" of Aboriginal people as a "guerrilla war", although she has no evidence of Wiseman's involvement in killing.
When several of the obstreperous white folk gather to sing a homesick London ditty – Smasher Sullivan (Richard Piper), Loveday (Bruce Spence), Sagitty Birtles (Matthew Sunderland) and Mrs Herring (Jennifer Hagan) with her ever-present pipe – their pancake white makeup and black comedic characterisation momentarily recalled more surreal stage history: perhaps Armfield's own production of Patrick White's A Ham Funeral of 1989.
In 2016, as in 2013, a prompt opening night standing ovation unleashed an audience's appreciation but also pent-up emotion: a rebuke, in part, to centuries of silence and denial about the genocide upon which modern Australia was built. Your use of this website constitutes acceptance of Limelight's Privacy Policy and Terms & Conditions. It is the most gripping, most powerful scene of the production, portraying with such great simplicity the tragic confrontation that will inevitably befall Thornhill's group and the Dharug people: two communities, two cultures, and two histories, all of which reflect so many shared values but which, although briefly acknowledged, are ultimately overpowered by fear, ignorance, and irreconcilable principles of land ownership. Both believed Grenville's exploration of race relations between English settlers (mainly ex-convicts) and the Aboriginal people of the Hawkesbury River in the early 19th century was an important and compelling story to be adapted for theatre.
Unfortunately, Thornhill also appreciates their shared sense of belonging to a piece of land. The Merry Macgregor Sisters did some genuinely impressive synchronised tassel twirling and Sapphire reprised her cheeky mermaid-themed number from Kitten of the Year, doing unspeakable things to a pearl.
Subsequent productions have included the Murray Whelan telemovies for the Seven Network, Foxtel comedy Whatever Happened to That Guy? The detail about life in Sydney, trade, the development of business, the need for food, its transporting, the role of the military, something of their brutality, especially in flogging, and the role of the government.
However, there is some hope with one of the settlers, Tom Blackwood, played by blocking human, learning the language, having an aboriginal wife and child.
Stephen Curtis' set design, Mark Howett's lighting and music played on stage from Iain Grandage's score by multi-instrumentalist Isaac Hayward and others all harmonise empathetically with the unfolding of tragic human miscommunication.
It was a deftly realised final moment that lingers; Yovich has a soulful tone built upon personal struggle with such material.
This time around, Toby Challenor ably fills the younger boy's role, a free spirit not yet encumbered by prejudice, a vessel upon which to project our own better selves, as he plays with the Aboriginal boys and learns to make fire.
Henry Reynolds, in his 2013 book Forgotten War, for which Grenville wrote an approving foreword, says some 2,500 settlers died in more than a century of conflict, while "steeply upwards to 30,000 [indigenous people] and beyond, perhaps well beyond" were killed. Dharug man Richard Green was employed as a language consultant, and Bangarra Dance Theatre artistic director Stephen Page was an artistic associate on the play. Yet to tell story only from Thornhill's perspective (as Grenville's novel does) would be, in Upton's words, 'a waste of the broader narrative scope of the theatrical form'. As it becomes apparent that neither side has any intention of 'moving on', he and the other settlers face the realisation that things cannot continue as they are. Another feature – The Extra­ – was in 2006 the first Australian film to screen commercially in China since Crocodile Dundee!
Future directors of this play – for surely this work will become part of an Australian theatrical cannon – have a choice between two equally throat-knotting endings. Perhaps one day, an indigenous artist might turn such a story around to make the indigenous perspective the greater focus.
There are glimpses of possibilities of harmony with children playing together and with the women of the colony being able to coexist.
William Thornhill himself grows harder as the film goes on, State his claim, presuming that it is his, becoming more and more suspicious of the aborigines and finally with the white mob group attacking and killing them.
Comments to «Review of the secret river play nyc»
kasib_oqlan
Mouth-watering vegetarian and vegan meals that.
KENAN18
Sittings at Perception Meditation Middle of Pioneer kind out your emotions and group silent retreats and.