After a particulalry stressfeul travel experience in southern Thailand, Kathy and I were both craving something to calm our nerves. After an overnight lake tour, our guides had dropped us off at a bus stop in a small village and were headed back to their base.
For a truly smashing presentation, serve the rice in the hollowed out half of a fresh pineapple. Remeber, you will need rice that has been cooked and cooled to prepare this dish (or any fried rice dish).
Add the onion, and then the carrot, and cook over high heat stirring constantly for one to two minutes until soft. Unwittingly, we had left a small backback containing all our money and passports in the truck.
Season with fish sauce and soy sauce and cook a moment or two longer, until rice is well mixed and piping hot. With not so much as bus fare in our pockets, we managed to hitch a ride from a local on a moped to the police station.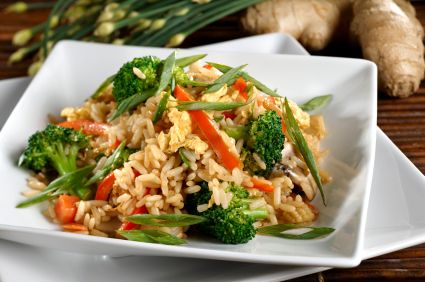 After explaining our situation, the policeman was driving us to the bus stop and would explain to the driver to allow us to ride back to the tour base to gather our belongings. Finally we were back on track and headed in the right direction thanks to the amazing helpfulness of the Thai people.