Losing the weight was simply the result of walking as I ate pretty much anything I wanted, including ice cream every day – well it was hot.
In my day to day life I spend about 10 hours a day sitting in front of a computer – this is not much different from many people.
So for between 4 and 5 weeks I walked about 25km each day – very different from my normal life style.
Not looking after myself whether by socializing, eating good foods or having enough exercise outside does affect my mental health. After each Camino my habits had changed for a while and then slowly the older not so good habits came back. I did not set out in this post to talk about what is wrong with my life, but writing leads where it does. I used to be a long distance runner before an injury and never considered walking to be real exercise.
Every night when I go to bed I appreciate my cosy mattress and soft sheets, my plush pillow and husband who does not snore. I try to see the familiar landmarks of my neighborhood and city with the fresh and curious eyes of a Camino walker.
I am the same with putting most of the weight back on, it is just too easy when at home to eat more than I need.
When I went to Spain in 2010, I went for 6 weeks to just travel around, and explore historical sites.
Like you pointed out, I prefer not to concentrate on weight but on how I am feeling from exercise.
The Camino is what launched my passion for language learning in the first place – something that has enriched my life enormously. The Camino is growing ever more popular with travellers interested in a unique cultural experience.
Mi Vida Loca and Coffee Break Spanish are two engaging (and free!) introductory courses that can help you learn some of the standard tourist phrases. I recommend a 30-40 litre bag with just the bare minimum: a change of clothes, shoes for the shower, a sleeping bag or light blanket, a simple first aid kid, rain gear. The positives – shared meals, stories and laughter – will far outweigh the negatives! You will get fit while walking, and the Camino Frances is certainly not reserved for elite athletes, but I think that some people exaggerate how easy it is. We learned this the hard way when we ran out of food one evening and had to walk until lunch the next day on an empty stomach. We liked to plan our route a few days in advance, walking with a general idea of which towns we wanted to stop in. A few times, we stopped after only a few kilometres due to discomfort or general tiredness. Some things that people walk for are so that they lose weight, so that they have alone time and detachment from their cell phone.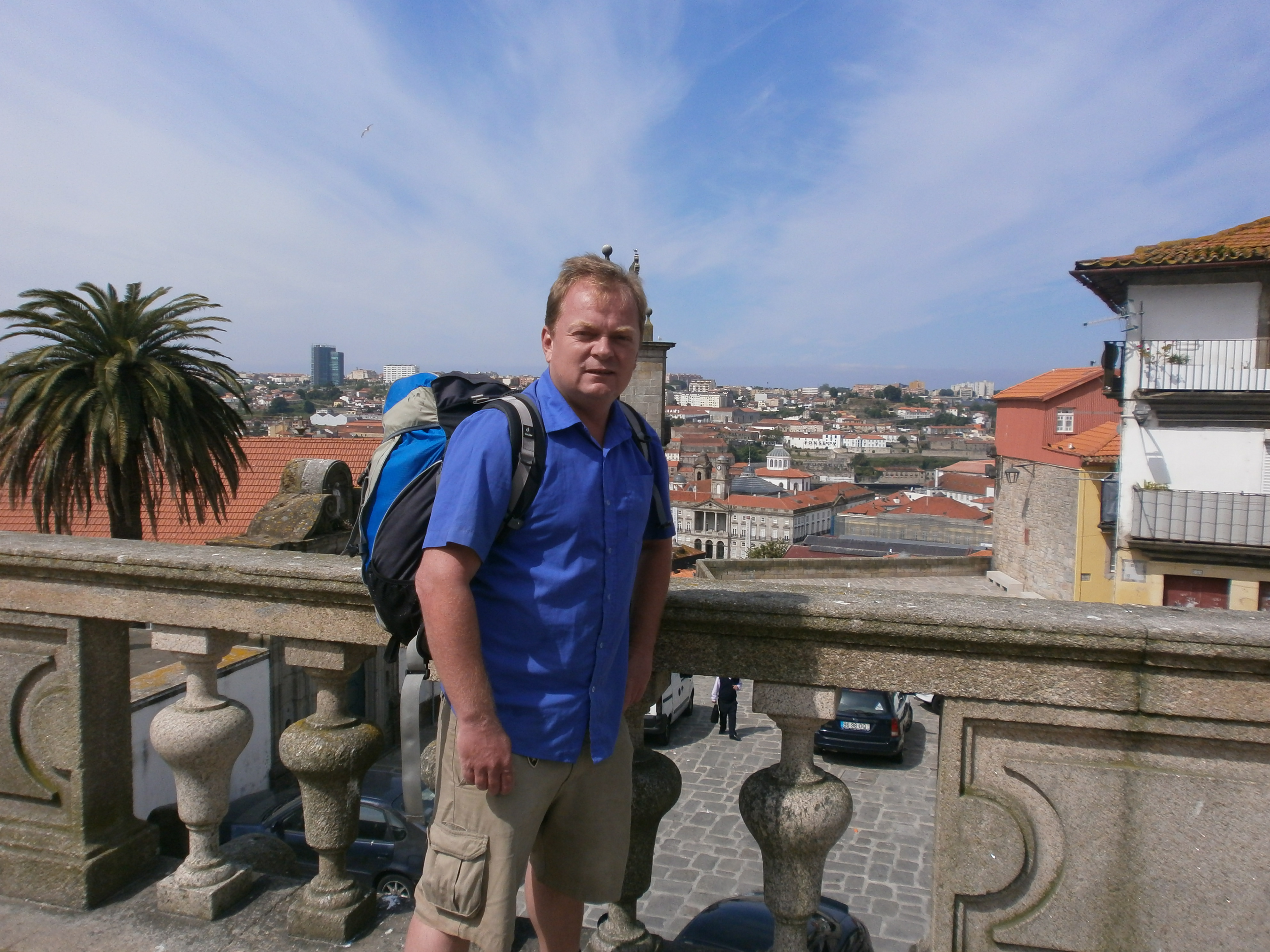 Most of the time I was dirty and smelly, this is what comes from walking 20-30 kms every day and wearing the same clothes over and over again, even though I washed them every day. It is of a country road, alongside a misty green field with a tree by the side of the road changing color. I traveled with my Dad – the first time that we had ever undertaken such a long journey with just the two of us. If you want to dive in a bit deeper and really learn Spanish, you can check out my Spanish from Scratch post for suggestions on how to get started. There are towns and villages every 5 km, so it's relatively easy to get what you need along the way. While a bag might seem light when you're just walking around the neighbourhood, it will take its toll if you carry it for 20+ km day after day for weeks. They will also rustle bags at 5 in the morning, flash light in your eyes in the middle of the night, toss and turn in the bunk above you, and cut their toenails at the table. I worked very hard to get my pack under 7 kg – but it would have been even better to lose 7 kg of body weight.
I personally found it challenging, and I'm a relatively fit person who walks regularly.
We also carried a detailed printout that we received at the Pilgrims' Office in St-Jean-Pied-de-Port, and another one that we received from the albergue in Estella. We met one young man who missed it by taking an alternate route – and decided to backtrack eight kilometres to find it. One of those days, we stopped in a really cool albergue – right next door to a bar with the best  bocadillos (sandwiches) and drinks in 800 km! We slept on mats on the floor in the loft of an old church, shared a simple meal of salad and lentils with a dozen strangers-turned-friends, sat by the wood stove to sing along with a guitar, and exchanged stories and experiences in a half dozen languages.
I spent hours walking in silence, with only the sounds of my footsteps, the wind and the birds as a soundtrack. But for whatever reason you want to hike the Camino de Santiago its personal to you and I can assure you that you can have any reason to walk the Camino.
The reason this is important is because people are more likely to complete the Camino de Santiago if they walk with a purpose, walk for something. I often think of how much I exercised and how little I ate in Spain compared to what I eat at home even when I am not getting a lot of exercise. I discard things more easily because I appreciate more the freedom of having less to be responsible for.
It looks a lot like Galicia and I see it every morning and every night and it takes me back. We traveled slowly, by foot, walking nearly 800 kilometres from St-Jean-Pied-de-Port in France to Santiago de Compostela in Spain. Being able to speak Spanish meant that I could ask for help, share stories, and connect more deeply with the people that I met. We'd drink our fill in the morning at the albergue, fill up our bottles before leaving, and then fill up again any time we found a source of drinking water.
The semi-transparent packing cube held toiletries, notebook, pen, flashlight, first aid kit, phone charger, laundry kit and other small odds and ends. A few times I considered taking a bus and resting for a few days, but in the end I managed to walk through it. I bought a pair of knee braces on day three and a pair of hiking poles on day five.
To start again, I would definitely have done more long hikes at home before heading to Spain.
We felt like family, laughing and talking with the owners for the better part of the evening.
After several weeks of communal living, we didn't hesitate to invite anyone to sit with us for a drink or a meal. Finishing the Camino is not just an accomplishment of walking a long distance, but that you also accomplished whatever goal you set out at the beginning for doing this hike. I did not set out on the Camino to lose weight and I must admit that it never entered into my mind at any time while I was there. I am curious whether starting out with the intention of losing weight as a goal, is realistic.
I didn't weigh myself before I left but I was probably 20 lbs heavier than my fantasy weight. While each is enriching on its own, they're exponentially richer and deeper when combined.
Most night we stayed in albergues, simple and inexpensive accommodations with bunk beds reserved for peregrinos (pilgrims, or people walking the Camino).
The black thing under the baseball cap is an ultralight messenger bag made from a repurposed parachute. I am gluten free because I feel better that way so I did not eat the delicious Spanish bread daily.
After my Camino I wasn't ready for the shock of re-entry so visited Granada and then went South to the beach to find some sun. In addition to what I was carrying on my back, I also wore boots, a full set of clothes, and a small neck pouch with my passport, cell phone, money and cards. So talk to farmers, shopkeepers, other walkers, road workers, policemen, the sky, birds, donkeys. I had four days of relaxing on the beach and it was a great way to absorb the lessons of the Camino and ponder my experiences. I often bought food in the markets for lunch along the way, often wasa crackers and cheese. I wasn't really trying to lose weight but I had read comments by a few women who had actually gained weight on the Camino as a result of too many cafe con leches and too much bread and I knew I did not want to gain weight.