Atlanta wooden boat association membership
I thought you would like to see some pic's of my 8ft Classic a€?Squadrona€™ Clinker Dinghy that I have just recently completed. Hi I just love this dingy and would love to buy a set of plans so that I can build one in Huon Pine here in Tasmania. Well done with your dinghy.I built recently a 3 meter clinker in Ngaio Wellington with marine ply and copper roved to Tanekaha steamed ribs.
Hello,yes I have looked on Ian's site.The only one he has is the 'Auk' which is 7ft 10" if I remember right. If you wish to add more photos (or videos) to your post or if you have any problems loading photos use the link below (there is no need to resize or adjust your photos). So, before selecting your photo please use the 'Message Box' to indicate to which post the photos belong.
It has unfortunately been a very wet summer here even though the hose pipe bans are still in place!
I am contacting the new Mirror association website to have the Mirror 16 re-included as they seem to have consigned us to History.and.Hey WE'RE BACK!! There Is A Mirror 16 For Sale On The Msn Groups Site, However I Do Not Yet Know Where In The World That It Is Located, Or Its Number But One Of You May Want Her..
Originally Posted by goolawah I'd be interested to know of any Mirror 16s still sailing, or under restoration, out there.
We have a small group of about 4 boats here in Brisbane and I get the impression there are very few left - anywhere. Hi goolawah, I own sail number 489 of the Mirror 16 dinghy fleet built in '73.I believe I am the fourth owner and I boughtSN 489 from an old chap in Norfolk, UK, around six years ago. It was damaged on launch recently and on repair attempt it was rotted in some areas under the floor as well as damaged though age and trailing. It's great to atlast find some other mirror owners and I look forward to sharing some idea's and experiences.
Location: Brisbane, Australia Welcome Andrew to our little, but rapidly growing group. We have two Mirror 16s: one built in 1971 and one completed in 1987 which was a Christmas present from grandfather to my daughter last year. Very interested in sharing information; I'm giving very serious consideration to building yet a third for the family -- good things come in three's, don't they?
Location: Brisbane, Australia Photos from John Hope you enjoy these photos.
I am not very good with wood but our local boat yard did a magnificent restoration, not unlike what you have done for LuluBelle.
Location: Brisbane, Australia Mirror 16 Plans Apologies if I seem to be dominating this thread. The work of developing plans is progressing and should be useful for those who would like to build a Mirror 16 from scratch, or those who are restoring one. I last contacted you on the evening I bought my first ever boat, which turned out to be Mirror 16 number 270, and was much more boat than I had gone to buy. When making potentially dangerous or financial decisions, always employ and consult appropriate professionals.
My boat came without a trailer so if anyone here has a trailer they'd like to sell I'd be interested. Given that the weather looks less than brilliant, we have opted to stay home instead and do some cleaning up and minor repairs on Lulubelle after that storm. If you want to have a chat to other Mirror 16 owners in Brisbane, you might like to come along to a meeting of the Wooden Boat Association.
Location: Yoxford Suffolk UK Hi, Sweet16 is name of my M16 I bought from Barrie and sail at Slaughden Sailing Club - Suffolk.
The tree was heavy with dense new spring foliage, the ground was softened by heavy rain, and the wind had been extremely strong. The first thing was to set up a siphon to drain the water out and relieve her of that great weight.
The original plan for this weekend was a messabout with other Wooden Boat Association members, including a couple of other Mirror 16s, from Manly Boat Harbour to St Helena Island (see here), Instead we stayed home so that Lulubelle could have a clean up and a closer inspection. Of course, the worry is that she has been thoroughly soaked in fresh water and that space under the floor needs to be dried out thoroughly to prevent rot.
Some good news: I have finished drawing up the factory layouts for our new plant in Thailand which means I can spend more time on the Mirror drawing. At the moment I need two dimensions: The thickness of the centreboard, and the width of the centreboard slot.
Eventually I'll have oars for a Jon boat, so right now I dont know how long exactly but probably Seven or Eight foot long. I'm at the age where fishing out of a stable comfortable boat with all my stuff right at hand, and oars for propulsion is my goal. The Fold up oars in that photo look like the piece in the middle would come off the upper or lower end of the oar. Originally Posted by danp I noticed a few people on this thread are from Brisbane, I live in Wynnum so if anyone would be able to help me out with plans or tips or even where I should begin it would very much appreciated. I have closed down the web-site where I had posted some of the words and pictures from our Mirror 16 restoration project.
The obvious repairs needed appeared only slightly more than with Snow White (our previous Mirror 10 project). Only then did we discover that the port side was in far worse shape than the starboard, and the centre case was pretty dodgy too. There had been a few other 'bodgie' repairs where someone had tried to repair the floor webs without removing the floor. The patches on the bottom were a bit rough, but appeared sound so we left them undisturbed. The next critical task was to replace the centre-case and this was quite tricky, as we had to make sure of a good fit with the bottom, the for-and-aft spine, and the webs retained on the starboard side. Not surprisingly there was a lot of fiddling about building up the centre case and fitting it to the centreboard with the novel hinge arrangement used in the mirror. Before fitting the centre case I had cut new floor webs and included these in my practice assembly runs. Not shown in the sketch above was a 19x19mm batten along the inside bottom of the buoyancy tank and a 12mm batten along the top edge of each web.
At this stage we (the missus actually) primed the inside and we did a secret trial launch to check for any leaks before re-fitting the floor.
After doing all this, it was relatively easy to repair he transom, replace the foredeck and fix parts of the gunwale.
Originally Posted by thudpucker The Fold up oars in that photo look like the piece in the middle would come off the upper or lower end of the oar. Originally Posted by danp I was thinking of somehow taking out the seats then taking out as much of the floor as I can before I do the floor webs and check the centreboard casing.
Once the junk was removed I enjoyed the work of fitting new frames, centreboard and floor panels. Location: France 2D shape I am very impressed by the work you are carrying out in order to create a 3D CAD model. Good news for the community, that once your work will be achieved you would make the plan available.
It could be done by laying sheet of paper on the chine and cutting or drawing along the contour line. Location: Brisbane The reasons that I want to measure the hull are for reference when assembling the new hull, and to confirm that the existing hull meets the Class Measurement rules.
I will be tracing templates however the bottom panels are badly damaged and distorted so I am not confident that I could trace a correctly shaped template. I want to capture as much dimensional data as possible because once I pull the hull apart all that information will be lost. Once the model is complete it will make it much simpler to create plans and dxf profiles for laser or waterjet cutting. Location: Brisbane Mirror 16 Class Measurement Rules The measurement rules I am referring to are the Class Measurement Rules for the Mirror 16, attached.
I bought the 16581 in 2011: some hull repairs, now hopefully ready to sail after the long Montreal winter. Thud puckers question refers to the air space between the deck (or sole) and the hull of a Mirror 16. I have been sidetracked from the Mirror 16 rebuild for the last few months while I have been repairing and refitting three rotationally moulded kayaks. Over the weekend I got back onto it and started removing the seat panels and creating templates as shown in the attached photos. It is undergoing deep strip and restoration currently, I am replacing the centreboard case and floor support ribs, four on each side have broken. Incidently, I have many original posters and articles about the mirror as well as the original kit building instruction and parts inventory supplied with the kit.
She now looks great and I am sailing her again, even racing her although I am now 74 years old.
The first is how she was in 1970's, the second one is just after she was launched this year. They are only here for four days, so the weekend after this one would be earliest opportunity for me. In principle we should be on a 'messabout' today, with other members of the Wooden Boat Association of Queensland, cruising from Manly to Green island, St Helena etc. Our next meeting is an informal Christmas break-up for the year and we resume activities again in February.
It just toppled over, crushing the 'temporary' carport shelter down on our poor fragile plywood boat. The next step was to start at the accessible 'top' of the tree, now resting across her bow, and lop off the thinner branches with their heavy load of wet leaves. Apart from a good deal of residual dampness and dirt, the only damage was to the yoke I use to hold the dropped mast when she's on the trailer.
When we did the original rebuild we included 16 plastic ports in the floor to make it easier to mop out any water and to aid ventilation when she's not in use.
I have re-started the model from scratch using a combination of the Mirror 16 Class Measurement Rules and photos and measurements of your Mirror. A few sections of the gunwale, some rusty steel screws to replace, a repaint and possibly new ply on the foredeck.
It looked as though the centre board had been wrenched sideways so hard that the floor webs on the port side of it had been smashed ? so we took them out too. We started by cutting some 19mm timber to match the curve of the bottom and patched up the less damaged webs as you can see in the picture. At the suggestion of an other, more experienced Mirror 16 owner, I left more ply and simply cut round holes for ventilation and a little weight reduction. How to re-fit the floor securely given that it can only butt against the bottom edge of the existing buoyancy tanks?
Firstly I fitted a new 19x19mm batten on the outside of the tank along the full length of the cockpit. It was a bit tricky cutting this to a precise fit but at least we now had a sound foundation to work to. I think I will take a similar approach, except it looks like water has pooled under the seats in a couple of places and rotted the floor (there are at least 2 holes under there). If any seat components get damaged in the dismantling you can still use them as a pattern for a replacement. Often it was not obviously rotten, but had deterorated and various ways (mostly de-laminating). I belive that it is number 64 and named Puff, I am just about to make further contact so hopefully all will go well. The kit was supplied from Bell Woodworking Company who I believe supplied the kits for thr Mirror (10'10'') dinghy for a time.
I bought her in 1968 and raced her, winning the UK National Championships then sold her in 1977.
The tarpaulin over the cockpit was destroyed so, in the heavy rain, she had half filled with water. Once the leafy branches were removed it was out with the saw and cutting the heavier branches eventually getting down to the trunk.
Do you have large circular drain ports on Lulubelles transom - same as the plastic ports you have in your floor? Being only 4mm ply, the floor felt a bit flimsy and it was a big decision whether or not to delve into the bilges. Somebody had tried to fix the resulting leaks by pouring in, and sloshing around, some ?gunk? that looked like thick paint.
In the process we discovered that it was very easy to get painted (or should I say epoxied?) into a corner if everything wasn?t assembled in precisely the correct order. Help from a few friends made light work of this and freed up the trailer for some much needed repairs. The dxf points are in 3 dimensions so if you have suitable cad software you should be able to rotate the viewing direction. Some of this had drained out through the centre-case (as it is designed to do in the event of a capsize) but the deposit of shredded leaves had pretty much clogged all exits. Before long enough weigh had been removed from the top ot the tree that the weight of the root bole was enough for remaining stump to pull itself off the boat and back to a vertical position.
Sweet16 has one either side of the centreline and these are permanently open (removed) to allow water to flow out after capsize etc. We did a lot of pondering about how to remove (and replace) the floor without starting the major rebuild that would be required if we removed the seats as well. This took quite a bit of removing but we wanted to make sure we were getting back to the bare wood as much as possible. At first look the starboard side looked the most likely to need work so I cut a larger inspection port under the optimistic assumption that, once our confidence was restored it would be easy to patch. The webs are 300mm apart so I then cut about 25, 300mm lengths of 38x12mm, with ends cut to mach the angle between the side and each web. I haven't heard from him for some time but have now emailed him to let him know of your inquiry. It just remained to remove the mangled carport and fit a new tarpaulin to prevent the next thunderstorm filling her up again. If there had been any sign of rot in Lulubelle's seats, or then floor under them, I think I would have replaced them.
I thought she was a hopeless case but just could not leave her lying uncared for where she was, so I bought her. When this was all glued and screwed in place it formed a strong ?girder? that bound together the rather doubtful remaining edges of the existing floor and provided a solid base to which the new floor could be attached. You only want to do this job once and it doesn't seem worth economising on a bit of ply, then wasting the greater cost of epoxy and paint when you have to repeat work that wan't done properly the first time.
If anyone else would like to do this it would be helpful to have the measurement off several boats. Weather in UK has been grim for sailing this year and other commitments have impacted on this activity.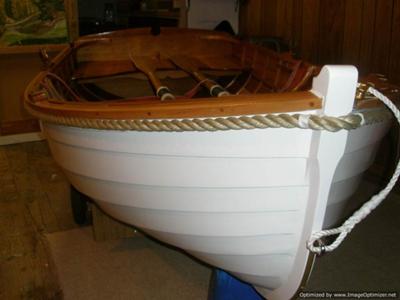 Comments to «Building a wooden sailing dinghy»