Atlanta wooden boat association membership
Following on the pilot event in May (Click here to see more) engineers from major businesses such as Rolls-Royce, SEA, Claverham, EDF, ST Micro Electronics and Dyson joined forces with smaller agencies, inventors and the Arkwright Scholarship to stage a second engineering fair. The focus for the Ingenious project was now shifting towards what engineers achieved working with young people out in the schools. Ashton Park had worked with Claverham Engineers to reinstate the use of centre lathes as a viable part of the Design and Technology curriculum.
Engineers were highly qualified experts for the students to work with to produce accurate machine tooled artifacts.
The M Shed Museum and The Society of Model Engineers is looking into how it can work with the school to engage young people in an engineering club in the L Shed workshops adjacent to the museum. Rolls-Royce plan to commission school students to machine tool the parts for their 'Jet Engine Challenge', one of their education resources.
Five schools within the Cabot learning Federation staged their own Air Show working with engineers from Rolls-Royce, ARUP, CROSS Manufacturing and Claverham. This event is planned to be repeated annually, bringing the different Academies together and a review meeting is planned for September.
A design engineer from Rolls-Royce is taking the plans for the aeroplane that was designed by Steve Smith to produce accurate construction plans and 'dxf' files to enhance the engineering experience as well as help facilitate the manufacturing of the separate cardboard parts. Adam Loxton, science teacher from Bristol Brunel Academy scheduled work with a variety of engineers and site visits to create this exceptional project.
Six of the students spent a week working at M Shed Museum to help set up the Ingenious Engineering Fair and to present their project to other students, teachers, industry engineers and the public. The Ingenious Engineering Fair partnered with a primary school project to build and sail cardboard boats.
The Atlantic County town -- north of Atlantic City, just off exit 48 on the Parkway -- is the scene of this fun-filled, family event, hosted by the Port Republic School Parent Teacher Society.
The Cardboard Duct Tape Boat Regatta will be held at the Port Republic swimming beach, off Park Avenue. Sure, you may have had goulash, shish-kebob, baklava and sarma (stuffed cabbage), but have you had the sweet, doughy tulumba, krofne (doughnuts), palacinke (crepes) or pljeskavica (burger)? Terhune Orchards might be known for apples, and during something called Apple Day -- really today and tomorrow -- that's also the focus.
But at the celebration of the harvest, you also can engage in other fall-centric activities. Pick-your-own apples by the pound will be available, too, in varieties including Empire, red delicious and Stayman Winesap. Centenary Stage Company serves up "If You Give a Pig a Pancake," based on the children's book by Laura Joffe Numeroff, today at 11 a.m.
The show follows a young girl and her pet through a series of adventures, including tap dancing, taking a bubble bath and building a tree house.
TV recaps, movie and music reviews, local dining guides, and the latest in Atlantic City entertainment news delivered to your inbox!
This would challenge students to manufacture aluminium and steel parts that represent the various sections of a jet engine. Aeroplanes made from cardboard powered by 300 watt ducted fans (simulating jet engines) took to the air in the school hall to the amazement of parents and staff. 200 students won through to the next stage where they had to; manufacture a plane, design an airfoil cross section, and communicate to camera about their team's approach and the learning involved. Students worked with deep space engineer, Andrew Bacon from SEA, hydraulics engineer, Phil Rowles from Claverham, Sean Connolly from Rolls-Royce and a group of staff from Airbus.
Over 300 children in Key Stage 2 and families came to M Shed Museum to build cardboard sail boats which they raced as a family event in the Harbour Festival on 21st July.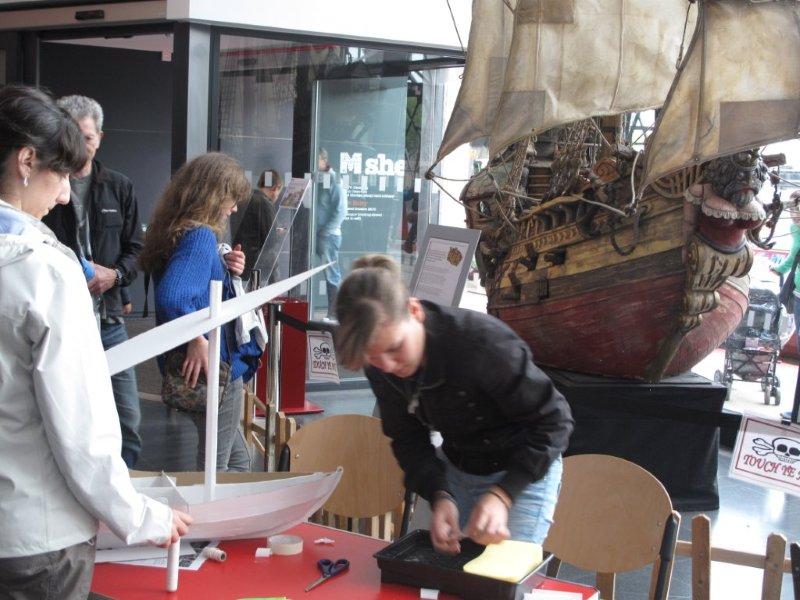 This workshop challenged students to devise machines and gadgets that used air to achieve functions.
While sipping some cider, you can assemble a scarecrow from a selection of straw and old clothes, hop a wagon ride, feed some farm animals or wind your way through a corn maze. These parts interlock and thread together to illustrate how air is captured compressed and ignited within a jet engine.
Year 10 students received a rich and varied in-put that included workshops in school, site visits to Airbus and inspiration from Rolls-Royce specialists before taking on the challenge of launching and landing an egg. This type of engineering can be viewed from the windows of M Shed Museum and there is interest in producing a permanent museum exhibit.
Only cardboard and duct tape can be used to make your boat -- no staples, nails, clamps or screws allowed. The performance takes place at the schools' Little Theatre, 400 Jefferson St., Hackettstown.
Only oars, paddles or wind can be used to propel the boat; oars will be provided if needed. Prizes will be given for fastest time in various age categories, plus most patriotic, most seaworthy and best-looking boat.
Comments to «Cardboard boat building school 2012 vietsub»