Atlanta wooden boat association membership
This event preceded the Technical Meeting on 26th Sept and was very well attended, with about 22 people present.
Most of the officers' roles had already been established in advance but we decided to add an extra position, that of Vice-President, at almost the last minute and that had to be filled from the floor. A new (ish) member, Ed Essers, addressed us on this topic, one that hasn't had a lot of airing with us so far. As with all materials, lofting full size comes first and can take a long time but since it provides accurate patterns for frames, stems, etc, etc, it's essential. When all the plates (planks) are on the hull, starting from the midships on both sides, and working towards the ends, tack the plates together using 6mm tacks about 50mm apart, making sure the plate edges are level with each other. The frames are mostly edge-bent out of 50mm X 4mm strips, rather than cut to curves and Ed pointed out that hydraulic pipe benders are quite cheaply available from car parts shops these days and do the job well.
A square, level building jig for inverted construction comes next, legged high enough to make crawling inside not too difficult. Holes are now cut for portholes, hatches and so on, followed by the welding on of all deck hardware, internal fittings, mast steps, etc. We had a very successful Toolbox Visit to Jay Niven's Lesmurdie home on Saturday, 13th October. When we saw it the hull was complete and partially decked, mounted between rolling pins fore and aft so that we could roll it over at will, (and we did). The single cockpit, the aft deck and the outboard well all await completion, although the floorboards are in already. To cap off the visit Pippa had spoiled us with a magnificent afternoon tea including rich fruitcake, strawberry flan and Pavlova. Of these, about 15 were able to pay their new membership fees on the night, which was also excellent, but don't forget, these fees are now due. Fortunately, Chris Davis, an ex-treasurer, had decided to re-join and he took the position. Although a new member to us, Ed has had a lifetime of cruising experience, including international waters, and knows what he's talking about. In one accident he was blown 50m over a reef into a lagoon, the boat suffering only scratched paint and a damaged rudder (it was a timber rudder). The heat of welding can easily introduce distortion into steel, however, and so the smallest of tack welds have to be used initially when setting everything up. The steel itself should be old fashioned mild with a carbon content of less than 0.2%, preferably pre-blasted and primed.
Use it to grind the external welds down to flush with the plates and finish off with sanding discs. Cabin-top beams, deck beams and other parts can also be bent up at this stage and the bottom of the keel cut out, all from the loft plan. Successful in two ways – firstly, a good roll-up with at least sixteen members, and secondly, a great opportunity to view not one but four boats in a brilliant workshop. The fore-deck and cover board was all down with suitably large caulking gaps left between deck planks.
To withstand 65hp the transom is laminated from two layers of 1″ ply and seemed nice and solid to me. This is basically a wide, flat, partially decked canoe, popular in North America for duck shooting in swamps, etc. At 24′ long these were a fair bit of boat to tow on the road, but quite popular in their day, with class associations and all. And the boats Ed has built have been nominally difficult, round bilge types, most notably a Herreshoff 36. And I believe that repairs in remote parts of the world are much more easily effected in steel than in timber or aluminium. For cutting it Ed has just used oxyacetylene in the past but he's thinking about oxy-propane for the next one.
Again, starting from the midships, inside, and working towards the ends, welds about 150mm long are applied, in the middle at first, then above and below, working up and down to equalize distortion. Then it's time to mark in the gunwale edge with a fair curve and cut off any excess before welding on a tubular rubbing strip.
The planks are placed from the bow and the stern, and port and starboard, simultaneously, to equalize stresses where ever possible.
The builder has done an awful lot of welding, (perhaps a lot of awful welding) but he's saved a bomb on timber fastenings and epoxy and created the toughest medium to large sized boat possible. Originally the workshop, under its previous owner, was the storage and display area for a collection of Rolls-Royces.
Jay is not actually building it in mahogany, but that best describes the type of between the wars, American speedboat. It had been cut too low for even a shortleg motor and so some of this area will be filled in again.
This is a single chine stitch and glue exercise, finished all white, and clearly a great boat for getting sunburnt in.
This will mean that Bob Walsh will have a back up during Ruth's protracted illness and recovery. I thought you'd bitten off more than could be chewed but you came through with flying colours and we are all the wiser. Now, under the stewardship of Jay and his wife, Pippa, the area has been divided across the middle.
The external hull still requires some more filling, fibreglass sheathing and sanding but it's getting awfully close.
Jay admits to not setting the sails too often but has motored it with an outboard several times in the last couple of years. Pipes welded onto bow and stern act as pivots on frames but make sure you've got clearance between workshop floor and roof for the exercise. It gives Pippa a painting studio, complete with en-suite and small kitchen, at one end, while Jay gets a very complete workshop, with plenty of electric power tools at the other.
I felt it could have side seats built into the aft area as well, as it was pretty spacious. The milled straight edge goes down as the leading edge on the hull and the rough-cut edge of the next plank is shaped to meet it. Horizontal stringers, spaced about 30cm apart are now bent up and let into the frames, tack welding in place with the least intrusive welds possible, to avoid distorting the frames.
Come to think of it, varnishing the whole deck with two or three coats before caulking will make removal of surplus Sikaflex a lot easier anyway. Basically the MDF template is laid close to the final position of the next plank and the necessary curve traced from the previous plank onto it using a compass. Each plate (plank) is first tacked to the keel sides and then pulled in to the hull shape using plate pullers tacked to the plate appropriately. The plates can be tack welded to the horizontal stringers, minimally, but not to the frames if at all possible.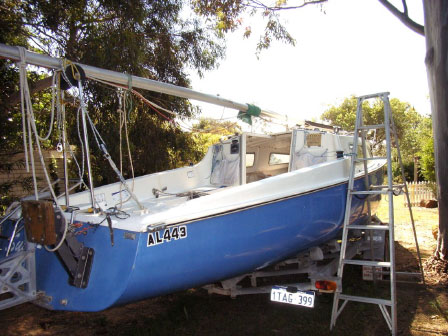 Comments to «Fibreglass boat builders western australia youtube»
AtMoSFeR writes:
09.10.2014 at 22:57:55 Cub Scout Raingutter Regatta permits boys.
Nedostupniy writes:
09.10.2014 at 19:16:22 Mind to always take the time small cruising sailboat ever half my childhood going by means.