Atlanta wooden boat association membership
HERALD FEBRUARY 27 2014 The campaign to save Eastbourne's Allchorn pleasure boats is gaining momentum. Hundreds of people have pledged their support to the initiative to get the Southern Queen and William Allchorn back on the water as a tourist attraction. The two boats were once a familiar sight sailing along the coast off Eastbourne to Beachy Head and back but in the last couple of years and due to the economic crisis, have fallen into a state of disrepair and are now moored on the beach near the lifeboat station.
The plan is to obtain some form of charitable status so grants can be applied for and the long task of getting the boats back on the water can begin. The boats' owner Jason Foster together with mariners Lloyd Stebbings and Daniel Goldsmith are trying to save the boats and the campaign is gathering momentum with support from Eastbourne Borough Council, other local authorities and marine and historic organisations. Lloyd said, "Time is starting to run out for these wonderful old ladies of the sea and Eastbourne is all set to lose yet another piece of its fantastic history and something that has been part of it for the last 65 years. The William Allchorn was a purpose built pleasure boat, commissioned by the Allchorn Brothers of Newhaven, in 1950 and funded by the Ministry of Defence Compensation Fund as recompense for Enchantress, which was lost during the Dunkirk evacuation. The Southern Queen was built in a barn at Westham Village not far from Pevensey Castle and taken almost two miles by road to her launching site in Norman's Bay. HERALD FEBRUARY 26 2014 The Southern Queen and William Allchorn were once a familiar sight sailing along the coast off Eastbourne to Beachy Head and back but in the last couple of years and due to the economic crisis, have fallen into a state of disrepair and are now moored on the beach near the lifeboat station. The next plan is to obtain some form of charitable status so grants can be applied for and the long task of getting the boats back on the water can begin. Nearly all of the fixtures and fittings including life rafts, some of which are handmade and are dated 1921, all the masts and rigging are still in existence, in good condition undercover and in one place near the boats but maybe not for much longer. Long term these boats would need to earn the own keep and pay their own way for their survival so, the initial thought is to run day shopping trips' from Eastbourne to Brighton weather permitting and day cruises to the Isle of Wight and back through the summer months. A campaign to raise ?500,000 has been launched to save the remains of the last two pleasure boats of a 200-year-old industry in Eastbourne. The Southern Queen and William Allchorn have not run for a number of years because of vandalism and the recession.
The boats, which had taken tourists on trips to Beachy Head lighthouse since the 1950s, are rotting on the beach.
Now boat enthusiast Lloyd Stebbings wants to raise ?15,000 to buy them with the rest needed for restoration. Mr Stebbings, who runs Pevensey Bay marina, said in the industry's heyday there were 113 pleasure boat licences issued in Eastbourne. He said the Southern Queen was completed in 1950 and used to take visitors around the lighthouse with her sister vessel, the Eastbourne Queen. The William Allchorn was a purpose-built pleasure boat, commissioned by the Allchorn Brothers of Newhaven in 1950, and funded by the Ministry of Defence. Both boats have many of the original fixtures and fittings including life rafts and masts and rigging.
Mr Stebbings intends to set up a charitable trust and is appealing for private donations as well as corporate sponsorship. He said he has had almost a dozen people come forward offering to volunteer to help restore the boats. The African Queen is a 100 year old steam boat famed for its starring role in the 1951 hit movie of the same name. After falling into a state of disrepair following the death of its previous owner in 2001, the vessel was spotted gathering rust in a Florida marina late last year by Suzanne Holmquist and her engineer husband, Lance. The couple have since repaired the ailing ship and opened it up to tourists and film enthusiasts, providing cruises around the Florida Keys aboard the famous vessel.
It spent most of its first 50 years operating in the waters of the Ruki River in the northern Democratic Republic of Congo where she was used to transport a mixture of hunters, mercenaries and cargo. In the early 1950's the ship was spotted by the director of the African Queen, John Huston, and pulled temporarily from service so it could be used in the movie. By the late 1960's however, the African Queen had swapped the big screen and the rural hinterland of the Congo for the concrete jungle of San Francisco. This idea proved unsuccessful however and the vessel then changed hands a number of times before coming to the attention of Florida attorney and Humphrey Bogart enthusiast, Jim Hendricks Sr.
We started to build a large shed on Gary's drive to do the construction work, but soon ran into problems with his neighbours.
In the mean time I had built the frames required to form the wooden mock up of our hull mould.
Our project stalled for a couple of years due to other commitments, going fishing, lack of finance and going to the pub etc. The desire to carry on however never went away and we were eventually joined in the project by John and Paul. John made room for our project in a corner of his work premises and we set about arranging the hull frames in Xmas week 2005. My-self and John had our trade experience to apply to the construction, but none of us had any experience of working with fibreglass. We were all able to bring individual skills to the table, I would draw our designs and make wooden plugs, John would cut wood and entertain us with stories, Gary would send Paul to brew up and go to the shop, Paul would brew up and go to the shop. If I were to go into every detail of our construction method you would be reading a book, not this short introduction.
I was able to draw and design the boat using a 2D shareware CAD programme down loaded for free off the internet. The design of the hull and super structure GRP layup must be matched to the boats intended use and performance.
The laminate design for our project was arrived at by following rules and calculations as laid out in a book by Dave Gerr entitled "The Elements of Boat Strength". The hull and super structure of our boat is built using 450 gm chopped strand matt and 300gm woven roving bonded with polyester resin and a finishing gell coat in appropriate thickness to the design requirement of each component. A far cry from our original simple design the boat we built has 37 individual GRP components that come together to form the finished article.
Building a mould to produce these components uses the same principle for all, whether you are making a ring deck mould or a simple hatch mould.
Accurate dimensions and angles must first be taken from your design drawings and full size wooden mock ups of the finished unit made. Sticking to one material is a good rule of thumb to avoid your plug (wooden mock up) from moving or warping. Make sure all external edges are rounded off and use filler on internal edges sanded and smoothed to a quality finish.
It is important to use polyester based paint systems so that you avoid any adverse reaction in the GRP later. Once you have achieved a first class finish apply at least six coats of wax, polishing in between each coat. You are now ready to apply the gell coat for the mould followed by between 8 and 10 layers of chopped strand matt.
If this is a large mould requiring strengtheners or turning rings, the mould must reach full cure before attaching these. Make sure to buff the mould surface to a first class finish then apply at least six coats of wax to the mould surface. They say a picture paints a thousand words so here's around 110,000 words worth of pictures for your perusal.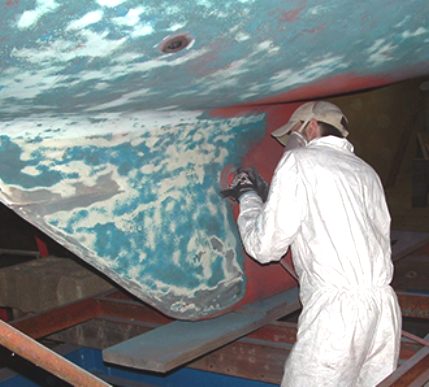 Once the mould is at a class A finish apply six coats of wax and a release coat (first moulding out only). Now add the transome board at this stage it's the same process for inboard and outboard motors. The same process is used to build the internal cabin mould and all other small moulds Like cabin doors, hatch lids, buoyancy tanks etc. Accurate dimensions were critical here, as it was not known if the top would fit the hull correctly until the completion of the plug, the laying up of the mould and the production of the first ring deck moulding.
Not only did the top need to match the contour of the hull it also had to marry in to the millimetre with, the under floor matrix, the front and rear bulk heads and the cut out for mounting the outboard engine. On finally releasing the ring deck moulding, fitting backing plates etc it was offered up to the hull for the first time and to huge relief it fitted perfectly! Wax the plug, apply the release agent and apply the tooling gel coat for the ring deck mould.
Release the mould from the plug, inspect for and repair any problems, wax the mould and prepare to lay up the top for the boat. Offer the ring deck to the hull and secure temporarily with bolts, so that the top will always be in the same place as you lift the ring deck on and off while fitting the deck and bulk head positions.
Once all the main bits are bonded together and some basic fitting out done its time to let the nice new motor, see some day light. This boat has been drifting around in my head for some time now and it's a bit of a surreal moment when she finally hits the water.
Hi there, what a cracking looking craft and heavily laid up it looked.Have you still got the moulds and if so would you be interested in selling them or hiring out. I'm converting a 14' dory into a fishing boat with a side console and rear and front casting decks with hatches for tackle, fuel etc. Edited: pics of dory to give an idea and a VERY rough sketch (pdf) to give an idea of what the proposed deck structure will look like. Just to elaborate on the plan for the deck, I want to have four hatches in the back and three in the front so the number of upright pieces of ply supporting the deck will be limited.
If it is a Dell Quay (or Boston Whaler) type, they are not really meant to have any superstructure, beyond a side console. If it is a flat bottomed French Dory type, you may have to do a few calculations for stability if it is intended for use with standing fishermen. This time of year is not too clever for epoxy work in the UK, the humidity is very high currently. Most dories need to keep the weight as low as possible or stability issues can become a problem. A light sheathing does two things, seal and waterproof the surfaces and dramatically improve abrasion resistance. Location: UK And this is a mock up of how it will look after front and rear decks are added plus seats.
Also, agree on trying to avoid putting screws through the deck (although this had already been done in a few areas) but I'm concerned at removing gelcoat due to my lack of skill. Support spacing depends on several factors, with smaller, more closely spaced structure being stronger and lighter, than larger and more widely spaced arrangements. Location: Hampshire UK Thanks for posting the pictures, I now have a much better idea of the boat. Secondly you wish to use this for fishing, so I assume you wish to anchor the vessel rather than just drift. As PAR wisely says, you should aim at keeping the weight low, to my mind the rear seats are way too high, they should be below the sheerline by some distance. I suspect a small Bimini type foldable spray hood is all you actually need, and a couple of bench seats with internal hatches. Cutting back the gelcoat is easy with a multitool btw possibly a small angle grinder with care. Location: Eustis, FL Picture a set of 1x2's arranged around the perimeter of a seat box, that is covered over. It is a cathedral hull dory, sorry, you probably couldn't tell from the pics so here is another one that shows the hull in more detail. Just to add some more info around intended usage, it will be mainly a river and estuary boat so not intended to take much swell.
It would have been better to use solid timber for the stiffeners as only half the grain in the ply is working for you in this application. As far as the access panels go, a doubler all of the way around the opening will stiffen the deck locally and gives the access panel a place to live. If you are working with epoxy and plan to encapsulate all of your work, you can use just about any kind of straight grained, knot free to mostly knot free wood. Location: Hampshire UK For timber I'd likely use WR Cedar, European Spruce, or maybe Doug Fir for the heavy duty bits. Mdf and plaster fibreglass mold » Thread Tools Show Printable Version Email this Page Display Modes Linear Mode Switch to Hybrid Mode Switch to Threaded Mode Search this Thread Advanced Search Similar Threads Thread Thread Starter Forum Replies Last Post GRP Row Boat Paint - HELP!
When making potentially dangerous or financial decisions, always employ and consult appropriate professionals.
Photos by user 'listentoreason', with default photo number, size, and sorting options (can change). Better way to display more photos from your contacts - you must be logged in for this to work. Flickr requires that I inform you that Flickr Hive Mind uses the Flickr API, but is neither endorsed nor certified by them. If you find your login does not work, perhaps your browser has disabled the cookies that I use to track your session. Any revenue generated through advertisement on this site is used only to cover the cost of keeping the site online, beyond that Fiveprime donates to charitable organizations (also, there are no ads on User pages).
Meanwhile over in Essex Boatyards the GRP specialist shipwright team (who, among other things like building boats, do perfect crash repairs on GRP boats) are modding some Fairline components that I didn't like.
By the way, I haven't yet decided the locations for the smaller dash items like VHF and switches, hence the inconsistencies in the above pics. The glove box lid will be in thick dark charcoal grey smoke perspex, with the edge heat formed, sort of curved over. With your colour scheme, how will you ensure consistency, unless all painted by the one operation? An interesting idea for this thread would be some photos comparing the modifications made on Match #1 with Match #2. Since Match 1 was built, Fairline themselves have changed the Sq78 dash, from hull #78 onwards, to the one in the pic above with the red cut lines. But as you say this extra window should look good on the outside too - it will be black, square corners, fritted and bonded, to match the other bonded windows. I'm going to have the other transom window (the one on the centre door, picture below ) changed to a bonded squared cornered job after delivery too. Although many of these problems can be intimidating, with correct techniques and materials they are not difficult to solve.
We live in a throwaway society and are in danger in losing our values, identity and our history.
Built in 1912 at Lytham Shipbuilding Yard in England, the vessel was originally named the Livingstone and served as a cargo vessel for the British East Africa Rail Company. An American businessman transported the ship to the Golden Gate city where he hoped to harness its Hollywood fame to operate it as a tour boat. I drew some ideas of a basic cuddy fishing boat with a hull based loosely on Gary's wooden boat.
First decide what you want to build, we had decided on an 18 foot deep v sports fisher, with enclosed overnight cuddy, self draining un-cluttered deck able to take 220 horsepower in either inboard or outboard engine form.
The board is bedded in on two wet layers of chopped strand matt and clamped tight until the resin has cured.
The MDF plug was built in nine sections on the bench before being assembled for striking a mould off. I cannot wait to build my own one day, but it's going to take some saving up, sacraficial time from the pub, and a long delay from marriage for sure! I bought it a year ago and was meant to have it up and running within a couple of months but of course that didn't happen.. I'm kind of hoping to avoid the GRP work as I haven't done it before and don't want to screw up. These are the dotted lines in the sketch (I missed the cross support at the back in my rush to draw this).
If you can get a dry workplace with some temperature control you may be able to get this work done now, or you may just need to use the weather windows available through the winter. Areas that will receive high traffic can use a sheathing, other areas can live without it, if desired.
Lastly, always assume there's going to be a blush, even if using a non-blush formulation, if working in non-environmentally controlled conditions.
Primarily it's a bedding compound with aggressive adhesive properties, but shouldn't (again) be considered a prefered glue. I'm not sure she is what we in the UK call a Dory, as she looks like a shallow V hull not a cathedral hull type. To get to the anchor feed over the bow, I would not want to be crawling over a flat deck (wet, at least in rain) with no security and then hauling in a CQR, Fishermans, whatever type of anchor and chain and rope you have. The way to get leg room on these foam filled hulls is to stretch your feet forward, you can't get 400mm down and keep good stability, unless you have a deeper hull. This is not insignificant, you have a Teleflex steering cable(?), two control rod cables (throttle and gear shift) plus a pair of battery leads. This is one area that even RIBs' suffer from, but a lot of genuine Dell Quay boats have this inner transom and a spare well to allow for this scenario without drenching the inner floor.
The layout I am trying to achieve is similar to the bass boats or flats skiffs used in the US with the decks raised to gunwale height fore and aft and strong enough to support a standing fisherman. Especially the hatch lids which will be supported only around the rim and need to be strong enough to be stood on? You want reasonable quarter sawn Spruce or Pine, but make sure it is really dry, most places here sell it at too high a humidity for epoxy shaething without some extra drying. The framing stock should be a moderate density softwood, whatever is available to you and selected for grain orientation and defects of course. To also remove yourself from searches for specific user names, you will need to set your Flickr profile to be hidden from searches. Flickr Hive Mind is currently consuming about 13.6 terabytes of network bandwidth per year (not including the photos themselves)! Fairline changed all the other hull windows when they revamped the Sq78 a year ago, but alas not this one, which is a catalogue Lewmar portlight and now looks out of place on the boat imho. We chose Gary's flat chine deep v planing hull design because we knew it performed well at sea and would accept inboard or outboard engine variants. The board had been given three coats of resin before fitting and will be glassed in place with a further six layers of chopped strand. I've built dozens of vessels in my working career as a boatbuilder, but its always good to see people do it for their own project and pleasure! The rationale for the thicker ply for the deck itself is that there may be 50-60cm between supports so I was worried about the deck sagging. Only the larger 17' version has any cabin option and that was a later modified more V hulled craft. The minimum will be local tenting to help cure, though preventing or keeping blushing down will be very hard. Adhesives can serve the same role, without the issues associated with fasteners, but fasteners tend to hold things in place, while the glue cures, so often are left in place rather than removed and have holes that needs to be sealed.
Useable but with care, a lot of similar stuff is used on the east coast around Southend and also parts of the south coast. Before I stripped off the existing hardware there was a flat area at the front that came halfway up the gunwales and standing on that didn't negatively affect stability too much. I don't think the hull side cleats need to be anything other than the same framing stock, though it's not going to hurt anything other than weight. However the small 13' versions should have one or two cross benches at least one of which hinges and contains a reasonable size hatch. Firstly the human weight is significantly far aft, it looks like one at the console and two behind on the seats? Mostly this is for things such as flares, first aid kit, knife etc etc marine safety stuff, No reason why another sub seat hatch cannot be built into the second cross bench option. This is very far back, normal trim would be one (person) in the bow, one at the console and the third somewhere between. You should mock this up for certain before going much further ie with the real cables and engine in place.
One thing to try and avoid is breaching the hull with a load of screws, this will ultimately lead to the internal foam becoming waterlogged. I won't comment on the finishing as I'm not sure of the layout from your desciption, but it will depend on how hard the surface is used ie scraping anchors, dragging bins etc or just boots, as to how tough the finish needs to be. Assuming you have 20+ Hp and that hull is probably rated for 50, though a modern 25-30 would be more than adequate, the hull will plane. I'd probably use between 50 to 60mm depth by 20-22 for the side bracing, hogged to save weight.
My prefernce if possible is to bond directly to the fibreglass having removed the gelcoat locally. To plane it should not start from a bow in the sky attitude, it should be more level to let the shape provide the lift. This and the battery (which should be covered) should be strapped down so they cannot be dislodged in rough conditions. She is probably a CAT C rated hull, the build plaque will tell you, and give the weight loading permissable which you must include your modifications (weight) as part of, she probably loses any (CE) rating after these mods but may be OK.
Comments to «Grp boat building techniques of»