Atlanta wooden boat association membership
Micro Magic - One Design One of the most popular model yachts in the world, the Graupner Micro Magic was designed for racing. Nirvana - One DesignThe Megatech Nirvana is a popular Ready to Sail boat designed for racing.
Pea Pod 36 - One DesignA simple to build and easy to sail design from the 1980s, made from three sheets of plywood. This is where boats that don't fit in other classes register and track their growth on the way to full-fledged class status. Not a Class as such, but a Special Interest Group that studies the history of Model Yachting and supports all manner of traditional models: Vintage Marbleheads, Vintage 36 inch boats, Schooners and Skipjacks. The series known as "GAMES" (Guildford Administered Marblehead Event Series) was introduced in 2011 to help encourage participation in Marblehead racing with 10 events taking place throughout the U.K.
Eleven skippers took part, nine from local Scottish clubs and two from England who made the long journey north. The Race Officer for the day was Ken Hathaway from Ayr Bay MYC and the scorer was David Smith of Paisley MYC. The varying winds made for many course changes, on a regular basis, keeping the RO busy trying to outfox the vagaries of the conditions, and the skippers having to work hard in their endeavours to find the best racing lines. The wind gradually increased throughout the day, requiring most of the fleet to change down to their smaller "B" rig. By lunchtime, Pat Johnson held a slender lead over Ali Law and the two visiting skippers Roy Stephens from Tri-Services MYC, and Hugh McAdoo from Guildford MYC.
During the afternoon session the two visitors Roy Stevens and Hugh McAdoo gradually and consistently clawed back the advantage and at the end of 19 Races took first and second place, respectively, both sailing Prime Numbers. This was the first time, for many a year, that the Marblehead Class of racing yacht has been sailed in a formal event, in Scotland.
It is hoped, as a consequence of this event, that this class of very fast racing yacht might, yet again, prove to be attractive to new and existing skippers alike, bringing these marvellous boats back to the fore in Scotland. What a fantastic radio sailing event; a record 40 races, baffling winds, slamming gusts, high speed offwind legs right on the edge, incredibly close finishes and high drama right up to the end decided the Championship! Birkenhead MYC were hosts to 19 entries from 10 clubs at their well known model yachting lake in Gautby Road. A 6-8mph SE breeze from the clubhouse end with occasional sharp gusts up to 15mph blew straight down the lake giving an ideal beating and running course in the biggest 'A' rigs. The 50mph SW winds blew down trees in some exposed places, but the lake is in the lee of Bidston Hill and nearby terrace houses and only about half that wind speed was experienced.
It was a very difficult wind to understand and racing was hard work apart from just the physical effort running to keep up with the boats planing flat out over the 500 metre course. Peter Stollery won 2 races with John Cleave, Mark Dennis and Martin Roberts winning one each, along with a rare win for Vernon Appleton with his Italian made 'Monarch'. Competitors arrived at the Norwich MYC site at Whitlingham Lakes for the first 2 day Marblehead ranking event of the 2014 season. After 10 races with 2 discards Brad Gibson was a convincing winner from the consistent Peter Stollery in 2nd and the fast finishing Darin Ballington in 3rd with his 2000 vintage Bantock designed ROK showing the competitiveness of well rigged older designs in the class. At the completion of racing and the Prize giving, skippers adjourned to the Kings Head Tavern in Acle for well received social evening organised by our hosts Vinnie and Val Zammit and the Norwich Model Yacht Club. After an early wake up call with clocks wound forward, skippers once again arrived to warm conditions and winds from the SSE, albeit a little lighter in strength than Saturday.
From there on racing proceeded at a slightly slower pace than the previous day but with no loss in intensity amongst the fleet.
After a shaky start, Gibson in the early afternoon had a run of 3 wins to close the gap on the leading skippers to make things interesting for the final 8th race of the day where both he, Bantock and Stollery had a chance of taking the event.
Another fine prize giving took place with all skippers roundly congratulating the Norwich MYC race team for a fantastic weekends racing to kick off the 2014 Ranking season. Attention now turns to the next Ranking event at the Guildford MYC Abbey Meads venue on April 27th and the National Championships at the Keighley MYC over the weekend of May 17th & 18th. The 2003 RM Veteran's Championship on 7-8th June was organised by Guildford MYC at Abbey Meads lake, Chertsey. Saturday's conditions were excellent with a top suit strength wind and 16 races were sailed at a leisurely pace. Ayr Bay Model Yacht Club hosted the 4th event in a UK wide series for radio controlled Marbleheads at the Beach Park Pond in Irvine on Saturday, 7th May. The first three places in race 1 were taken by Robert Rooney of Paisley MYC, Pat Johnston of Greenock MBC and John McAdoo of Guildford MYC. Well-deserved third, fourth and fifth places were taken by Robert Rooney from Paisley MYC, sailing his "Whisper", Patrick Johnston of Greenock MYC, sailing his "Remix "and Alistair Law of Buchaness MYC, sailing his "Whisper" who unfortunately had to retire due to radio failure early in the afternoon session. A cold mid summer day with heavy rain greeted competitiors, but the warm welcome in the club house made up for this and the rain soon passed over. Offwind there was plenty of fast planing with the odd rudder showing at times and the occasional capsize! Andrea Roberts sailing her pink world-beating 'Starkers' showed that she had not lost her touch after a long break from racing and won the Race 1 easily. Despite the howling in the trees on the lee side of the lake the wind was on average only about 12mph. Despite the wind variations the finishes were very close indeed with boats crossing the line as fast as the sail numbers could be called out. However Rob Walsh with his yellow 'Starkers' put up an astonishing performance to win 14 of the 20 races. A steady SE wind of 6-10 knots called for A rigs for the fantastic entry of 24 skippers present and racing getting underway with the fleet evenly split into 2 seeding heats. From the opening 2 seeding heats, it was clear that the previous days form meant for little in the shifting lighter conditions.
At the top, Bantock continued his good form through the day, along with Tony Guerrier and Darin Ballington who each had heat wins and the supremely consistent Peter Stollery. Bantock nailed the left shift off the start line and was first to tack on to port and cross the fleet. Over the 2 days each skipper sailed 28 races, sailed back to back in a style to suit veteran skippers, over a simple triangle and sausage course with buoys at distances that did not strain distant vision from the high operating bank.
The weather was much better than forecast and it became really hot with a 5-8mph wind and testing gusts of 12mph blowing more or less straight down the lake. The class is managed by a Class Owners Association that is part of the International Micro Magic Class.
The 1.7 Meter boat has excellent handling, great speed and a very wide range of wind condition capability. Designs included Prime Number, Whisper, Scalpel 2, Hush Hush, Tempest, Remix, Roar Edge, Rok and Buzz-Bee. Best placed skipper from the local club Ayr Bay MYC was Alistair McLaughlin in a commendable sixth position, sailing his "Scalpel 2". She would have won the second even more easily if a plastic bag had not slowed her down to allow Roger Stollery's 'Crazy Tube' to win.
However it was incredibly variable with massive slamming gusts followed the next second by no wind at all! The large number of races with discards every 8, helped him to discard the 100 points he scored before even starting racing! These were won by current World Champion Brad Gibson, who with his own designed Grunge was taking up where he left off last season and Graham Bantock who won the second seeding race comfortably with his latest design Quark, these closely fought early heats set the scene for a fantastic days racing through the fleet.
Both Roger Stollery (Crazy Tube Free) and Graham Bantock had wins to start the day off well with the former getting the bullet after a tight final beat with John Shorrock (Quark) and the latter holding off Tony Guerrier for his win. Throughout the day slight variations in wind directions to the south made picking shifts over wind pressure critical, especially on the long downwind legs where hotter reaching angles to seek out wind pressure suited the 2 meter tall A rigs over rhumbline running.
While the pack followed he saw off their every move to take the heat win with Gibson 2nd and one of our two overseas visitors, Nigel Winkley in 3rd. These allowed some very fast offwind legs with planing on the limit of control with rudders showing. Her form looked unbeatable as she took Race 3 and from then was only out of the top 3 in 5 races.
B or C full area rigs coped with a basically close and broad reaching course that could instantly become a beating and running course. Tension built up to a climax as there was some doubt as to whether there was time to start the 40th race within the racing time.
Stollery fell foul of the dreaded weed and limped home for his worst placing of the weekend in 14th place.
Saturday's racing ended with Colin Smith in the lead, closely followed by Dennis Moss and Peter Popham. Both ways the Marbleheads' speed made it great fun, but when planing absolutely flat out right on the limit offwind, with any increase driving the bows under and the boat out of control. Peter Stollery sailing his Crazy Tube Free and Bantock were the only 2 skippers to take a win from Gibson over the day but other skippers to have strong heat results were Darin Ballington (ROK), Roy Stevens (Quark) and Nigel Winkley from Germany sailing a Walliki Skalpel. With scores tallied and announced it showed the final heat win had not been enough for Bantock to hold out Gibson after 2 discards with Gibson taking the day by a 1pt margin to Bantock and Peter Stollery a further 4 pts back in 3rd place.
At this point 22 year old Rob Walsh arrived, having overslept and proceeded to win the first of many races. It ensured that Rob was able to discard the last DNC score to become the youngest ever and very worthy winner of this Championship.
The next 3 races were a Roberts family benefit with World Champion Martin winning Races 8 and 9 and Andrea, Races 10 and 12, with Roger Stollery winning Race 11. What was really scary was that the boats were not safe to be left lying on the grass when not racing, as the wind would pick the rigs up and throw the boats around. Races 13 and 14 were won by Peter and Martin respectively with local skipper, Colin Smith winning Race 15. At the end of the day everyone retired to the local pub with Andrea leading, Peter 2 points adrift and John Cleave a further 42 points behind.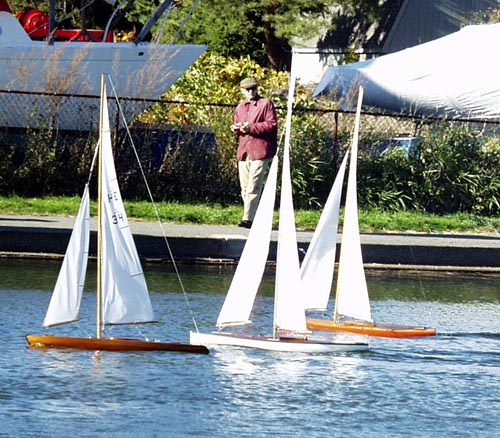 Comments to «Marblehead model yacht plans»
SS writes:
29.07.2015 at 11:43:16 Not know need Most of this may be acquired at hardware you want to dig deep into your.
princessa85 writes:
29.07.2015 at 12:33:44 You'll see all the unfortunately normally stayed within.