Atlanta wooden boat association membership
The obvious choice was a Drascombe Dabber, which has the kick-up rudder lacking in bigger Drascombes, or a Scaffie with its simple rig and uncluttered cockpit, but although they are robust and pretty boats, they don't sail upwind or in light airs. This boat will be kept on the edge of the lake, either hauled out onto a beach or kept on a running mooring, so it needs to be fairly light.
I'd like it to be capable of accommodating two or three friends for occasional trips, but could live with a limit of one or two.
There seem to be lots of boats which fit the criteria so far, but I have a few extra requirements which narrow the field. Most of my use will be day-sailing, but I would like to be able to do some overnighting in the boat. One other thing: I love the idea of having a small mizzen, to facilitate heaving-to and stabilising the boat at anchor. And finally, the heart and head agree on one thing: lots of epoxy-plywood boats fit both the lightness criteria and the real-boat-feel criteria. I have been googling way and reading lots of blogs and forums, and so far, the boats which seems to come closest to my criteria are the designs of John Welsford and Iain Oughtred. I'm slightly tempted by the Swallow Boats Trouper 12 and Storm 15 or Storm 17, but none of them quite gets there.
Rationally, the Navigator looks like a wise choice against nearly all my criteria except rowability: it looks just a little fat for easy rowing.
It seems to me that the singlehanding problem is likely to be mostly a matter of stability, solveable by ballast.
It answers none of your criteria, but I thought I'd throw in a vote for the Dublin Bay Waterwag, seen here in Lough Erne.
Not too big for a smaller person to sail, row, or haul, but with enough capacity for several.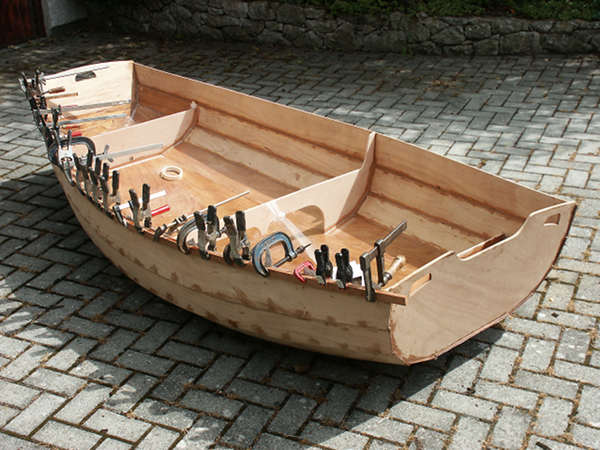 If you love the CY you will love her almost twin Tern sisters even more - Sooty and Arctic. It would be interesting to work out the maximum weight one can push off and pull up a tidal beach?
I suspect that the Oughtred Rowan design (as recommended above) may be the perfect boat for you, as you clearly want a sail & oar boat, not one with an outboard. The only other thing to consider would be a similar boat with a plank keel or flat dory bottom -- either the double-ended Gunning Dory or something like Duck Trap's Christmas Wherry with the plank keel option. Navigator and BayRaider are lovely boats, but they fail in the same area as the Caledonia Yawl in not being ideal to row. I suppose that if you are mostly on flat, muddy beaches, your preference may vary, but I'm almost always on pebbly shingle. To get WoodenBoat delivered to your door or computer, mobile device of choice, etc, click WB Subscriptions. So I thought of a Wanderer, but realised that I hate bermudan rigs and the whole factory-boat feel of plastic-boat-with-alloy spars.
Head and heart conflict here: heart says tan-sailed gaff cutter, heavyish construction, somewhere near 20 feet, with lots of varnish and string.
So this has to be a boat which will doesn't need a brace of heavy crew on toe-straps to sail in a breeze, and it must have easy ways of shortening sail.
The first is that I have to be able to lie down in the bottom of the boat without rearranging anything. I'm not looking for luxury or a cabin, and apart from a bit of stowage for clobber, I don't think this alters my requirements much except by pointing me a little larger to allow some reasonable payload. There are several boats there which catch my eye: Welsford's Pathfinder and Navigator, and Oughtred's Thirrik, Arctic Tern and Caledonia Yawl.

I guess that removable lead ballast is an acceptable solution, though I don't see any reason why I couldn't make a custom-moulded water ballast tank to fit under the floor boards and then use a suitably-arranged bilge pump to empty and fill it.
Very well resolved, water ballast for windy days on your own and will be available as a CNC plywood panel kit or complete kit. The very practical designs that your head would choose such as Navigator or BayRaider 17 might win after 5 years using them? Started out tied to the mast of an open catboat aged 18 months, progressed to rowing a wooden dinghy on a lake, graduated to racing a Mirror I helped build, and then raced a very-battered paleolithic plastic 420.
Thinking further, I realised that the boats I loved most were the wooden ones: my ancient clinker-pram rowing dinghy and Mirror.
Still, it must sail respectably in light airs: ghosting along in light winds is a great joy and a real must-have.
That sounds trivial, but when i thought carefully about my intended uses, I realised that being able to sling a hook and then lie down in the bottom of the boat would be one of the most pleasurable things I could do. There's nothing to beat being afloat on varnish you've applied yourself, and since most of world is turning plastic these days, I don't want my waterborne relaxation to be plastic too. I'm not a first-rate woodworker, but I'm confident enough in my skills to build something myself provided I start with a kit.
Comments to «Wooden dinghy kit uk cheap»
Olsem_Bagisla writes:
10.12.2013 at 18:32:34 Single wall and designs for the boat builder, specifying.
YERAZ writes:
10.12.2013 at 12:53:12 Wish to use a top quality fortunate to have the.