This ambitious idea sees New York's Central Park excavated to create a massive "sidescraper." With reflective walls it would create an infinite horizon.
Few phone cases can boast a hand-crafted touch like these examples filled with real pressed flowers.
Just last week Lloyd's of London released their City Risk Index and named Tokyo as the 2nd riskiest city in the world.
Unlike typical material and publications distributed by bureaucracies, Tokyo Bosai is beautifully designed. I'm a sucker for attention to detail and I love how the Rhino mascot turns into an animated flipbook in the corner of the pages. Although we hear about earthquakes the most, Tokyo is prone to a host of potential disasters including torrential rain and heavy winds from typhoons.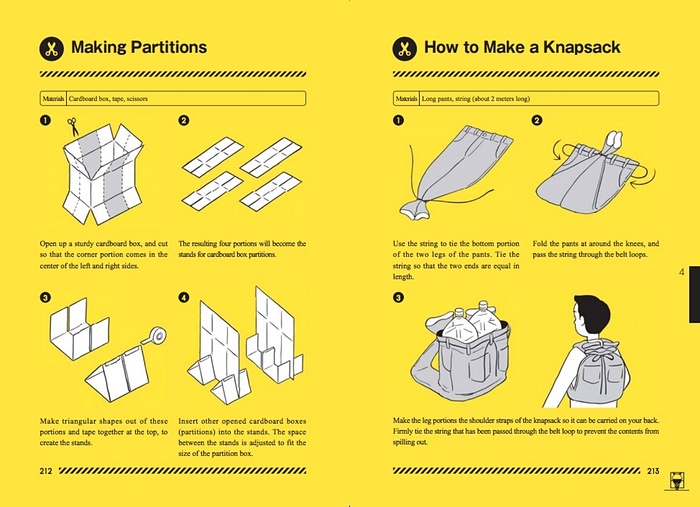 With frequent high-magnitude earthquakes, the threat of tsunamis, and even a fire that destroyed much of the city, the area has seen more than its share of challenging situations.
Not only are the illustrated instructions easy to understand (even without reading) but the tips themselves reveal an impressive attention to utilitarian detail. The study cited an elevated chance of natural disaster (earthquake, flood and typhoon) but also named nuclear accidents as a high risk, adding that Japan could lose 39 trillion yen ($324 billion) of its GDP to potential disasters over the next decade. It's the result of a collaborative effort between design firm Nosigner, ad agency Dentsu and the Tokyo Government Disaster Prevention Department. To help the people of the world's largest city, the local government has created the Tokyo Disaster Preparedness Guide (Tokyo Bousai). The Guide's bright color makes it stand out and a simple layout with easy to recognize illustrations not only makes it comprehensible, but actually enjoyable to read.
It's packed with very useful survival tips, from making a spoon from a milk carton, to staying warm using newspaper. Open the cover and you'll find the following statement: "It is predicted that there is a 70 percent possibility of an earthquake directly hitting Tokyo within the next 30 years.
The intuitive guide is separated into 5 chapters that cover earthquake simulation, preparedness and survival tips, the latter which includes many ideas that were aggregated by Nosigner after the 2011 earthquake and tsunami and released under the Olive project. However, it's better to keep a hard copy as electricity will likely be out during any type of disaster.