The grant funds are distributed through two federal preparedness programs – the Hospital Preparedness Program (HPP) and the Public Health Emergency Preparedness (PHEP) programs. Administered by ASPR, HPP funding supports building sustainable community health care coalitions that collaborate on emergency planning and, during disasters share resources and partner to meet the health and medical needs of their community.
Administered by CDC, PHEP funding is used to advance public health preparedness and response capabilities at the state and local level. This marks the third year that HPP and PHEP funds are being awarded jointly, encouraging further cooperation between the nation's health care and public health systems, and reducing the administrative burden on grantees.
The aligned HPP and PHEP cooperative agreements encourage state and local public health departments to work collaboratively with federal health and preparedness programs in their jurisdictions to maximize resources and prevent duplicative efforts.  Such coordination of activities with emergency management and homeland security programs support "whole community" planning to improve national preparedness efforts. The HPP and PHEP were authorized in the Pandemic and All-Hazards Preparedness Reauthorization Act (PAHPRA) of 2013.
To sign up for updates or to access your subscriber preferences, please enter your contact information below. Preparedness ToolkitYou may have heard people say that a€?every disaster is locala€? or that you and your community may be on your own for several days after a major disaster. The International Response Programs Branch (OEM International) in ASPR's Office of Emergency Management broadens the HHS workforce's range of response capabilities to expand the cross-border and global resources for health security, situational awareness, disaster response and humanitarian assistance, through productive international and U.S. The goal of the CRI program is to work with the Local Health Departments in each county to develop plans and programs that together will enable the seven Public Health Departments in the region to provide emergency doses of oral medication to their entire populations within 48 hours of the decision to do so. The POD Game: This game lets you immerse yourself in a virtual POD and gives you a chance to learn how a POD works while having fun. Ensuring that all Americans, especially those with young children, are prepared for disasters is a top priority of the Department of Health and Human Services. This comprehensive set of resources contains interactive activities to plan and prepare for disasters, developmentally appropriate books and games to help children cope after disasters, and State templates and guides for policy makers to use in developing, enhancing, or improving their State plans. The Head Start Emergency Preparedness Manual, 2015 Edition provides programs with the latest tools and resources to guide their planning process. When a tragic event or disaster receives national or local news coverage, your staff may feel they need to test and update the plans that are in place. These tip sheets were created for use with Early Head Start and Head Start families and staff affected by a crisis or tragic event and are available in both Spanish and English. The Administration for Children and Families and partners from across the country developed the Children and Youth Task Force in Disasters: Guidelines for Development.
Programs play an important role in response and recovery efforts after a disaster or emergency.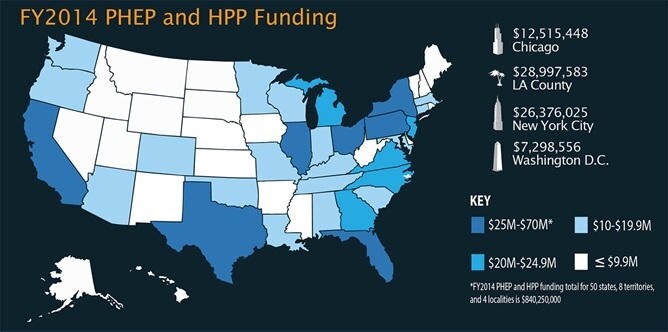 Watch these two videos from OHS for information and resources to support grantees' work with children, families, and staff in the event of an emergency.
Prior to Hurricanes Katrina and Rita, there was no federal authority to fund disaster case management. Congress passed the Post Katrina Emergency Reform Act of 2006 in recognition of the need for coordinated case management services. Department of Health and Human Services has awarded more than $840 million to continue improving emergency preparedness of state and local public health and health care systems. These programs represent critical sources of funding and support for the nation's health care and public health systems.
These documents establish core capabilities, such as medical surge, information sharing, and emergency operations, critical to an effective response for emergencies.
With aligned HPP and PHEP cooperative agreement programs, communities can conduct more effective joint planning, exercising, and program operations. It is likely that you, your families, neighbors and community will have to depend on each other immediately after a disaster.
Washington County is committed to partnering with you to prepare.A  Let's plan now, work together andA get ready! In 2012 alone there were 112 disaster declarations, totaling over $85.7 billion in economic impact.
Use it to support children, families, and communities before, during, and after an emergency.
These tip sheets and sample letters were developed to help programs respond to the needs of staff and families. This will ensure that they know what to do to keep their children, families, and staff as safe as possible. The webinar identifies strategies Head Start, Early Head Start, and child care programs can use to improve their emergency preparedness efforts.
This model is designed to guide child- and youth-serving organizations, agencies and professionals as they work together to develop plans for disaster preparedness and response focusing on the young people in their community. Providing stability and sharing information about resources and agencies that can assist families is critical in the days and weeks after the event.
The Emergency Preparedness Webcast presents a panel discussion about the importance of being prepared and how programs can support children and families during all stages of an emergency. This partnership provides the client with a single point of contact to facilitate access to a broad range of resources.
The ACF model is based upon the principles of self-determination, self-sufficiency, federalism, flexibility and speed, as well as support to states. The programs provide resources needed to ensure that local communities can respond effectively to infectious disease outbreaks, natural disasters, or chemical, biological, or radiological nuclear events. These activities are vital for communities to prepare, respond, and recover from emergencies, and help communities manage health care and public health on a daily basis. An emergency may be a catastrophic natural event, like a hurricane, flood, or wildfire, or a man-made disaster, such as a shooting.
Testing, practicing, and updating your emergency preparedness plans should be completed with your planning team and involve your program and community partners.
Explore and share the linked materials that include social and emotional supports for children and adults and disaster recovery resources for families and for programs. The Hurricane Sandy: A Year After Webinar focuses on the importance of mental health support and service enhancements to assist children, families, and staff after a traumatic event. Many of those affected were already depending on federal assistance programs or suddenly found themselves in need of human or medical services.
Individuals and families focusing on their own needs, resources, and interests are far more likely to reach favorable results for themselves and for the broader community. Emergencies also may have significant social and emotional impacts that linger long after the event. No matter the crisis, Head Start programs need to be ready with impact, relief, and recovery plans.
Key resources and information may be used to assist programs in their emergency preparedness planning. States, tribes, localities and individuals delivering needed benefits and services to disaster victims should not be financially disadvantaged by their compassion and generosity.
Explore this section to find tip sheets, checklists, and resources that offer guidance and techniques to cope with emergencies and disasters. Specifically, the system needed to assess individual and family needs and connect people with the appropriate services both in the short and long term.
The purpose of disaster case management is to create a coordinated system that provides disaster survivors with a single point of contact to help them achieve pre-disaster levels of functioning and equilibrium.