AdventureConnect events are regional networking gatherings, facilitated by the ATTA and its regional advocates. In keeping with its tradition of adventure and exploration, National Geographic has introduced National Geographic Adventures, a new program offering unique trips for the active traveler.
To make these trips possible, National Geographic has partnered with Mountain Travel Sobek, an adventure travel company co-founded more than 40 years ago by the late Barry Bishop, legendary mountaineer, photographer and longtime National Geographic staff member. Each itinerary is crafted by tapping into the knowledge and insights of National Geographic experts to bring depth and meaning to the travel experience. Participation in a National Geographic Adventure provides support to National Geographic's vital exploration, conservation, research and education programs.
Select your travel style--whether it's our signature expeditions, our active outdoors adventures, or our lower-priced journeys.
Our newest small-group trips, provided in partnership with G Adventures, blend fun, hands-on exploration with meaningful cultural encounters, as well as more free time and choices. Take a look at the unique, active itineraries below that combine spectacular places, cultural interaction, and physical challenge: the perfect mix for an unforgettable adventure. Explore by foot, by camel or kayak, and even by dogsled on an active adventure that combines spectacular places, physical challenge, and cultural interaction. Scotland's western edge is a picturesque upheaval of geology, where rocky crags jut out of sweeping valleys and islands loom in the sea's mist. Hone your photo technique as you explore two islands, two national parks, and the UNESCO World Heritage site of Edinburgh on a variety of hikes and walks. Photograph medieval architecture and evocative ruins on shoots at historic castles and forts. Head west after breakfast, stopping for a warm-up hike in Loch Lomond and the Trossachs National Park—Scotland's first national park, established in 2002. Take a photo walk in Kilmartin Glen, home to the most important concentrations of Neolithic and Bronze Age remains in Scotland. As we head north, tracing the eastern shores of Loch Linnhe, fill your lens with a spectacular landscape of sweeping slopes and rocky peaks. The southern edge of the Island of Skye is fringed by the rocky Cuillin mountains, often called the Black Cuillins for their dark volcanic gabbro. The spectacular landscapes of northern Skye are a photographer's dream: undulating, grassy slopes that drop off in sheer cliffs, adorned with rock formations that spike and curl. With your camera in hand, enjoy a guided tour through a local distillery, capturing the essence of the traditional whisky making processes. National Geographic Adventures are unique, active itineraries for intrepid travelers that combine spectacular places, cultural interaction, and physical challenge.
Macduff Everton is a contributing editor at National Geographic Traveler, where he has photographed more than 20 stories from Paris to Beijing to Big Sur.
We will be hiking 3 to 5 hours per day (2.5 to 7 miles) on moderate to steep grades at low elevations.
There's an engine somewhere inside Andrew Skurka, a quiet, relentless drive that never quits—and there would have to be. Together, National Geographic and Mountain Travel Sobek have developed unique, active itineraries in some of the world's most remote and spectacular places, including Alaska, Bhutan, Chile and Argentina, England, Italy, Mongolia, Nepal, Peru, Spain, and Tanzania.
Each trip has a maximum of 16 travelers, allowing for greater flexibility to take advantage of unexpected opportunities that may arise.
Traveling with National Geographic allows adventurers access to special sites, fascinating people and private homes.
After time to relax, meet for a mid-afternoon photo walk along the Royal Mile, which offers a wealth of architectural inspiration. Our trail takes us from the banks of Loch Lomond itself, over a low pass before descending to the village of Arrochar, known for its incredible views of a mountain known as 'The Cobbler'.
Here, we'll set off on a hike through history, taking advantage of evocative photo opportunities at every turn. Document the standing stones, burial sites and ancient monuments, before we transfer for a photo shoot at the ruins of Dun Add, an Iron Age fort considered by some to be the birthplace of Scotland. Pass the western end of Glen Coe, scene of a historic massacre of the MacDonald clan in 1692, before continuing to Fort William.
We'll take the less-traveled—and wonderfully photogenic—route into the Cuillins, approaching from the south by boat to the inaccessible Loch Coruisk.
After lunch, enjoy some free time wandering the streets of the charming village of Pitlochry.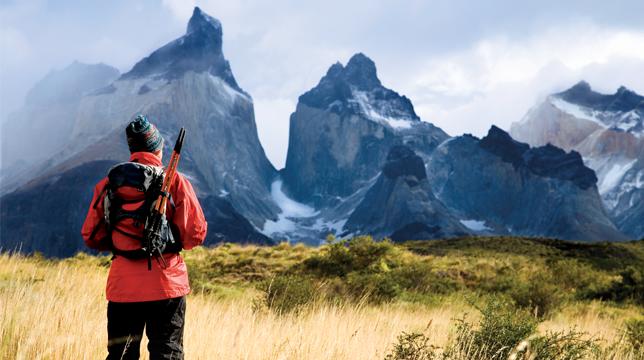 You'll explore fascinating, off-the-beaten-path places with top guides, and wherever possible, meet National Geographic experts in the field.
His other editorial clients include Conde Nast Traveler, Life, LA Times Magazine, NY Times Magazine, Outside, and Smithsonian. During hikes, vehicle support is provided at various points while in the highlands, but will be limited while on the islands. On the day I caught up with him, Skurka, 26, was about two-thirds into a 6,875-mile (11,064-kilometer) hike, an epic, first-of-its-kind journey that in one fell swoop passed through five major mountain ranges, 12 National Parks, and 75 Wilderness Areas. These adventures also offer immersive cultural experiences like visiting with Andean villagers, hiking to a remote monastery in Bhutan to meet with monks, or living among some of the world's last hunter-gatherers in Tanzania.
The small group size also allows for stays in cozy inns, deluxe tented camps and mountain lodges not able to accommodate larger groups. Whenever possible, National Geographic arranges visits with experts in the field, giving travelers the opportunity to meet with the people whose discoveries have appeared in National Geographic's television programs and magazines.
Get to know fascinating cultures firsthand, from the Berbers of Morocco who welcome you into their lives to the Bhutanese villagers you'll visit on your hikes.
With guidance from a National Geographic Photographer, photograph glittering lakes and waterfalls, fantastic geologic formations, and ancient sites.
Wind your way down from Edinburgh Castle to Holyrood Park, photographing church spires, cobbled alleyways, and Holyrood Palace—the 16th-century home of Mary, Queen of Scots.
Afterwards, continue to the West Highlands and settle in to our hotel, enjoying the wonderful sea views or taking a walk in the garden. Photograph Horseshoe Bay, where King Alexander II of Scotland died in 1249 while preparing to drive the Norwegian army out of western Scotland.
Join a conservationist and John Muir historian for a guided photo hike beneath the hulking summit of Ben Nevis, the highest peak in the United Kingdom.
On an incredible photo hike among these fabled slopes, explore the loch, capturing panoramic shots of the peaks that tower over its shores.
Document the unusual rock formations of the Quiraing and learn a fascinating story of geologic turmoil.
This afternoon, a short transfer south returns us to Edinburgh, with drop-offs available either in the city center or at the airport for your flight home. Macduff's photography focuses on sense of place, whether portraits of individuals or portraits of a landscape. Over the next two weeks or so, he walked 675 miles (1,086 kilometers) west across the Sonoran and Mojave Deserts. Next year, in partnership with Russian trip specialist Mir Corporation, Maine-based H20utfitters aims to show you through their novel program, the Coastlines of Adventure. Along with dynamic and experienced trip guides, travelers are joined by local guides, from sherpas in Nepal to nomads in Mongolia, who share invaluable insights into their culture and their land.
Hike to cliff-top castles and Iron Age forts for photo shoots, document lively street life in Edinburgh, and hike among the Cuillin mountain range to capture its jagged peaks. His work is in the collections of many public and private institutions, including the Bibliotheque Nationale in Paris, the British Museum in London, the International Center of Photography in New York, the Museo de Arte Moderno in Mexico City, and the Museum of Modern Art in New York. Near Palm Springs he turned right onto the Pacific Crest Trail and walked north 2,415 miles (3,887 kilometers), blitzing through the early spring snowpack of the Sierra and past the looming volcanoes of the Cascade Range.
GeoEx will eventually develop fixed itineraries to some of these locales; going now means that you can choose your own path through the untrammeled wilderness. Built as a stronghold of the MacDougall clan in 1582, the castle was besieged and burned in 1647. Macduff lives in Santa Barbara, California, and has taught workshops nationally as well as in Mexico and Tuscany. Close to the Canadian border, he turned east onto the Pacific Northwest Trail and followed that for 675 miles (1,086 kilometers) until he hit the Continental Divide Trail in northern Montana.
The next week is spent kayaking the lake's islands, scouting hidden bays, camping among sand dunes, and staying at a mix of guest houses, residential homes, and a barge hotel. You have to remember that you're reading about one of the longest journeys ever undertaken on foot.
When you're not paddling, the cultural experiences are decidedly local: You'll soak in hot springs on the Holy Nose Peninsula, visit a Buryat village, and meet the chief lama at Ivolginsky Buddhist monastery. He had rolled into town to pick up a package of food and clean clothes that his mother had mailed to him at the Twin Lakes General Store and Post Office, and to send his own dirty clothes back to her for washing. In fact, you couldn't meet a more all-American guy than Andrew Skurka; Tom Cruise would be a fine choice to play him in a biopic (at least in his non-manic, non-jumping-on-Oprah's-couch moments).
But then, rather abruptly, everything changed, and nowadays Skurka is putting in a very different kind of hard work. When he'd finished a second plate of eggs and hoisted on his backpack to start walking again, I did my best to learn why. I also struggled to keep up; hiking with Skurka is like tagging along on one of Lance Armstrong's workout rides, except at high altitude. He was going easy on me, of course, restraining his gait in the name of conversation and plain decency, but he still hoofed it out of Twin Lakes like a man hungry to get hammering again. His stride had an aggressive, forceful acceleration, as if he couldn't quite rein in the team of horses that lives in his chest. The ensuing collapse of the financial services sector meant fewer summer internships for go-getter college kids like Skurka. Before his junior year at Duke, he took a gig as a counselor at a North Carolina outdoors camp.
Before his senior year, he walked the 2,175-mile (3,500-kilometer) Appalachian Trail alone—in 95 days. I'm not working at all!" From there, apparently, it was all downhill, at least in terms of investment banking: Skurka took a leave of absence from his senior year at Duke to intern at the Nature Conservancy. He followed that with a summer job in Boulder where he seized on the idea of hiking from the Atlantic coast of Quebec to the Pacific coast of Washington.
He knows these are outrageous athletic achievements, and he does think in those terms—at some level, he's still the high school track star, having finally found his proper event.
In fact, everything about Skurka's approach suggests the lean and disciplined strategy of a pro athlete.
His pack, minus food and water, is an extraordinary seven and a half pounds (three kilograms).
To offset the caloric deficit he builds up in the wilds, he gorges on eggs, bacon, cookies, and peanuts whenever he reaches a town, usually every few days. Rather than slow his pace, Skurka simply does without long-term visitors: The only person to accompany him overnight is fellow long-distance hiker Scott Williamson, who joined the trip for a day and a half. Still, even though he lives the rigorous and finely tuned physical regimen of a pro athlete, Skurka is not one. Picture a Gen Y version of Henry David Thoreau or John Muir, driven largely by youthful exuberance and energy, and learning things that nobody else knows about this country's most precious open spaces.
Skurka describes hundreds of miles of postholing in deep Sierra snow, fighting through miles of alder brush in the Glacier Peak Wilderness, and trying to cross rivers so swollen with runoff he could hear boulders the size of cars tumbling along the bottom. He recalls the Selkirks of the Idaho Panhandle, and how he bushwhacked for days through devil's club and manzanita so sharp they left lasting scars on his legs. I could hear his excitement as he recounted his nighttime crossing of the Pinto Basin, a 70-mile (113-kilometer) stretch of the Mojave Desert with absolutely no water. In the sky I see this green glow of cockpit lights, and then a fighter is buzzing me 200 feet (61 meters) off the deck! And this coyote off to my right howls, and then all the coyotes in the basin start howling and I'm out there in the desert with them." Crossing the Sierra, Skurka said he went five and a half days without seeing another person. At one point while walking at dawn over a vast snowfield utterly alone, he was overcome with happiness, so much so that he again began to scream out loud. Why am I so lucky?!" Skurka also glows with wonder talking about places he'd never heard of before this walk, like the Red Conglomerate Peaks and the Bitterroots. Then you look into Montana and see huge valleys of pasture with no houses, no gravel road, a 50-mile (80-kilometer) view, and maybe some cows. It's mind-blowing how much open space there is!" I finally stopped Skurka when my heart was beating so hard it hurt and my lungs couldn't catch up. The plan had always been for me to turn around and walk back into Twin Lakes at the end of the day. Suddenly this seemed as good a place as any: After about two miles (three kilometers) with Skurka, I was destroyed, completely spent. So I asked about the road ahead and the remaining 1,500 miles (2,414 kilometers) to the Grand Canyon, and Skurka seemed improbably excited.
You know what I mean?" He'd already begun edging away from me on the trail, getting ready to hit his natural pace again.