AdventureConnect events are regional networking gatherings, facilitated by the ATTA and its regional advocates. In keeping with its tradition of adventure and exploration, National Geographic has introduced National Geographic Adventures, a new program offering unique trips for the active traveler. To make these trips possible, National Geographic has partnered with Mountain Travel Sobek, an adventure travel company co-founded more than 40 years ago by the late Barry Bishop, legendary mountaineer, photographer and longtime National Geographic staff member.
Each itinerary is crafted by tapping into the knowledge and insights of National Geographic experts to bring depth and meaning to the travel experience. Participation in a National Geographic Adventure provides support to National Geographic's vital exploration, conservation, research and education programs.
Oregon's Top Three Action PlansDay Trip: The Columbia Gorge, just east of Portland, is braided with postcard-perfect cataracts that lure masses. Expedition: Into the AltiplanoHear field dispatches from Jon Bowermaster, along with an international team of scientists, climbers and paddlers, as he searches for water in the driest region on Earth.
Castaway in ParadiseCheck out French Polynesia's Tuamotu Islands as seen from the hull of Peter McBride's kayak and beneath the deep blue waters in the heart of the South Pacific. More From Writer Jamie JamesThe eruption of Krakatoa nearly a century ago literally blew the volcano to bits. Descending the DragonHear Contributing Editor Jon Bowermaster's dispatches from the edge of Vietnam. International Rivers NetworkFor the latest information on dam development and its impact on the Mekong Basin, check out this Web site devoted to river preservation. National Geographic Photography Home PageFind additional photo galleries, tips for taking better pictures, and more. Rugged makeshift boats ferry cars and people across the Mekong River from Ban Muang to the sleepy town of Champasak.
Climbing Mount Kenya PhotosSixty-four years later, writer Matthew Power and photographer Bobby Model retrace one of climbing's most extraordinary escapades. Leaping from Half Dome is illegal, but in Yosemite the sport of BASE jumping is soaring in popularity anyway. Subscribe to National Geographic magazine and save. Print and digital editions available for as little as $12.
As we looked into the vast Sierra Nevada Range, we were overwhelmed by the peaceful silence. Together, National Geographic and Mountain Travel Sobek have developed unique, active itineraries in some of the world's most remote and spectacular places, including Alaska, Bhutan, Chile and Argentina, England, Italy, Mongolia, Nepal, Peru, Spain, and Tanzania. Each trip has a maximum of 16 travelers, allowing for greater flexibility to take advantage of unexpected opportunities that may arise. Traveling with National Geographic allows adventurers access to special sites, fascinating people and private homes. The team is descending Licancábur, a volcano just under 20,000 feet (6,096 meters) high, in the corner of southern Bolivia.
Climbers say it's faster (and more fun) to parachute into the valley than to hike all the way down the back of the mountain. These adventures also offer immersive cultural experiences like visiting with Andean villagers, hiking to a remote monastery in Bhutan to meet with monks, or living among some of the world's last hunter-gatherers in Tanzania.
The small group size also allows for stays in cozy inns, deluxe tented camps and mountain lodges not able to accommodate larger groups.
Whenever possible, National Geographic arranges visits with experts in the field, giving travelers the opportunity to meet with the people whose discoveries have appeared in National Geographic's television programs and magazines. We scoured the region to find the wildest trips, cushiest lodges, freshest fare, and smartest intel.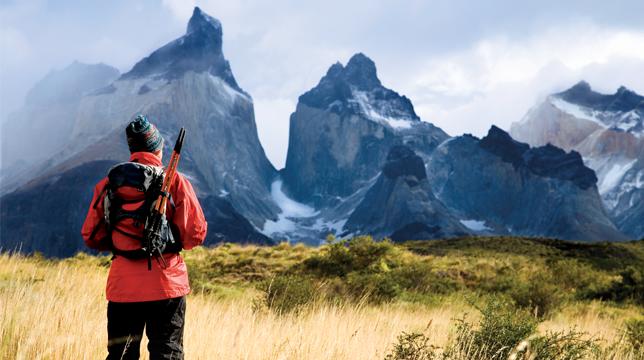 We passed a biodiesel ordinance for gas stations, are considering a carbon tax, and are creating bike boulevards.
Along with dynamic and experienced trip guides, travelers are joined by local guides, from sherpas in Nepal to nomads in Mongolia, who share invaluable insights into their culture and their land. Even with recent growth, we've reduced our carbon footprint by one percent, while the rest of the nation has increased by 16. In the 1970s he carried up these segments of aluminum in 13 solo ascents—with no gear. Within easy striking distance of both sites, the period (but not kitschy) hotel has seen the likes of Clark Gable, Orson Welles, and original adrenaline scribe Jack London, who finished his 16th novel, Valley of the Moon, here. It's quirky—the kind of place where most cars on the main drag, in spring at least, have kayaks on top (in summer it's boards).
Yet it's also the place where the Columbia River Gorge narrows to its most dramatic, and Mount Hood, that signature Oregon peak, hangs over town. On the first Wednesday of every month at the Painted Lady, local vintners pair their creations with a seasonal, European-influenced menu. Overlooking the steelhead-friendly waters of the North Fork of the Umpqua River in central Oregon, the stone-and-log inn draws Northwest foodies from far and wide with one seating per night, served promptly at dusk.
Day hikers thread 15-mile (24-kilometer) loops through 800-year-old Douglas firs, giant western red cedars, and soaring Pacific yews, while overnight visitors sleep in refurbished hydro- and solar-powered miners' cabins. Today the city has 33 breweries, more per capita than any other place on the planet (there is an honest-to-God movement to rename it Beervana), and dozens more have sprung up across the state.