Throughout September, CDC and more than 3000 organizationsa€"national, regional, and local governments, as well as private and public organizationsa€"will support emergency preparedness efforts and encourage Americans to take action. Week 1: Family - Disaster preparedness starts with personal preparedness for you and your family.
Week 2: Neighborhood - Those in closest proximity to you during an emergency are most likely to be the first to offer help.
Week 3: Workplace and School - Whether you are at work or home or your child is in school it is important for individuals to know specific threats and hazards in their area, emergency signals, evacuation routes, and locations of shelters in their community. Final 4 Days: Online - We will highlight the importance of sharing preparedness resources with your online social media community (social networks, apps, texting). For each topic in September, PHPR plans to release Public Health Matters blog posts, social media messages (including a Twitter chat), and graphics.
Also in September, all federal agencies will come together to promote the fall PrepareAthon.
PrepareAthon messages will focus on specific hazards this fall: winter weather, earthquakes, hurricanes, wildfires, tornadoes, and flooding. Throughout National Preparedness Month we will be working with multiple organizations across the country to promote our multiple communities of preparedness. September is the Department of Homeland Security's National Preparedness Month, and SMU is asking the campus community to take an active role in learning how best to respond to potential campus emergencies.
Quick Response Codes printed on table tents in Umphrey Lee's Real Food On Campus will make it easy for students, faculty and staff to use their smart phones to link directly to videos that teach when to Evacuate, Seek Shelter or Lockdown.
Tuition Information: Make a payment through SMUpay, find due dates and payment plan options on the SMU Bursar website. Join Us: The SMU Parent Leadership Council and the Mothers' and Dads' Clubs welcome SMU parents.
SMU's Second Century: SMU is celebrating the centennial of its founding in 1911 and opening in 1915.
This site contains some fancy animation, but your computer can't quite handle it so it has been automatically disabled. For the entire month of September we will present to you tips and guides to assist you as you prepare yourself and your family for any emergency or disaster that could occur.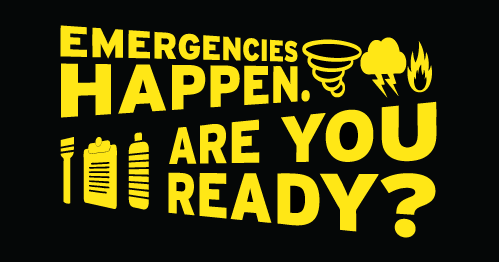 Motivate your community to prepare for emergencies with effective resources from Channing Bete Company! When you're ready to plan your National Preparedness Month event, click here for products and publications to sound the alarm! People rely on you for critical information to safeguard their families, their homes, and their own lives. For over 50 years, we've been a trusted source of materials to support public safety professionals.
We provide resources to promote emergency action planning, pandemic preparedness, and readiness for all types of natural disasters.
However you choose to get the word out, we're here to help with effective, engaging, and cost-effective products, targeted to your audience!
Click here to discover resources that will help make your National Preparedness Month campaign a HUGE success!
No part of this site may be reproduced in any form without written permission of the publisher. For Preparedness Month 2015, the Office of Public Health Preparedness and Response plans to focus on communities of preparedness. Global health security is an ongoing priority that requires individuals to be aware of their health and safety when they are travelling abroad. Visit CDCa€™s National Preparedness Month webpage for links to all of our National Preparedness Month content.
Thunderclap is a social media tool that allows supporters to sign up in advance to share a unified message at a specific time via their individual Facebook, Twitter, or Tumblr account.
The PrepareAthon is a nationwide, community-based campaign for action to increase emergency preparedness and resilience through hazard-specific drills, group discussions and national level exercises conducted each fall and spring. To see a full list of our partners and their National Preparedness Month activities visit our partnership resources. Information will be shared through email, web and social media messages focused on recommended emergency responses to different threats.
In the event of an emergency, call the SMU Parent Info Line at 214-SMU-PARENTS (214-768-7273 or toll free 1-888-768-7273) for updated campus alerts.
In fact, anyone and everyone is encouraged to be informed and to have the basic necessities of human survival on hand at all times.
Emergencies and disasters don't only come in the form of hurricanes and terrorist but blackouts, ice storms, fires, riots, etc.
You can always rely on us to communicate your safety messages accurately, clearly, and effectively. Many of our booklets, self-care handbooks, workbooks, brochures, pamphlets, group presentation packages, and other publications have trademarked names.
Children, older adults, and individuals with medical conditions and physical disabilities all have unique needs during and after disasters.
The focus will be community resilience and preparedness on a neighborhood and community level. The collective action creates a wave of support a€" or a€?thunderclapa€? a€" across social media.
You should have a communications plan with all of your family members, an evacuation route in case you have to leave and a shelter-in-place plan in case you have to stay.
It may not be possible to prepare for "everything" that could potentially come down the pipe but if you can take the basic steps you will be ahead of everyone else. We will talk about incorporating unique needs into emergency preparedness to ensure that the needs of the entire family are included in preparedness plans. Our thunderclap will go live on September 30 at 12PM EST and encourages individuals to meet their neighbors and start building a strong, healthy community. To increase awareness to preparedness you need to focus on the essential blocks of basic emergency preparedness. Lastly, you should consider getting involved in a organization that will allow you to help out in the event of a emergency or disaster. A really good organization to look into joining is your local Community Emergency Response Team (CERT).