A group of soldiers braved the wilds of the Dublin and Wicklow Mountains where they put in practice some of the skills learnt on a recent survival course. As the country struggles in the depths of a recession, financial survival is on most people's minds.
At the end of the exercise 25 two-star privates (including one female) sat along an earth bank, sleepy-eyed, as the survival instructors of the Military Training and Survival School (MTSS) conducted a debrief of this short, sharp, but effective, introduction to survival training. The most important thing on the survival exercise for me was always to put down a mat to sleep on, bring a knife; and a hat and gloves for the cold at night. On the previous day, operating in teams of five, the would-be survivalists headed into the Cloghleagh Woods on a hill overlooking the river Liffey in the Dublin Mountains, close to Kilbride Camp.
Survival training has always featured as a part of training but in the last couple of years that the Defence Forces has placed a greater emphasis on its development and instruction.
Cpl Mark Hammond, one of instructors who stayed overnight with the troops, told me that this type of course was 'just another day in the office', for him. Cpl Hammond says that their introduction to survival skills usually involves a day of lectures and practical demonstrations, followed by a 24-hour exercise on the ground.
For me the most important thing during the survival course was to collect lots and lots of firewood.
The following day on checking on Team Two, they were all up and standing in front of a fire that was blazing with the remains of one of their shelters that they had added for extra fuel. After breaking camp and cleaning up their respective sites the troops headed back to Gormanston Camp, scoffing a breakfast roll in the back of the truck, armed with new knowledge and skills and a better understanding on how to survive. Re-arm kits are easy to install and include all required components to re-arm the Rescue Stick after it has been inflated.
However, our troops were just glad that they had physically survived 24 hours in the 'wilderness. Everyone was 'frisked' for contraband, such as mobile phones, chocolate, lighters or torches.
To this end, since 2007 five MTSS instructors, based in Casement Aerodrome, Baldonnel, have attended survival, evade, resistance to interrogation, and escape (SERE) courses in Sweden and the UK. As he was speaking, Mark, along with his fellow instructors, Flt Sgt Fred Conlon, Sgt Jay Curley and Cpl Declan Ryan, were packing up and heading to the Slieve Bloom Mountains to run another 24-hour survival exercise, this time involving 120 soldiers from the DFTC. The lectures cover the principles of survival, shelter construction, fire lighting and sourcing food and water. These principles differ between experts but the Air Corps' survival school teaches them in the following order: protection, location, water and food. Cpl Ryan conducted a short Q&A session with the team to get the team to question the wisdom of burning their shelter and what would happen if they had to stay another night. Apart from the skills and knowledge the MTSS instructors teach, they also advise soldiers to always carry a survival kit (or tin). Each team worked unsupervised, constructing a shelter, lighting fires and trying to catch their dinner. With enhanced knowledge and new survival skills acquired, they have developed a new survival course syllabus and last year conducted the first Survival Instructors course, as well as conducting numerous basic survival courses with recruits, cadets and reservists. It was with these principles firmly implanted in their heads that the students headed into the woods, each only wearing their combat uniforms (including thermals, fleece, hat, gloves, knife and survival kit) and carrying their raingear and a full water bottle. Some of the salient lessons that emerged were that they hadn't collected enough firewood before it got dark and hadn't put enough bedding down to provide insulation from the cold ground.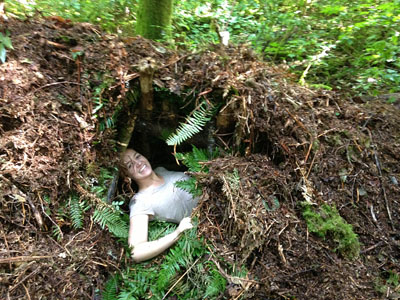 You can buy these in most camping and army surplus stores, but it is better (and cheaper) to make it yourself. They also get a chance to practice some butchering skills, learning how to skin and gut rabbits, pheasant and fish, while using knives and axes safely.
The group were broke into teams and each team between them had a few matches and a steel mug. It also emerged that Team Two were the only team to catch a rabbit, which they successfully skinned and boiled. Can be thrown distances almost three times that of a typical rope bag or life ring between 110 and 150 ft.
However, they didn't like the taste so they decided to go hungry and gave the rabbit to another team, who proceeded to roast and devour it. A survival kit should be carried in your combat smock, waterproofed, sealed in a plastic bag. There is no definite list of items to be carried, as this can change depending on the environment or conditions.