17.12.2015
admin
Deb B DebadooAugust 29, 2011 at 1:44 AMSo glad Irene has passed you without serious damage!
I wanted to share with others what can be done with "scrap" wood that most people would consider "useless".
When I got my first five hens in August 2008, we needed to build a coop as quickly as possible, as the "girls" were sleeping in a dog crate in my brother's shed. It stressed the need for ventilation, suggesting that drop-down covers be installed over hardware cloth holes to regulate the amount of air flow. The book also suggested one 14"x14" nesting box for every 4 hens; since we had 5 chickens, we built one large one, so they could share.
It is also a good idea to install a window to provide natural light and to provide artificial light for the winter months.
The roof was made out of those metal "dog kennel" dividers that was also used for flooring.
We used a pre-owned "hollow" door that we cut down to fit the coop and added a soffit vent.
I only things I bought for the coop was the hardware, screws, window, paint, light and timer.
Of course, like most people who are "bitten by the chicken bug", the 4x8 coop was going to be too small for the addition of 11 more chickens.
This time, I decided to take more photos of the progress, since I knew I'd want to make a BYC coop page.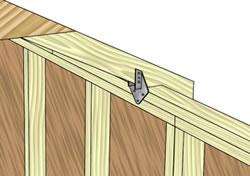 The painted wall used to be outside of the old coop; we added new purchased plywood to the floor.
You're now following 12x12 craft paper storage in your eBay Feed.You will receive email alerts for new listings. So, if you're short on money, but have lots of odds and ends or "leftovers" from another building project, I hope this will inspire you. I now have a second nesting box made out of a plastic storgage container with a box inside. We used a small sliding window that we had gotten at a reduced price, and provided CFL lighting on a timer. As was suggested for easier cleaning, we built a two-layer chicken wire floor with a wooden frame and supports, with the aim of their poop falling through the holes to the clean litter beneath. Change the ventilation system by replacing the metal screening with hardware cloth and building wooden "flaps" to be opened or closed, according the need. Add 2 other nesting boxes on the outside, due to "morning rush hour" and to provide more floor space. I also planned it out a little more, although, my original design changed from what it turned out to be.
Build a wooden feeder onto the wall to the right of the door, so it would provide more floorspace. We provide buildings for a broad range of residential and commercial applications including Garages, Workshops, Agricultural Storage, Barns, Airplane Hangars, RV Storage, Self Storage, Commercial Warehousing, Retail Space and Office Warehouse.
We only have access to information that you voluntarily give us via email or other direct contact. Also, you may be able to get free or cheap wood through craigslist, an ad in your local newspaper or even from a construction project where they're throwing out "good" re-usable wood.
Rodents chewed through the screening in the fall of 2010, and the roof was also hard to raise. It's important to provide a flat surface so their their toes keep warm in the winter. We had old 1x2 rafters from a trailer that we took apart, and used for the roosts, floor supports, etc.
It worked great until winter hit, and the poop froze in place under the roosts and had to be chopped off the wire "floor".
After cutting down some trees and digging out an "under-the-coop" space, I finally got down to building the addition. We had a hard time deciding how big we should build the coop, but finally decided on a 4x8 structure for the 5 hens.
The original design of the roost was a long rectangle with chicken wire stapled to the 1x2s.
Rubric: Inexpensive Sheds