Bose has added two new products to its range: the QuietComfort 20 in-ear noise-cancelling headphones (?260), and Bose SoundLink Mini Bluetooth speaker (?170). The QuietComfort 20s are Bose's first in-ear noise-cancelling models, and weigh just 1.5 ounces. The measurements are then sent to a digital electronic chip located in the control module found on the headphone chord. Bose says its Truport technology uses ports on the earbuds to reproduce "deep lows, and lifelike vocals and instruments", while active equalisation tunes the frequency response for "improved, natural sound".
New proprietary StayHear+ ear tips feature an improved conical design for a better fit in the ear and to block external noise. Owners can use the BoseQuietComfort 20s in one of two ways: either with full noise cancelling engaged, or in 'Aware mode' which keeps the music playing, but allows external sounds such as a car horn beeping or a friend talking to be heard. The headphones include an integrated in-line mic and controls that enable you to take phone calls. Also announced by Bose today is its SoundLink Mini Bluetooth speaker, available from July 11th. And Bose uses DSP (digital signal processing) to create a "tonally balanced sound at any listening level". The Bose SoundLink Mini uses Bluetooth A2DP, comes with a charging cradle and has a lithium-ion battery good for a claimed seven hours of listening. The BOSE QuietComfort 20s are the latest members of the popular QuietComfort family, which for various reasons seem to have become almost standard field kit among business travellers and frequent flyers. But unlike the BOSE QC3 and QC15 headphones which fully encase the ear, the QC20s are compact travel-friendly earbuds. The overall effect is eerily silent and the noise-cancellation circuitry seems even more effective for reducing general cabin conversation, although their magic remains ineffective on crying babies.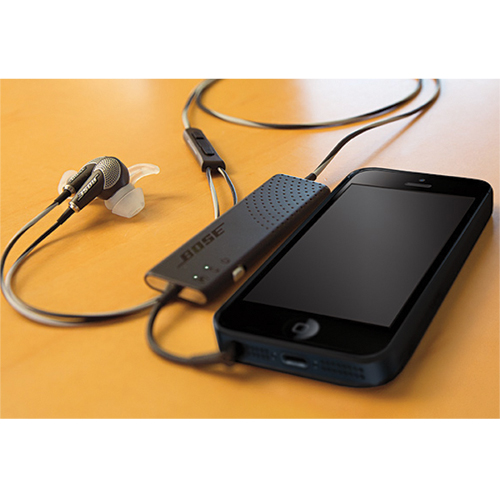 In addition to smacking down ambient noise, the BOSE QC20s are solid performers with a bright top-end response and broad mid-range, although the flatter bass response makes them less ideal for doof-doof.
I've been using a pair of QC20s for the past month, which means enough international trips that the headphones themselves could qualify for Gold frequent flyer status. But the QC20s are also far more versatile than conventional headphones because a tiny microphone in the inline control unit lets them double as a hands-free setup for your smartphone. A switch on the inline control unit located partway down from the earphones temporarily allows the outside noise in so that you can hear the cabin crew when it's time to order your meals or drinks.
The tiny speakers rest against the opening of the ear canal while the triangular wing of the silicone eartip fits into the contour of your ear to hold it in place. As a result the earbuds rest in the bowl of your ear rather than being stuffed deep into your ear canal. One of my only criticisms of the QC20s is that this control unit is located too close to the earpieces themselves.
A more basic oversight, and a surprising one for BOSE, is that a double-pin airline adaptor plug isn't included on the handy QC20 carry-bag, despite being standard kit on the QC15 and QC30 models. The QC20s rely on a rechargeable battery, which is tucked away in a flat section towards the end of the cable. This charges up over any USB port, including those now found on many aircraft, but it takes only four hours of being jacked in to supply the QC20s with a full 16 hours of juice.
And unlike other BOSE QuietComfort headsets, if the battery runs flat the QC20s still continue to work just like regular headphones. David Flynn is the editor of Australian Business Traveller and a bit of a travel tragic with a weakness for good coffee, shopping and lychee martinis. The similar Sony product, around for a few years is cheaper, clips to your shirt and has double-pin adaptor.
I find that if you unplug the jack only slightly, leaving a milimeter or so of it out you wil get the sound of that one channel in both ears (still only the sound meant for one ear). Hi Jalmulla - yeah, a bit of fiddling with the plug hits that sweet spot in the socket so it's a good trick for 'emergency' situations without an adaptor, I've used it myself, but I prefer an adaptor all the same. The first in-ear noise cancelling headphones from Bose® give you more control over how you listen than ever before, in all kinds of environments. Bose engineers have placed two tiny microphones in each earbud: one senses the sound approaching, the other measures the sound inside. The chip – exclusive to Bose – calculates an equal and opposite noise cancellation signal within a fraction of a millisecond. It's designed to fit in the palm of your hand, connects wirelessly via Bluetooth to a laptop, smartphone or tablet, and comes in an aluminium housing. Just as important, they stay in place unlike some earbuds which they too easily and too often tumble out.
It sits up around your neck rather than further down near your breast pocket, where it could be clipped for easy access (if the unit had a small alligator clip, which is also something I'd like to see in any future revision of the QC20s). My Audio-Technica ATH-ANC23 comes with an airline adapator to plug into the socket for stereo sound.
Or, choose Aware mode and let some of it in—all while keeping your headphones on and your music alive with lifelike Bose® sound. The QC3's a great although I was suprised by the level of noise leakage when the volume is at a higher level.
22.12.2014 admin