The views expressed in the contents above are those of our users and do not necessarily reflect the views of MailOnline. ShowMe™ and Country Life bring you some of this magazine's top notch content right here on our site.
The heat was already starting to put a shimmering haze onto the horizon and it was only nine in the morning.
Having left Nieuwoudtville early we trundled slowly along, first passing through the town of Loeriesfontein where we stopped briefly to refuel and to have a look at the Windmill Museum before hitting the long dirt road again. Tired from sitting in the car and yearning for a bit of exploring on foot, a roadside break near a pair of windmills was eerily silent apart from the buzzing of an irritating fly around my ear and the clanking of the windmill's parts as it pumped water into an adjacent reservoir. Jumping back into the vehicle, we were soon passing Jackal Buzzards and Southern Pale Chanting Goshawks perched on the telegraph poles. At another water reservoir flocks of Yellow Canary and, more excitedly, Damara Canary flew down to drink amongst the black-headed sheep. Rain had not fallen as was hoped this year and despite this being the height of the flower season any form of blossoming colour was hard to find – it was apparently the driest year in more than a decade. It had started to rain lightly by the time we arrived at Goegap Nature Reserve in mid-afternoon and after passing through the gate we drove up to the reception past a dozing herd of gemsbok that lay together with a lone springbok ram with a broken horn.
Our chalet was situated in a perfect birding spot alongside a dry riverbed covered with thorny Acacia karoo trees and nearby a large koppie. Thrush, Cape Glossy Starling, Laughing Dove, Cape Turtle-Dove, Cape Bunting, Bokmakierie, Southern Masked-Weaver and even a Karoo Scrub-Robin were soon outside the door of our chalet. A Every now and then, when I felt it move, it made me jump out of my skin.'Mr Fielding was lying in bed on 8 August when he felt the insect land on his glasses and then buzzed into his ear. My family and I were heading northwards on the backroads between Nieuwoudtville and Goegap Nature Reserve, which was to be our next destination as part of a two-week journey through the arid Northern Cape. This back route took us through some interesting habitats, scenery and towns with interesting names such as Aalwynsfontem, Platbakkies and Gamoep, eventually leading us to Goegap Nature Reserve.
Rock hyrax sat silhouetted on the tops of rocky outcrops and a pair of bat-eared foxes first lay flat and then jinked off rapidly as we walked in their direction. A pair of hovering Pied Crows caused me to stop, where I found a springbok that had become enmeshed in the farm fence, suffering a slow agonising death, and now providing food for a myriad of beetles as well as the crows. Rocky outcrops along the route produced Karoo Chat and Mountain Wheatear; and at an abandoned farm house flocks of Speckled Pigeon were now the only occupants other than a pair of Cape Sparrows who had their untidy nest tucked amongst the eves.
When I did find a patch of yellow daisies I stopped to photograph them and was also rewarded with viewing a hunt that rivalled any made by a large predator such as a lion or leopard.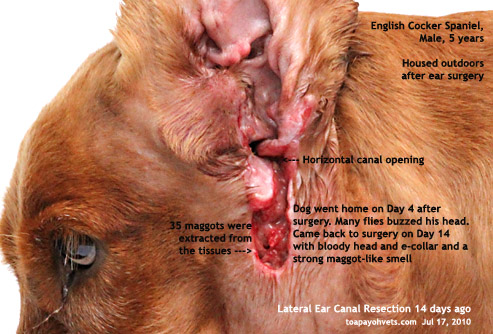 Ant-eating Chat, Capped Wheatear and Familiar Chat were plentiful along the route, while flocks of Pale-winged Starling and Cape Weaver sat in the trees above the kiosk at reception, ever hopeful that scraps would be thrown their way. Around the koppie numerous rock hyrax fed unconcernedly and Rock Martin circled above, whilst among the bushes and trees an Acacia Pied Barbet called. The only birds to be seen were a family of four Spike-heeled Larks that scurried around the dry scrubveld and two Ludwig's Bustards that flew past high above. A long-tongued hover-fly that probed into the flowers' pollen was pounced upon in a perfect ambush by a large predatory fly and carried away on powerful wings. Having booked in, we headed back to our chalet under increasingly heavy rain and chuckled at a chacma baboon that had crawled into a hole with just its head sticking out and was looking rather sorry for itself as it became more and more drenched. Speckled Pigeon and Cape Sparrow flocks flew past constantly but dashed off quickly when a Rock Kestrel flew in to land on one of the cliffs.
A Common Fiscal, on the other hand, revelled in the wetness and ruffled its feathers constantly in joy of the rain.
05.12.2013 admin