Finally got around to redoing this:Discovered I'd managed to fluff one of the vermeil beads in the back on the original piece. The fact that Kim went for a simple yet elegant looks this time around is really everything to me. Glamazon Jessica is a suburban girl who left a quiet New Jersey town to pursue her dream of becoming a journalist. In this case, Victoria's inverted bob haircut shows off her delicate neck to back tattoo. Model and actress Milla Jovovich flaunted her brunette bob while she walked the red carpet in her draped black dress. Kelly Osbourne showed off her faded violet hair color while hitting the Guys Choice Awards.
Morena slicked back her short strands for a more sophisticated look at the 2013 People's Choice Awards. Katherine's short, softly curled bob has a very lady-like and lovely look and the color brightens up a drab look. Miley Cyrus showed off her blonde locks with this edgy 'do that featured shaved sides and textured bangs. Jessica Pare styled her dark brown tresses into this super naturally wavy 'do at the Lucy + Crystal Awards.
Michelle Williams wore her hair in an adorable tousled pixie cut at the 18th Annual SAG Awards.
The gorgeous Kim Cattrall brought the glamor to the red carpet with a bold black gown, bright red lips and a wavy, old Hollywood hairdo.
Selma's sleek bob gives her an effortless chic look which always flatters her flawless fashion sense.
Katherine looked like a modern day Marilyn with a short curly hairstyle and long strands of pearls. Ginnifer Goddwin walked the red carpet at the 2S Films Honors Children Awaiting Parents event with a cute pixie cut. The stylist currently has her own show with Bravo where she displays her talent for making the perfect cut.
About iHairstyleBrowse the popular hairstyle galleries, find the latest haircut ideas, hairstyle trends, new celebrity hairstyle photos for women and men.
They actually don't look bad, crimped on a hoop like that, but a tiny round bead would likely look much better.I've been turning it over in my mind about soldering.
No original work, just some pics from various Etsy merchants.I did go ahead and make spiral earrings. So these are two pictures of a whole bunch of robins in a winter tree.The earrings, coincidentally enough, use a bit of the same color scheme. After landing an internship in the fashion closet at Marie Claire, she somehow ended up in the wonderful world of fashion. The always classic Reese sported a retro style bob, which highlighted the neckline of her navy strapless dress.
We recommend finishing the look with a mist of Bumble & Bumble Does-It-All spray for light hold. Her blonde tresses were side parted and styled with hot rollers for a signature old Hollywood movie star look. Wondering how feasible it would be to solder an earring frame, say, that already had dangles on it. I had this idea of making a round hoop, with a curved bar inside it, like a much simpler version of these: Gokul earrings. The weight would have to be counterbalanced by something in the back, whether an actual clasp or a fake clasp, or something.Plus, I'm liking the idea of it as a sort of summer necklace, the kind of thing you could wear with a summer top.
Just the bottom hoops with the bar inside, and stuff hanging from the bar and from the bottom edge of the hoop. I really prefer using heavier wire in back to finish a chain, plus it could stand to be a bit longer anyway.Anyhow, about the earrings. In short I'll probably go back to the drawing board with it, but it's too cold now to do much with it.As much as I'm liking all these stone pieces, it's not always easy to coordinate earrings with necklaces.
The small hoops I made today are so much lighter in weight and easier to wear.It's funny, I knew from the beginning it would start out hard, then become easier and easier to do this sort of thing. On any given day, you'll find Glamazon Jessica blogging like a madwoman, adding to her collection of Louboutins, interviewing celebs and sneaking off to red carpet events---all while having a blast.
These are to go with my mom pendant:Only the earrings use just my kids' birthstones (peridot and pearl).
It's exactly the right size and shape, it hangs well, it's light-enough in weight so I can wear these earrings all day (and I have) and not feel them. Today I had this hoop, I was making the bend for the top and my pliers slipped and nicked the wire. I've used oxidized Bali beads and such, that's it.However I ended up using Argentium sterling in a hoop design, with the citrines wrapped on a short length of sterling chain.
By "mechanics" I mean basic techniques like wire wrapping and creating components with wire.
I don't think it's a big deal, but it does represent cost, both in time and in tools and materials. If I find a sweater I like, I'll buy the same sweater in as many different colors as I need, rather than try to find a different sweater.
It took me a while to make them though the design itself is quite simple.For one thing, I've found it tricky making matching sets of jewelry.
It's made of argentium sterling so it won't tarnish easily; it's hammered, which gives it a more finished appearance as well as hardening it. I'm still thinking of the oxidized thing but it'll probably be for the necklace.Madeira citrine is even more beautiful in person than in pictures btw. I did a filigree necklace, but the design wasn't original, it was based on something I saw on Etsy. I tried tiny peridot, garnets, gold beads, iolite, aquamarine, even the Madeira citrine of my earlier earrings.
I decided not to chase it (yup, I went through a stage where I chased everything) and the hammering is nice and even.
Not in the manner of, bang together this and that.Many of my pieces turned out to be surprisingly wearable.
I knew it wasn't going to be as simple as these:Here, the shape of the hoop keeps the horizontal bar from sliding around. My daughter did the wrap on one of the moonstones.Today I was fiddling around with my new work wardrobe, seeing if I had enough earrings to match my work clothes. The peridot I've had for over a year (it's the same one here); the baby coin is the same as in the necklace.
Since this bend would join with the other bend at the top of the hoop, it wouldn't create a weak point.Then, one side of the top of the hoop looked wrong.
I love amber but it's so expensive to get anything other than chips, which I'm not crazy about, or else readymade amber pendants. Some, I've become sentimentally attached to, as markers in time, showing where I was when I made them. And I'm still in love with the "winter tree filled with robins" concept, and the Madeira citrines are among my favorite stones, ever, they're really terrific. Take these for example:Beyond the appalling photography, there is everything wrong with these earrings. On the bars, I have a line of graduated wire "fringe"--you make a loop on one end of the wire, hammer out the other end, then file the end smooth and round.
These are the versions I ran through:In figure 1, I tried wrapping fine-gauge wire tightly around the sides of the hoop, directly under the curved bar. I've liked adding karat gold beads here and there in my work; nothing else looks like real gold (unfortunately nothing else costs like real gold either, hence the idea of using it sparingly).I love these baby coin pearls! They have the warm red-brown glow of amber, without that soft, easily scratched, easily dulled aspect of amber.
Today, I just grabbed pliers, a jump ring mandrel, you can use all sorts of tools and items on wire (the handle of my chasing hammer is one of my favorite mandrels) and bent the wrong part out.Of course my goal is zero waste on heavy gauge wire. I read on the Net that true prasiolite, commonly called green amethyst, is either rare or non-existent (depending on which site you consult). Madeira citrine of course is citrine and it's nice and hard.I had some fun teaching my daughter beginning jewelry making. It's also a brilliant way to cut the weight of a necklace, and to stretch out your beads.If I invest more time in what I do now, I produce far less waste. If you pushed firmly on the coil of wire, it slid down the side of the hoop.I then tried wrapping fine-gauge wire above the curved bar, on either side of the hoop (figure 2).
It's just that, over the past several years, I've been making earrings, and now happen to own an almost embarrassing number of them.I'm weaker as far as necklaces. They're quite a bit more versatile than the larger coin pearls and add a nice glow to whatever you're making.All three components of the earrings are very lightweight. The cut is rather key though less important than the size.The labradorite ended up being the best color to go with citrine.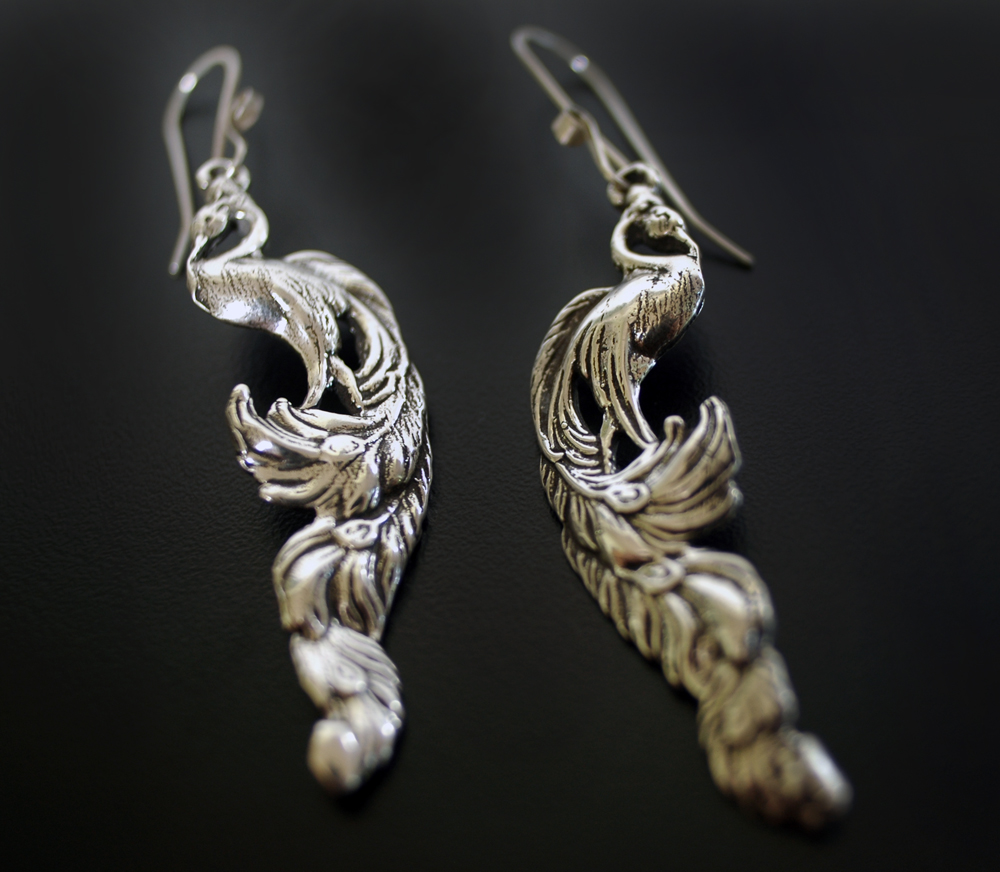 She's too young to just sit down and actually make a finished product, but I was impressed how quickly she picked up the same techniques it took me years to learn. The reason I'm mentioning it here is, they use the most fantastic artisan jewelry in that show.
I didn't know how to close them, so I made up the idea of wrapping the wire onto the top bit of the hoop. This worked, because the bar could not slide, but looked funny, since the wrapped wire covered only the top part of the hoop.Figure 3 entailed covering the rest of the hoop with the fine-gauge wire. I have a gold version, but need to redo it--I tried putting gold beads on the outside of the stones, instead of just using them to space out the stones.
Even then, I have labradorite in tiny faceted pears, small rounds, and faceted rondelles, all bought at various bead shows over the years. It's like they made a point of finding really nice stuff and then having the various characters wear it. Even the top loops are badly formed.I've since reversed them (yes, I made them identical rather than symmetrical). That doesn't work, since the gold beads are too light weight, they end sliding up the sides of the hoops.
For my loop-ended head pins, I go for the smallest possible loop, the very end of the pliers.I've also gotten away from the idea of "having" to use specific gauges and tempers of wire for a given project. They're just tumbled nuggets of aquamarine, undyed but probably grade C, wrapped at the top in goldfilled wire, stuck on niobium earring wires. I still have more agate stones to do but haven't done them yet.I made a four-strand turquoise necklace I'm not sure of yet.
Plus, I think I'll do a simple-loop headpin rather than a wrapped-loop one, for the gold version.That's it so far!
I put them together with a very casual outfit, and got compliments on them, which rather shocked me.What I recall when I see them, is how I made them. I actually have earrings to match practically everything.)Been wearing my London Blue topaz necklace a lot lately.
I had to wait ten years to become a "real" programmer, but I never thought it wouldn't happen.Ah!
Blogged on April 30, 2007 as follows:I would rather have made these with lapis stones, but recall I'm still on my "bead cold turkey," so I used some blue apatite stones instead. If you run out of the one, you can usually substitute the other.Oh, I will have to redo my earlier prasiolite and prehnite necklace. Pretty pleased how they came out, would like to try making more hoop earrings.Bead cold turkey? In which case, the dangles wouldn't really dangle, they'd just be stuck in a piece.So I'm thinking, do I really want this entire earring to stand or fall, based on a continuous strand of wire?Figure 4 was my solution.
I've finally found a good source of aquamarine, I no longer buy it at bead stores nor even at bead shows, where it tends to be dyed. I didn't have enough green amethyst to do it properly, then I wanted to use the prehnites, and the chain itself is cobbled together because I didn't have one long piece. I'll try retaking the last picture, because it's beyond pathetic, but doubt I'll have time to do anything fancier.I'd really just like to photograph where I am at this point--it's kind of fun, actually, to go back and see how bad you were before. I've used it to "glue" components together, I don't mind that, but the idea of covering the entire frame with wrapped wire irked me. You get a glimpse of color, but can't really distinguish it.These, I'd like to redo, but the essential materials and idea must remain the same.
Because these were based on a tree full of red-breasted birds my daughter spotted, one dreary grey day. I'll want something better-made though, more delicate-looking.What's been frustrating is a sheer lack of time and energy. Sometimes you get stuck in a rut, where you feel you need to keep going, you pour a lot of work into it. If you take a break from the rut, you can step back and plan better, and work more slowly, but produce much better work.Perhaps some of what you did before was a draft.
25.09.2015 admin