The Racer X is a nimble cross country race bike that takes full advantage of it's fully active Horst Link suspension system, giving you a ride with superior bumper performance and maximum control and efficiency. If you'll remember back for a second, Titus was recently closed down by their factoring company for situations not entirely unlike what just happened to Race Face. Then, retaining a single former Titus employee (Ben Webster), they've worked at lightning speed to bring several models into production. Sealed cartridge bearings in the front rocker and main pivots with Igus bushings in the rear near the axle. Dropouts are full carbon fiber, and the frame is a monocoque front triangle design with full carbon seatstays save for a small alloy insert at the pivot. They'll also offer a model with an alloy front triangle but the same carbon rear triangle. This alloy hardtail 29er is internally nicknamed the Riddler, an homage to an older Titus model. Titus's Facebook page announced that they reduced prices on many models to help get funds for the purchase of RaceFace.
Want to Contribute?We're always looking for enthusiastic, positive and talented writers that know their way around both a bicycle and sentence structure. As another 'only 5 ft' person I can sympathise with the difficulty of finding full-sus bikes. The Rush does not in any way look like a design that would work well in a very small size, as it needs a certain amount of space in the frame, for the shock. I suspect a happy solution will be a little more costly than if you were of more environmentally inefficient proportions. 24" wheels are an option but on a frame designed for 26"ers the bottom bracket will end up being quite low. I'd have a look at Rocky Mountains (element are their XC) too, I'm 5'3" ride the 15", they go to 13.5" in their womens (mine is a guys). That Titus looks good, because it has a relatively short travel fork, which does not in any way jack the front end of the bike up, too much. My wife is 5'5" but has a short inside leg so a low standover height is crucial for her too.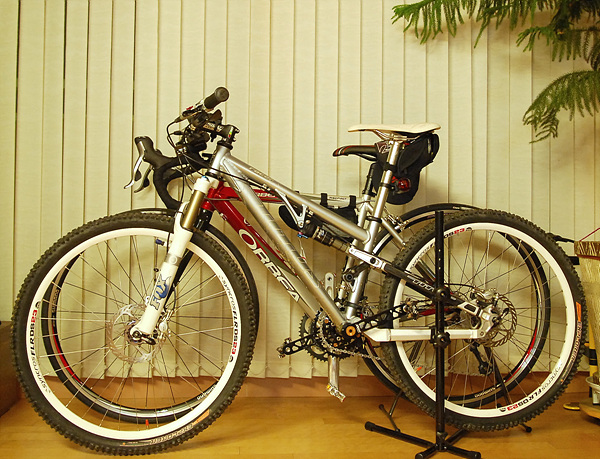 I've done some web research since then and the other bike to look at could be the Rocky Mountain Altitude(clicky). I am ready to hit the buy button for a Titus Racer X for my wife but am undecided between the small-80 or small-100 because her measurements are in the middle. The 10th Annual Whiskey Off-Road captures the essence of what mountain biking is all about. It'll be available next month because the rear triangle was already developed for the Rockstar. They're renegotiating with that tube manufacturer to continue to use that design, so its future is TBD. We're looking forward to see what comes from the brand and glad to see them back in the game! Since RaceFace employees are being picked up by others, I'm skeptical that, after buying RaceFace, it would be restored to anything like its former self. I've tried quite a few bikes over the lat couple of years and found that there are 3 that should be OK for fit: the Specialised Myka, the Orange Diva, and the Titus motolite.
Maybe a design that has the forward shock mounting on the downtube would allow for a lower top-tube? I'm sick of stuff being too big and heavy, just because other people eat too much and grow unfeasibly long lims and torsos. We've designed the ultimate geometry that strikes the perfect balance between razor sharp handling and high-speed stability.
I have researched and read all the post on this site but still need input from someone who may ride one.
I remeasured her again plus the dimensions on her FSR and decided on the XS because of what everyone stated abouthe TT length. So close that he predicts the alloy version of the Racer-X 29er bike (carbon version shown above) will be out in about one month. They took the Rockstar concept and tightened up the geometry to make it more of a XC racer. The only change is that it'll use a full-length cable housing run to the rear derailleur.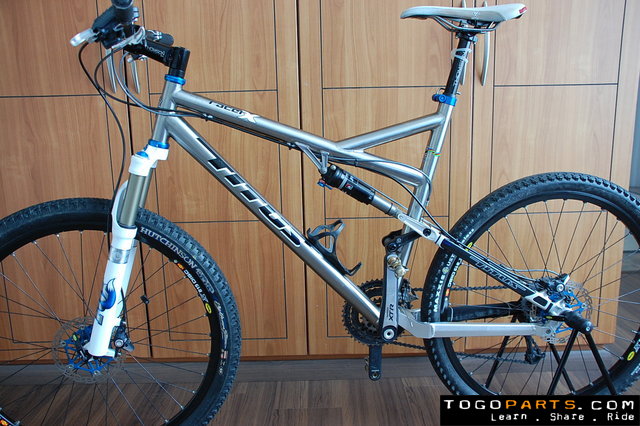 At any rate, I wouldn't be surprised to see some form of titanium model from them soon.
I had a rather high opinion of RaceFace and Titus, but now I treat them as any other middle of the pack brand. They vary massively in price and ride - the Myka is the cheapest, and I found it to be quite a heavy and unresponsive ride - if your budget is tight I would recommend considering a high spec hardtail rather than the somewhat heavy weight Myka.
Personally, I don't much like big 5-6" travel forks etc, as I feel too high off the ground.
With the ML-1's nimble handling, short chainstays, and killer travel options, you have a bike that can take you up the most technical climbs to the most hair-raising descents without breaking a sweat.
This one has a 70? head angle and 73? seat angle combined with a slightly higher bottom bracket. Alloy version has the same tubeset of the Rockstar, but the tweaked geometry for racy XC performance. The Diva is great fun, especially as a 'downhill' bouncy orientated bike, although it also holds it's own on the climbs. There's a reason this bike won Bicycling Magazine's Editor's Choice Award for "Best Trail Bike" in 2007. 20 mm may not seem like much but think about how different 1-2 mm can make in your seatpost height. The Titus is a great all-round xc full-sus bike that would handle anything you could through at it (mine has coped well with the downhill trails of Morzine and also the never-ending climbs in the Rocky mountains).
But the Titus isn't cheap - having said that do a quick search on the forum as I'm sure someone was mentioning that there might be an xs titus at a bargain sale price.
10.01.2016 admin