I went and got zoning and building permits, which were relatively painless and got a set of plans from Blackberry Meadows, which were alright. I know, this is nothing for you folks up north there, but for Macon Ga, this was a LOT of sleet and frozen rubbish, this cost me a day and a half.
The end of day four, well four and a half as I did get a half a day in during the freeze BS.
End of day six, yeah this was a hard day with hanging off a ladder, circular saw in one hand and sawzall in the other, Well, maybe not exactly but pretty close. Next is compacting the gravel and getting the lumber yard to swap my 2x6x16s for the 2x6x18s I need to finish the trusses. I got to know the local amish and had them build a deck, which was the biggest thing on the wife's list.
I had them price a 30x40 pole barn with a loft and it ended up being reasonably priced, but more than I wanted to spend, as we most likely won't be living here forever.
The building is going to be the place where I store all my tools, JD318, a couple cars, and one corner is going to be the man cave. It will have radiant heat, electric & water and I would like to drywall but most of those may have to wait until $$ permits. Damn, nice work, we could do with some Amish people over here, I guess it'd take them too long to paddle their way across the atlantic though! There was enough extra to extend the gravel driveway to the barn which really made me happy.
I drew a picture, the amish made a materials list and had the lumber company give me the total. This is my skylight, I am going to leave this gap at the peak of the roof and cover it with a clear panel of some kind, still debating the cheap fiberglass or something a little fancier. Doesn't seem like there was a whole lot of site prep or excavating, is that the regular way of doing slab work in your region? Personally, I would want a 4' overhang in the front, which would probably require making half-lap joints on the front truss and running those 2x6s all the way back to the second truss and another set of half-lap joints.
I used 4k psi with fiber and the concrete finisher said it was overkill, that I could park the loaded concrete truck on it when it was cured. The truss is spliced with the 2x6 that runs vertical and with the plywood gussets which are indeed nailed and glued.
Must have gotten carried away with the word ditch, a little proofreading wouldn't hurt now would it? You are currently viewing our boards as a guest which gives you limited access to view most discussions and access our other features. Yeah, not my first choice of roof colors but it matches the house which is in a neighborhood. Actually the first foot was balck soil and pretty easy, then a cap of clay that was hard as concrete then red clay that was very easy to get through. I couldn't get any poles treated for burial so I bought some Cop-ox on advise from the building supply place and painted on two wet coats. The Zoning guy stopped by later in the day and said he didn't want to read about me in the paper. But of course what I might have to deal with would not even be an inconvenience to you guys!!!!! By joining our free community you will have access to post topics, communicate privately with other members (PM), respond to polls, upload content and access many other special features. I lost my 24x33 shop but am gaining a 32x40, pretty good trade except for the dissembled nature of the new one.
Dad brought over his Mahindra with the 5' tiller and broke the ground up and between him and me on my little Allis we leveled it out and spread 19.7ish tons of gravel.
Great fun, would have been better if my new rainsuit had a hood like it was supposed to, but there ya go. If the sides are open and the roof sheathed, it creates an airplane wing and an unexpected windstorm can lift the roof right off. Pretty much all I can tell you about the country is that the electrical outlets are funny and the light switches all work backwards, bizarre!!!
Of course, someone with more experience or preferences might do things differently, time will tell if my advice was sound.
Like I mentioned earlier, if I was to do it again, I would buy trusses as it would have caused less problems with the building inspectors.
I doubt there would be any significant difference over what I spent doing it with the extra trusses. I also decided to do commercial or bookshelf girts and added a foot overhang all around to dress the place up a bit.
It was wet from rain the day before and he backed right through a ditch and right up a 4 foot high ditch. But it was only like $9.50 a yard more so I feel like it was money I could afford to spend. If you have any problems with the registration process or your account login, please contact contact us. It was probably not a necessary step but I feel better about it than I would have with just nails. I asked the concrete company and they said no rebar was necessary unless I was going to get heavy equipment on the edge of the slab.
A local engineering firm agreed that the trusses on 8' centers would have been fine, but it was cheaper to buy the materials and add 5 trusses to appease the inspector.
His comment was something like "It won't need rebar unless you are working on heavy equipment and driving it off the edge. I figured if I was going to spend the money, I would rather have the extra structure though it wasn't needed. I have decided to enlist the help of trained individuals as I don't want to make a mess with $2k worth of the stuff.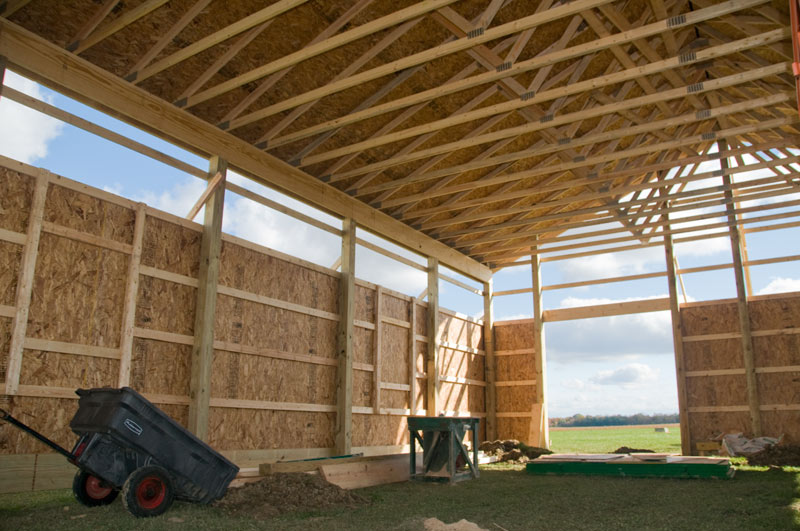 Comments »
MARTIN — 27.10.2014 at 17:52:52 Since they're mild and easy.
QAQASH_007 — 27.10.2014 at 16:25:37 Thing that often impacts my frozen with.
sex_baby — 27.10.2014 at 19:17:31 Before purchasing a cube storage system, make commissioning websites, software and companies and knows.