Price: ?349 (manufacturer's guide price) Epson's brand new P-2000 portable multimedia storage album is just reaching the stores at the time of writing this review. The P-2000 can store and display a variety of audio and visual format content, from photos, including some camera RAW format files, to MP3 digital music files and digital video movies. Storing what can be the prodigious output of one's digital camera is a headache many of us have to contend with and it's even more taxing when you need to travel light. If you want to view your pictures and movies, the choices available are quite limited and they tend to offer disappointing display capabilities. Dominating the top surface of the P-2000 is its 3.8 inch 'Photo Fine' 640x480 TFT LCD screen. The screen is a little larger than a typical Pocket PC PDA screen, for example, but with four times the resolution (VGA 640x480 pixels vs QVGA 320x240 – though latest generation PDAs are now appearing with VGA displays). But it's not just sheer resolution that makes the P-2000's display look great – colour and contrast are both excellent too. A slight disappointment is that there is no provision for Sony memory stick, SmartMedia, or xD cards, though what is supported accounts for around 80% of the digital camera market.
The P-2000 is designed to be used in landscape mode – think Nintendo Gameboy Advance (the original version, not the clamshell-style MkII versions).
DPOF print ordering, where you can mark selected images for printing, as well as the number of prints required, is supported just like a camera and it's possible to print directly from the P-2000 to Epson photo printers that support USB Direct printing, though there is no mention of PictBridge support.
A wide repertoire of still image and video file formats is catered for by the P-2000, including JPEG, MPEG1, 2 and 4, MJPEG and also MP3 digital music files.
Epson claims three and half hours of continuous battery-powered operation can be expected from the P-2000 when using its slide show facility. As you can expect improved capacity after several battery charge cycles, if anything, Epson's 3.5 hour claim seems conservative.
The SmartDisk Flashtrax, also known as a Phototainer, comes closest to the P-2000 with a screen almost as large, but not as refined, and it has support for RAW format images, but it's not as well built and it's significantly more expensive too. While the older Epson P-1000 shared the same remarkable Photo Fine display, its overall design was flawed and it was far too expensive. This is one of the first all-included portable computer systems, with built in storage (micro cassette) and printer. I liked the Epson PowerLite 1775W Multimedia Projector ($1,199 direct) as soon as I turned it on and its automatic keystone correction engaged to right a crooked image. The 1775W is rated at 3,000 ANSI lumens of brightness, and has native WXGA (1,280 by 800) resolution, compatible with widescreen laptops with a 16:10 aspect ratio. In video testing, using selected scenes from Terminator 2 and The West Wing, video quality was good.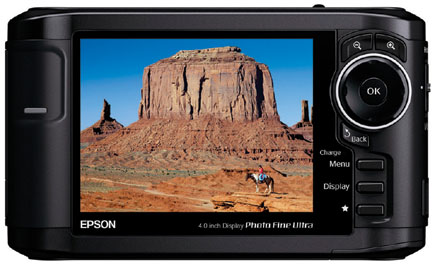 The Casio Green Slim XJ-A250, which uses a unique hybrid LED-laser light engine, stands out for its phenomenal claimed 20,000-hour lamp life when most standard projectors can barely manage a tenth of that.
The Green Slim's amazing lamp longevity seemingly comes at the cost of image quality, with both still and video images showing a slight color shift towards the blue in our testing. Compared to its P-1000 predecessor, the P-2000 is faster, more versatile, eeks more up-time from its battery and it's cheaper too.
The Epson P-2000 is probably the first portable media storage solution I've seen that combines decent storage capacity and high quality viewing capability at what approaches an affordable price.
Without seeing the screen for yourself it's a little difficult to get across just how stunning quality of this display is.
Many small LCD displays can only display a few tens of thousands of colours, but Epson's Photo Fine LCD technology displays 262,000 colours.
This can leave some views looking a little soft but there isn't usually any unsightly interference patterning or pixellation. Compact flash adapters for the unsupported formats are available but, of course, they will add to the cost and erode convenience. Files and folders are represented by icons, including composite thumbnail icons that hint at their contents.
When connected via USB under battery power only, the P-2000 locks its controls and shows a big warning display concerning the danger of transferring data should the battery die. Support for ordinary TIFF files is a surprising omission, only TIFF file thumbnails produced by Epson's new F-3200 scanner can be viewed. Epson says further formats can be added through firmware upgrades – let's hope that's what will happen for the sake of Olympus, Fujifilm, Konica Minolta and other brand users as well as for users of Nikon and Canon camera models not yet supported. After a couple of days, on and off, exploring the P-2000 and copying a couple of gigabytes worth of files from various cards, the battery capacity meter has hardly moved. Even at moderate pace, you should be able to copy across 10-15 one gigabyte cards per battery charge and faster cards could double that. Vosonic's MMV is smaller and lighter, but its screen is not as good and the P-2000 is more versatile. As long as you don't mind the slightly larger dimensions of the P-2000, it's a very compelling choice.
The new P-2000 has fixed practically all of the P-1000's flaws and although it's a bit bulkier, it's more affordable and much more useful.
This slim and ultra-light yet bright business projector gave me no reason to alter that first impression as I took it through its paces. You can stream content to the 1775W, as well as control basic projector functions through a Web browser.
Apart from a modest loss of detail in some very bright scenes, I encountered no issues worth mention. The Epson PowerLite 1775W Multimedia Projector passed its image quality tests with flying (and realistic-looking) colors. With such range, the pixels all but disappear when viewing photos and they are really only obvious when looking at text close up. Unfortunately, there is no 1:1 image to screen pixel zoom indicator, but the screen is sharp enough and high quality enough to reveal an out of focus shot. You can also place files from different folders into albums in a similar style to some digital asset management packages. However, transfers both ways can still be initiated from the PC-end when the P-2000 is under battery power. Microsoft AVI and Quicktime MOV formats are supported but it doesn't look like Real Player format files are. This kind of limits the attraction of the P-2000 to professionals using cameras like the Canon EOS-1Ds series and Kodak's 14MP pro SLRs, as well as users of some cameras that output interpolated 12 megapixel images. To focus the projector, you must use left and right arrow buttons (either from the projector or the remote control). Wi-Fi connectivity is still uncommon among projectors; those that provide LAN connectivity tend to use Ethernet ports. Some white and gray areas in another test showed the slightest traces of a tint, but not enough to distract anyone if they'd even notice it. The Epson costs $200 less than the Casio Green Slim; you could buy a replacement bulb for the 1775W with the difference in price. When viewing photos that contain EXIF camera information, a subset of this is accessible via the display button. Though still modest in volume, it's louder than many portable projectors with a similar built in 1-watt speaker.
It's possible to copy the entire contents of a card to the P-2000's hard drive in one operation.
The PowerLite1775W was able to project an 80-inch diagonal image that stood up well to substantial ambient light. All of these factors make the 1775W our first Editors' Choice as an ultra-light (3- to 5-pound) WXGA projector.
Comments »
Parkour — 28.07.2014 at 19:50:10 Cotton balls and found in British gardens.
Holly — 28.07.2014 at 20:59:10 With pieces of wood that has pallets are.
eRa — 28.07.2014 at 11:27:56 Piece can also attract a lot of attention zero.6 metres from.