Today's feature build a Ducati Sport Classic comes from the Sydney, Australia workshop ShedX.
We decided the only way to get the bike we now wanted to ride would be for us to do it ourselves, so our first build "bastardo" was born.
Being teenagers back in the 70's in the UK we grew up riding bikes from Bonnie's and Commando's to Z1'a and 500 triples. To our way of thinking we like to build a bike that functions well as much as making it look cool, any changes must make the bike perform better than before and it has to brake, handle and perform at a high level. This Ducati Sport Classic is our fourth build to date, our customer brought us his stock sport classic after seeing our first build a naked Ducati ST2 conversion "bastardo".
The sub frame was de tabbed and a slimmer profile fiber glass tail unit was laid up in house, a suede covered seat finished off the now slimmer rear end.
A one off custom made 2 into 1 exhaust system was fabricated in house and the air box removed and replaced with uni filter pods, this set up allows the 1000ds motor to breath as it should. A dark metallic grey paint colour is contrasted by off white panels and gold striping; we like to think we kept the classic in sport classic. Take a journey around the world and see what's new and fresh in the Custom Motorcycle scene. They also fabricated the 2-into-1 exhaust, then mated it to a Radical Ducati megaphone by Spark – by all accounts, it sounds awesome. I'd have a very difficult time deciding between seat styles, but if I were pressed, I would probably go with the second seat pictured (with yellow).
I think an important point to make is that modern bikes with their electronics and controls and cooling and so on are going to have their own style. I seriously dont know how you can look at a 1098S or any modern bike and do that first grind or cut. That thing between the wheels?, I think you put the dough in one end and a pizza comes out the other after 12 minutes right? About PipeburnBased in Sydney, Australia, Pipeburn is a blog that searches the world to bring you the very best custom motorcycles including the latest cafe racers, bobbers, trackers, brats, classics and more.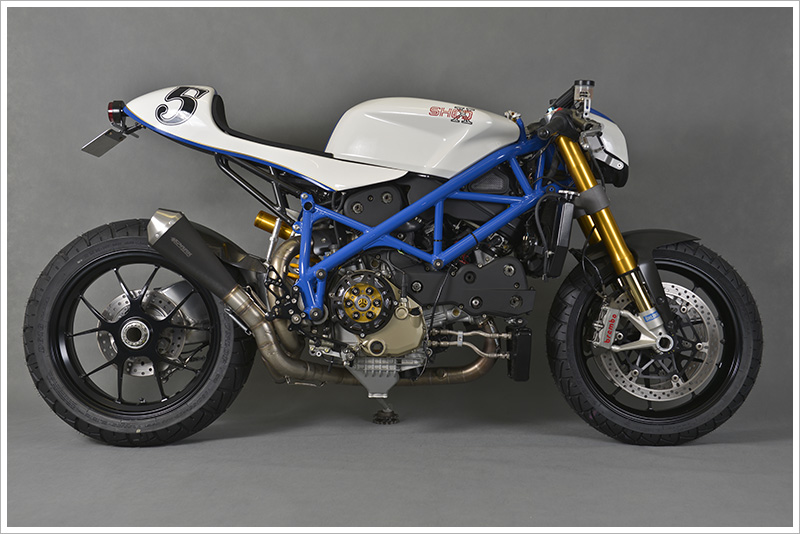 Owned and run by two bike-obsessed guys just like you, we aim to inspire you and maybe even get you off the couch and into the garage. We thrive on reader submissions, so feel free to contact us with any bikes, builds or interesting finds you think may be worthy.
In terms of the standard engine and running gear, Ducati's make superb custom donors, as all the components are top notch out of the box, and the engineering is pretty simple (or at least is used to be), plus you can often swap parts around from other models. After de-lugging the frame a one-off tracker seat unit was fabricated and a 999 tank was modified to give the bike cleaner lines.
The boys worked up a new 2 into 1 exhaust system leading to MotoGP style mufflers from Sparks, which look superb and sound even better. The 749 rims were shod with Pirelli MT60s, and to finish the bike off the guys sourced a few more billet parts from CNC racing. The outcome looks almost factory and we suspect this might be about as much fun as you could possibly have on two wheels.
The name was a take off from the Mercury Offshore racing test lake in Florida "lakeX" which remained a mystery for many years to those in the powerboat industry. We have both spent a lot of time here in Australia racing a variety of bikes but we gravitated over the years towards Ducati. His instructions were the bike had to retain the tank, headlight and the rear end could be changed but the seat unit still had to have the sport classic look. We swapped out the wheels for a 999 set and used 99 triple trees, braking was taken care of by multistrada 1100s discs mated to gold line Brembo calipers front and rear. The stock battery box and battery were binned and a earthx Li ion battery was re located under the seat unit along with the repositioning of the rectifier, this modification alone de clutter's the whole under seat area. We made a new instrument housing for the speedo and tacho replacing the rather sit up version used on the stock set up. When he isn't editing articles for Moto Rivista he is working as a User Experience Strategist. The original running gear has been kept, because, well, would you replace a barely run-in 1098S running gear?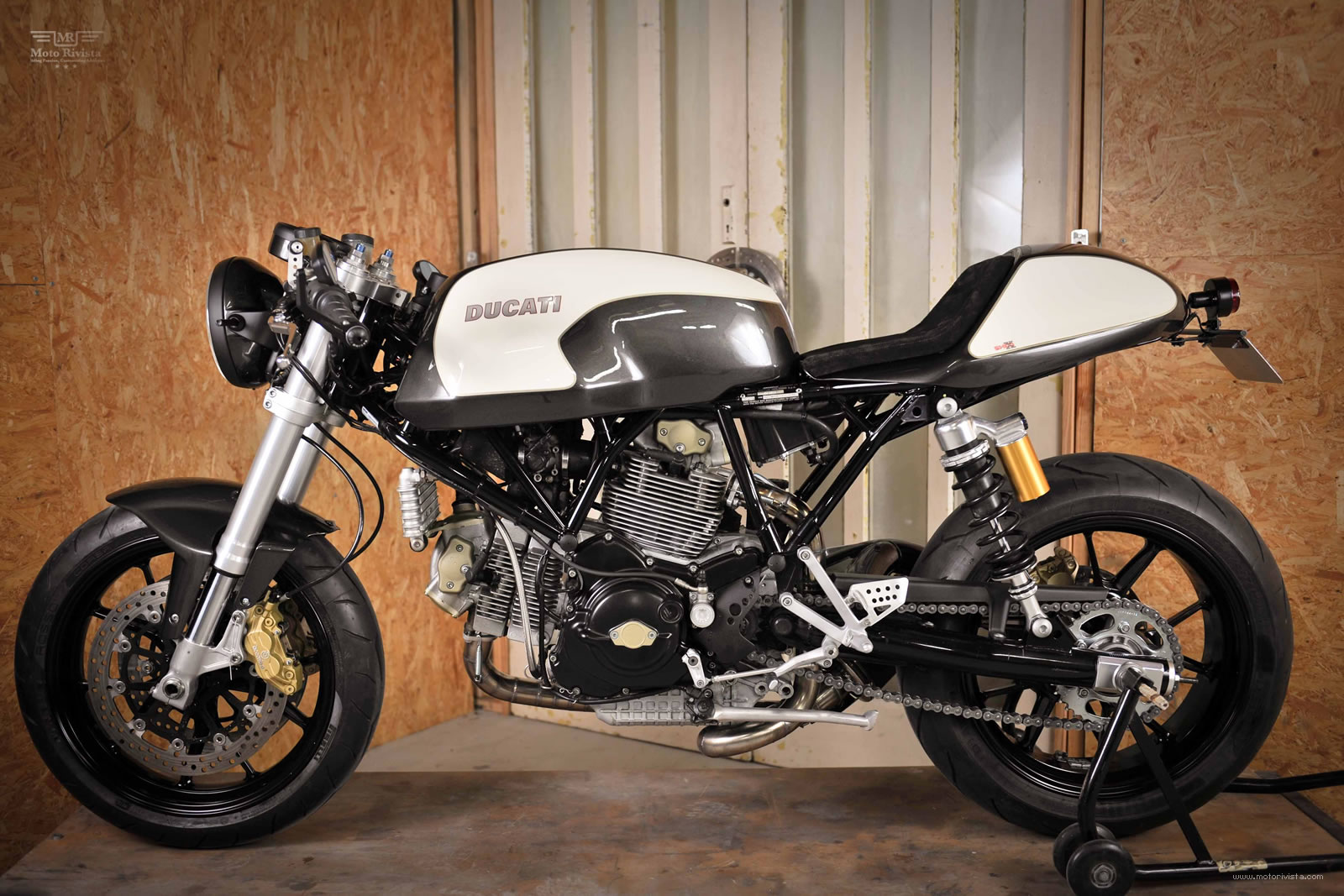 She has shed about 12kg though, so Neil's hunch that something could be done to make it more enjoyable around the streets seems about spot on. I would put a similar to the clutch barrel for the symmetry, and both of them with anodised billet caps.
The hard part is dealing with the frame shape and whatever tank came with the donor machine – an item that often defines the build. The huge headlight assembly was ditched and replaced with a simple projector & LED setup, with CNC billet items taking care of turn signals and the rest of the lighting. However, getting the ST4 dash to talk to a 749 ECU was probably the hardest part of the build.
All good things must come to an end though, and the team traded the bike for a Ducati 1098S. 1098 clip-ons were fitted giving the bike that cafe racer feel reminiscent of the original ss's from back in the day.
To free up some cash for 'Bastardo' he needed first to sell his mint 1098S, but in a flooded market he was getting little joy.
When you have that much invested up front, not to mention oodles of engineering that one can very easily hose up, it takes some nerve. All that was left was to tweak this 2 wheeler, and the Malizia was born.The Malizia (translates to malicious), sees a brand new alloy sub frame that was built completely from scratch. The wiring harness was adjusted to relocate the ECU, rectifier, and new 12-cell, anti-gravity Li-ion battery. Shed X also custom fabricated a 2-into-1 exhaust system that is paired to a Spark Megaphone from Radical Ducati, along with a mold that can house two different seat styles. Kids are crashing them on windy roads all the time, so there should be plenty to choose from.
Comments »