About Fotki Downloads Pricing Contact Us Customer Service File a Complaint Terms of Service Privacy Policy Choose Language © 1998-2016 FOTKI INC or its affiliates.
If you haven't been to Mt Surprise or O'Briens Creek before, here are some photos to give you an idea what its like. This is the old tin miners shed at the claim out at O'Brien's Creek where we take people on tour to dig topaz. From the old tin shed we take the track down to O'Briens Creek to were we will be digging topaz.
My girlfriend was on Yasmin Birth Control during 8 years and for the last year she easily managed to get pregnant. As part of the Biffa Award-funded works at Quorn & Woodhouse the Tin Shed has been fully renovated, the work having been virtually completed in the last few days.
Once cleared of its contents by Graham Bannister and his gang, work began to dismantle the Shed, and all materials which could possibly be re-used were set aside. The Shed is now ready to serve a variety of useful functions in the future – the only outstanding items are the installation of a sink, once a suitable one has been sourced, and the laying of a paved area outside the doors. We shall move on shortly to the construction of a timber platform between the Goods Shed and the siding, which will incorporate a replica Cattle Dock. If you are a Friend of the Great Central Railway, you can access Main Line Xtra which provides additional news, special offers and features. Tropical building - View from the top of Chuck's hilltop in Belize, where he is planning to build.
As I said to Chuck I am not and architect, but seeing as I have lived in the tropics for over forty years, tropical building is my thing. Click here and you will see one of my photos from my roof sheeting page, and below is an interior shot of the same place. Don't get me wrong, we can do better than the photo above, but it might help me to get over a couple of points. In the early 1930s a couple of guys with a bullock cart of supplies, a few stock horses and maybe a ton of corrugated iron trekked into what is now Litchfield National park and built this place. I took the photo of the termite mound say 5 miles from the homestead, termites are all over this area, they are a fact of life here and yet the timbers in the place are original.
What I do know is that they would have used crushed termite mound material to make their floors. The concrete stumps would have steel hold down bolts cast into them, and then ant caps are fitted over the top of each column. These are galvanised steel flashings that cover the column and have a say 1" slightly turned down lip all around. What makes this system effective, is that the termites can't or won't build their little mud passageways or tracks over and around these sharp edges. Tropical building - This is the interior of the church, showing the main structural frame set apart from the wall, and the light weight components in the roof structure. The raised floor levels of these tropical buildings gives a certain amount of cooling effect. When concrete materials were expensive or hard to get, this was the only way to go, apart from the earth or paved floor. Note the windows, timber shutters for bad weather, the lower section is an open timber balustrade, (there are curtains behind it), upper section wide open. The main feature of this type of house is the capacity for cross ventilation taking advantage of the slightest breeze.
In the Malay house photo, note the more modern (modern not better) addition at the left, built when presumably other materials became available cheaply. Here is a list of points that are important to consider, when tropical building, that may not be as important in other regions. Our cyclone building codes are categorised with the strongest being a small coastal strip that will take the most severe winds and also the possibility of a storm surge.
As an alternative to building it stronger, some communities take the opposite course, and build out of cheap easily replaceable local materials. Now we take the attitude (for right or wrong) that the house itself will be protection enough.
I was reminded of these a couple of weeks ago when I fitted a new lock to an old mate's bathroom. Chemical systems are still widely used for new house construction, but a couple of the most effective ones, Deildrin comes to mind, have been banned because of health risks. What we have now are reticulated systems of milder chemicals, that require pumping up from time to time. There are also chemical bait systems, where any signs of termite activity near to the house are chemically baited, and the termites carry the bait back to the nest.
We did a job once, the lady of the house did a bit of child minding, so she made extra shade by leaning bamboo poles with shade cloth attached, up against the upper level timber stud wall. Heavy materials like concrete, masonry walls, cement and terra cotta roof tiles take a long time to build up heat. You may thinks that's great, but the downside is that they take a long time to dissipate heat also. Lightweight materials act in the opposite way, they heat up quickly but lose the heat as soon as the sun is not directly on them. So if you are going to use brick, blockwork or adobe walls, shade them with awnings or verandahs. The first house I built for myself had a Monier (cement) tile roof with traditional red coloured tiles. I am now living in a house with a white corrugated iron roof, and a wide verandah on four sides.
Chuck mentions that he has access to river gravel for making concrete, which while not as good as crushed graded aggregate has one enormous advantage. I would go for elevated construction on 3" x 3" RHS steel columns at least as high as the Malay house pictured above.
This way if I make my stairs with steel stringers, (timber treads OK) and keep them clear, cap off all the columns, termites would not be a problem.
A concrete slab floor would be possible, but I would be thinking of a 4" high kerb all around the perimeter with a galv.
A compromise would be a couple of small areas to provide shelter security with the main area being open. Again with the screening and shutters, maybe only part of the house, just to retreat to when conditions are bad. I would definitely establish a few trees around the house, but I'd be a bit choosy on what type I plant. If there are any of you out there reading all this about heat and cyclones and mossies and termites you could be wondering to yourself "who the hell would live there"? When I was into windsurfing I used to sail all year round, any season, no such thing as too cold or too hot. I still swim in a sea lake around dawn, any day of the year, I brought the new year in that way and I hope to do the same for many years to come.
The Old Tin Shed, residing in a century-old building nestled in the pines just six (6) km north of Bancroft, is the manifestation of a dream.
With my throat still sore I thought it best not to be outside in today's cold wind, so Kay and I sat in our car on the Huntspill Seawall alongside the Parret Estuary in Bridgwater Bay. Although suffering with a really sore-throat, I dragged myself out into the cold northerly wind this morning to have a very distant 'scope view of 2 Black-winged Stilts that had just been found at Ham Wall RSPB.
Yesterday, Kay and I and two birding friends visited a large area of Dorset heathland near Wareham, where after a lot of walking we eventually saw our target birds: a singing male Dartford Warbler, 3 Tree Pipits, and a Woodlark that flew calling over our heads. Yesterday morning was definitely a Garganey day, when I saw 5 of these smart-looking ducks: a drake on Meare Heath shallow pool (very distant photo) and 3 drakes and a female on Ham Wall RSPB Reserve. Our next stop was on Tealham Moor where a pair of Yellow Wagtails was very soon located; the bright yellow male spending some time perched on a distant gate-post allowing some good 'scope views. A morning visit with birding friends to North Widcombe, just into North Somerset, certainly paid dividends when we had very good views of this superb Woodchat Shrike as it regularly caught bees along a hedgerow not far from the roadside. This weekend has seen an influx of Arctic Terns at suitable locations right across the County, and yesterday morning I was able to take these photos as 6 of them swooped back-and-forth, feeding over a small lake near Sharpham Park, not far from my home. This morning, a phone call soon had me back to Noah's Lake at Shapwick Heath NNR where 2 Whiskered Terns (rare in the UK) had been found among a small group of Arctic Terns. I was lucky this morning, when during my first butterfly count of the year on Ham Wall RSPB I saw a pair of Bearded Tits. Later, at a local heronry, we watched this adult Grey Heron fly in to receive a noisy welcome from its nest-sitting partner, and this adult Little Egret landed on the tall tree-tops having been disturbed by this dark-morph Common Buzzard that flew over. Yesterday morning was windy with rain showers, so I made a visit to the hide overlooking Noah's Lake at Shapwick Heath NNR. After going home for lunch, the afternoon found us in the hide at Catcott Lows Reserve, where we saw 4 smart looking male Wheatears (photos), 2 Common Snipe and 3 Little Egrets, but very little else. Kay and I went to Cheddar Reservoir early this afternoon to look for the recently reported adult winter Little Gull.
Some recent photos: the Blue Tit and Little Grebe were at Greylake RSPB Reserve, but quite what the grebe was diving down and feeding on I've no idea? This afternoon I went to Ham Wall RSPB Reserve to look for early spring migrants, and was partially successful, seeing my first Willow Warbler and Swallow of the year and also 15 Sand Martins, 4 White Wagtails, 2 Common Redshank and a flock of 50 Black-tailed Godwits, while two male Bitterns were 'booming' across the marsh. During the 3 hours that I was waiting for the grebe to come close, I took these photos of one of my favourite dabbling ducks, the Shoveler – a male and a female, and also a pair copulating. My wife's sister and husband were visiting for a few days, so when I noticed on Birdguides that a male White-spotted Bluethroat had been seen the past three days at Chesil Cove near Weymouth in Dorset, I suggested that we should go and give it a try and enjoy the scenery and sea air etc.
The 1st of the month found me at Crook Peak on the Mendip Hills where I managed to get some excellent 'scope views of 7 Ring Ouzels from the car parking area immediately below the Peak. On my way home, driving across Tealham Moor, I saw my first Wheatear of the year and a male Merlin that flew across the road in front of our car. It would have been quite comfy in its day and even now is a welcome respite after slogging it out all morning in the sun digging topaz. By 10:30 everyone is pretty knackered and tea, coffee, and Pam's famous homemade biscuits and muffins are the go. Its beautiful bush around here with amazing old pink granite hills which the geologist say are over 300 million years old. Here you can discover the true art of the gemcutter and see just how incredible coloured gemstones can really be.
A few months ago the Tin Shed was in a sorry state, suffering from structural movement, collapse of brick walls, rot in the timber frame, numerous leaks, and a corrugated iron covering which, whilst picturesque, had certainly seen better days.
The dwarf brick walls were then rebuilt on proper foundations, using the original bricks, and the timber frame was rebuilt, again using as many of the original timbers as possible.
Our thanks must go to R J Webster Ltd and Gary Taylor Electrical Ltd for their excellent work on this renovation, and, of course, to Biffa Award for providing the funding.
Finally, coal staithes will be built near to the Tin Shed, and this will conclude the work which Biffa Award are supporting. What I can say is that If I had to be building something like this today I would be asking the locals what is the best timber, and watching what they use and how they use it. The old church was blown away in a cyclone, and this building that replaced it has survived many cyclones including the devastating Cyclone Tracy on Christmas Eve 1974. A storm surge is the effect of strong onshore winds pushing up higher sea and tide levels than normal. When a bad blow comes along, they find shelter inland and rebuild or repair the damage afterwards.
After the purchase of an old and neglected building on a quarter-acre of land in September 2002, the dream began to take shape. From here we saw 14 distant Whimbrel feeding along the tidal mud flats on the far side of the estuary, and then I spotted this lone bird feeding along the grassy seawall.
Other interesting birds seen on these two reserves were: 30+ Black-tailed Godwits, singles of Oystercatcher (scarce inland) and Common Sandpiper, 2 Great White Egrets, 2 Hobbies and 5 White Wagtails, and not forgetting the resident Pied-billed Grebe that went for a long swim-about on open water before once again making itself hard to see in its reedbed home! First stop was Westhay Moor Reserve where a Cuckoo soon revealed itself calling loudly from its tree-top perch; a male Bittern was booming and flew across the track just as we were preparing to leave and I had put my camera away (dam!). Then it was on to the lanes around Liberty Moor, where the tall hedgerows are usually good for warblers, we saw several Chiffchaffs and Willow Warblers, and a few Blackcaps and Common Whitethroats, but, as usual, our target bird, the Lesser Whitethroat, held-out until the last, when it finally gave itself away by its repeated rattling call and then quite unexpectedly perched in almost full view inside the dense cover while I quickly grabbed a photo.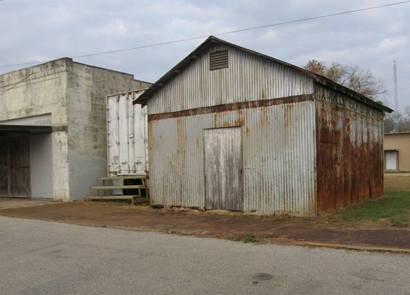 I also walked the main track at Shapwick Heath NNR and was rewarded with seeing 5 Hobbies, my first sightings this year of this super small falcon, a summer visitor from Africa. Other than these the Pied-billed Grebe was still wistfully calling from his reedbed hideaway and a Peregrine flew over. This turned out well when I saw an Arctic Tern hawking insects over the water, together with at least 120 Swallows and 200+ Sand Martins. The now resident male Pied-billed Grebe was again much-in-evidence, calling loudly from a favoured reedy area.
This small flock was the most I had ever seen in the UK, beating my previous 5 at Portland Bill in April 1974. Also a small mixed flock of Fieldfares and Redwings, but the only bird I photographed was this Grey Heron feeding in a roadside rhyne near the heronry. This is a pretty lush spot and during the winter season, from May thru August its quite busy.
Its bush camping at its best with all the mod-cons, like that drop toilet in the background.
An extensive library of classic, contemporary and unique one-of-a-kind designs, all carefully optimised to bring out the best in each and every gem, are available for you to choose from. The walls and roof were then re-clad with corrugated steel, which has a black finish externally. Three generations of women (Moryah, her mum Dagny, and her mum Janis) began the long journey of renovations…after, of course, begging and cajoling the men in their lives to do much of the work!The building itself has an interesting history.
With a bit of jiggling I managed to get the car close enough for these photos, while close by we also saw 2 White Wagtails feeding in the grass. The day before this my walk to Noah's Lake at Shapwick Heath NNR saw nothing new, however this daytime barn Owl sat in a window of the old tin-shed on one of the islands was good to see, if a bit distant for my lens, and this Common Whitethroat was one of several singing males holding territories along the main track. But never mind, as our day had already been made by 2 young Otters (last year's cubs from the look of them) that spent 15 minutes dive fishing tight up against, and just inside, the dense reedbed. In the afternoon Kay and I went out hoping to find a Yellow Wagtail; we tried three different breeding localities without any success, so perhaps they have yet to arrive here?
We saw the Bluethroat almost as soon as we arrived, getting good views thro' our bins' but as soon as I pulled out my camera it became a little shy and I only got this slightly distant side-on shot. People setup camp for up to three or four months and each day they get up at the crack of dawn and head off into the hills looking for topaz and they're back by lunchtime before it gets too hot.
Doug Menadue, master gemcutter, can personally craft for you a gem, tailored to your individual requirements, that you will be proud to own. Although Hastings County records show that the property was donated by Charles Authorson to the Orange Lodge and the structure was being erected in 1908, oral stories pre-date that by at least 7 years.For decades the tin building hosted dances, wedding receptions, Christmas concerts---any number of social events---and was occasionally used as a voting station. This morning a phone call had Kay and me out of the hide at Greylake, where very little was happening, to Honeygar Farm at Westhay, only 15 minutes away. Most of the time they were too far out to even think of grabbing a record shot, then just as the adult winter bird (showing a pink flush) came in close enough for this one reasonable shot a sudden squall came in and drove us off the reservoir!
The idea is that topaz, being a heavy stone, works its way underneath big rocks and gets caught in crevices.
In a time of so much mass produced clutter and rubbish, to discover something small and precious that demands such a sacrifice of time and attention to detail, is to give hope to the fact that the art of handcrafting beautiful things is not lost to us. His bathroom, a small compact room with the facilities and small window opening was his designated cyclone shelter, as was common in those days. Many reports have been made of local people playing music (particularly violin and piano) on a stage in the building.There are still many senior residents of the area who could spin a yarn about events in and around this almost forgotten building. From receipts found inside the electrical panel, there is evidence of a car restoration business having been housed in the building sometime in the 1970s. While here I also saw a Sandwich Tern, and then we celebrated with lunch – my treat – at the cafe overlooking the bay. Since that time, it had been used simply as storage for the previous owners (who just happen to be the now-famous musical Fitzgerald family). Curiosity had been piqued by this time as many were wondering just how The Old Tin Shed would unfold.
We are very proud to be a part of the retail community that honours excellence in business.
Thanks CGTA!The historic tin building in Bird's Creek was the home of our very successful business for over 8 years. As we expanded every year…grew to fit our customers' needs and desires, and to accommodate our eclectic taste, the little eight-hundred-square-foot shop was bursting at the seams.
When attempts to purchase land around our ? acre failed, we made the decision to take what was, for us, a huge leap of faith and look at moving into another and larger historic building in downtown Bancroft.On April 30, 2011, we became the proud owners of the first Catholic Church in Bancroft. For fifty days straight we worked long hours, renovating the building to fit the plan Dagny had created!
Thanks go to our faithful partners for slaving alongside us to see our dream become a reality. They had dreamed also of a larger space, but I'm not sure they anticipated what that meant in terms of work beyond the 'norm.' But, as a team, we turned our dreams into reality.On August 14, we hosted our GRAND OPENING celebration with ribbon cutting, music, face painting, food, great sales, gifts, draws, our MPP, mayor, councillors, and lots of laughter! What a wonderful community and faithful followers!To this day, we continue to grow our customer-base as folks find us for the first time. It is so much fun to visit with people from all walks of life and areas of our province, country and globe! We welcome everyone!On October 24, 2014, The Old Tin Shed was awarded "Business of the Year" by Hastings County.
It is a TEAM effort that brings us this notoriety, and we are so very proud of our team.We invite you to join us for an OLD TIN SHED experience!
Comments »