By default, knockout-validation places error messages just after the input element containing the error.
I was just reminded of an old truth when it comes to logging errors in a database: Do not enlist the error logging operation in the current transaction, if there is one! If you don't, then the error logging will be rolled back with the transaction in case of an error. This post is about a tool I always feel very crippled without, namely the incredibly useful AutoHotkey. This key press mapping works in any application by default and the macros that are possible are very flexible. Note that this works in any application since AutoHotkey sends standard Windows messages simulating keypresses for the text. To take this one step further, the key code trigger does not have to be based on qualifier keys such as Ctrl, Alt etc, it can also be a sequence of standard characters. I try to detect common operations that I often perform that can be automated and try to write an AutoHotkey macro for them. The above examples absolutely just scratch the surface of what you can do with AutoHotkey, so why not give it a try?
I like to have all my computers share the same AuoHotkey setup so I have created my main macro file (general.ahk) in a DropBox folder.
This post will be an opiniated discussion about the advantages and disadvantages of the different tablet platforms out there.
Much of this post is obviously subjective opinions but hopefully one or two of you will learn something new about these platforms.
All these are valid reasons and the tablet did indeed live up to my expectations in these areas.
For these reasons I was tempted at buying an iPad and when I found an iPad Mini on sale I took the plunge. The other thing that Apple has really been successful at is integrating a lot of apps and content in the App Store.
The worst problem with the iPad in my opinion is it's reliance on iTunes for importing media to the device.
In spite of the video annoyances I was rather happy with the iPad, but when I attended a Microsoft conference (TechEd Europe to be precise) there was an offer to purchase the Microsoft Surface RT tablet and the Surface Pro tablet rather cheaply.
The device comes with a pressure sensitive pen that feels very natural and is more useful than I expected it to be, both for taking notes and drawing in OneNote and for operating the desktop UI, which sports rather tiny UI items because of the full HD screen. The first point is absolutely valid, the really good and useful apps in the Windows Store are really few and the ones that are there don't seem to get much attention from their developers.
The second point is not so much of a problem since running desktop apps do indeed require more powerful hardware and worse battery life.
Actually, apart from the meagre app supply I can't really see many problems with the Surface RT. Movie file format is limited in the standard player, so I use PressPlay Video instead, which is great. Being a Windows computer, my Surface RT tablet automatically discovered my Canon network printer and installed the correct printer driver.
The iPad is actively used in exactly the ways I expected, mainly when commuting and also by my kids as it has a bunch of great games that they like. My Windows 8 tablets are also actively used and I like them both more than I thought I would. The main problem with Windows 8 is, as everybody already knows, the lack of useful and robust apps.
To sum it up, I think the Windows RT and Windows 8 Pro tablets have taken too much and exaggerated criticism so far. The last day of my TechEd event was cut in half because of an early flight home (I had a wedding to attend to on Saturday) so this post will be rather short on the sessions of the day and then I'll conclude with a summary of my conference experience. I attended three sessions, the first was about 3D DirectX development with Visual Studio 2012. With that it's time to wrap up TechEd Europe 2013 with some thoughts about the experience. The problem for me as a TechEd delegate, is that it definitely made TechEd feel a bit like a second class conference for developers, as I mentioned in one of my earlier posts. However, I attended some quite useful sessions and it was interesting to see what's happening with Windows Azure and other online services.
However, being interested in enterprise development, I have attended several interesting sessions today. There was also lots of other smaller changes making the Windows 8 experience a little more polished, but nothing major so I guess that the version number 8.1 is pretty accurate. Microsoft also had a challenge at the conference that if you did certain experiments with Azure and Team Foundation Services (mainly creating a web site and deploy into that from your own project in TF Services) you'd get some prizes. It was actually rather fun trying out these technologies and the challenge was a way for Microsoft to make us take a little time to actually do some testing. Screen shot of Dustin Campbell's text adventure game compilerDustin Campbell held an interesting session about Build Data-Rich Solutions Faster with Microsoft Visual F#. I'm also more more interested in TFS again, the agile planning tools keep getting better and better.
A new Azure service that I haven't seen before (I just heard about it a few weeks ago) is BizTalk in the cloud, Windows Azure BizTalk Sevices (currently in preview). The IFEMA – Feria de Madrid convention centerI have now spent the first day of TechEd listening to keynotes and sessions, and walking between the different rooms where the presentations take place. This file contains additional information, probably added from the digital camera or scanner used to create or digitize it. If the file has been modified from its original state, some details may not fully reflect the modified file. The CommandFusion LAN Bridge features an on-board real time clock that allows macros to be performed based on a simple yet powerful scheduling system. Schedules can be configured to run once off, daily, weekly, or monthly, with customisable options such as days of the week or month, recurrence rates and specific months of the year. To demonstrate scheduling, we will configure a schedule to power down a projector and retract a motorized projector ceiling mount at 6pm every weekday.
Now repeat the process for the command to trigger the motorized projector mount to retract. Tip: You must select the Relay action type first, otherwise you will not be able to select the CF Mini. Now that we have finished creating the macro, we need to setup the schedule that will be used to trigger this macro.
Now that the schedule has been created, we need to save it to the LAN Bridge before it will become active. To test the schedule, you can change the real time clock manually to a time near the schedule start time, and then reset the LAN Bridge for the new time to take effect.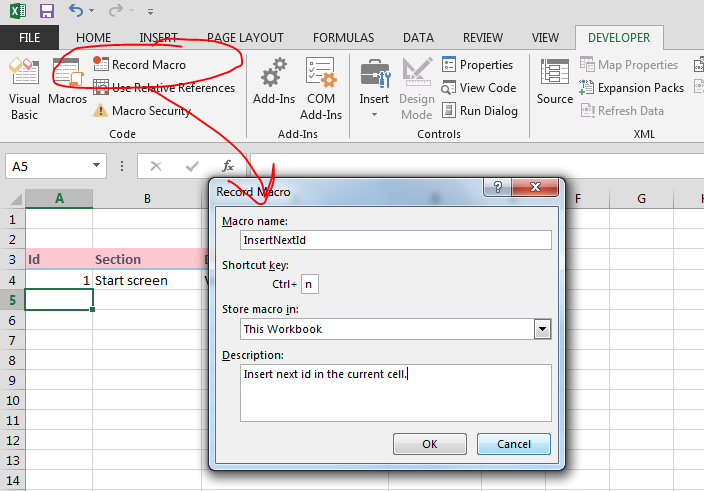 To upload an IR file to a device, the file needs to be created using our IR Learner software.
After the IR file has been created, select the device you want to upload it to in the System Commander CFLink Device tree. The Test Command window in the bottom left corner of System Commander can be used to send any CFLink command to devices on the network. British Airways unveiled a new corporate identity in 1997 which involved repainting its fleet with around 20 daring tailfin designs by world artists? This may not be what you want, and you can create UI elements of your own and bind them to validation error messages but this means writing a lot of boilerplate markup and it messes up the HTML.
This simple macro is probably the one I use the most, it's so incredibly useful to have easy access to the current date when taking notes, creating folders, etc. An example of this is that I have noted I often have to write a valid Swedish social security number (personnummer) when testing applications I write. This really lowers the mental barrier when testing applications where this data is required, resulting in better testing.
This is not the kind of post I normally write but for once I feel the need to express my personal opinion about a subject, rather than solving a particular programming problem which is my normal kind of blog post. There are several kinds of Android apps that simply do not exist for iPad, such as custom keyboards (the one I like best is the amazing SwiftKey) or utilities such as the really cool Tasker app that triggers actions on events such as geographical location, currently running app, etc. It's pretty cool to be able to connect a PlayStation 3 hand controller and play games on it, for example. This time I bought a tablet, I was tired of having to troubleshoot performance problems and stuff like that. I was aware of the large amount of very polished and stable apps that was available (and I wasn't disappointed) but I did not know of the excellent integration of magazines and podcasts.
It supports many formats and features for network files (in file shares and DLNA servers for example).
Being a technology buff, I couldn't resist the temptation so I got both of them, mostly out of curiosity. I can now print web pages from Internet Explorer or documents from Office and it didn't take any configuration at all. There are numerous small improvements, such as much better side-by-side running of apps (see image on the right). On the Surface Pro, Netflix in the Chrome browser with MediaHint browser add-on has been awesome for watching US NetFlix content. That's a kind of unusual subject for TechEd but was interesting for me as a general developer. These sessions are truly amazing and if you ever get a chance to attend one of them I can warmly recommend them. This year, there was about 5 000 delegates according to officials, which can be compared to the 10 000 count of TechEd North America. Build is very focused on the developer and it's starting to feel like a better match for my work role than TechEd.
TechEd is still a useful conference for developers, especially if you have some interest in the IT pro side of things and for me, having some architectural responsibilities and also an interest in systems integration, the conference scope would be a quite good match if only there was a little more general developer content. This day started with a second keynote, the reason being that Windows 8.1 was announced at the Build conference the night before. I heard that approximately 25% of the TechEd delegates are categorized as developers, the rest being IT pros, so that's also an indication. There was one session about the news in Windows 8.1 and it seems to be not very revolutionary. The most peculiar new feature is that Windows 8.1 will support 3D printing inside the OS in the same manor as 2D printing, with a print dialog with preview, etc.
I can't help noticing that most of the sessions that have been relevant to me have been about Azure or TFS so it seems that Microsoft is really pushing those technologies.
My sessions of today were about Team Foundation Server, Windows Azure BizTalk Services, Windows Azure Mobile Services, continuous integration with TFS Service and Azure web sites and finally an interesting session about F#. Steven Sanderson had another great session on that subject today, entitled Develop Native iOS and Android Apps with Windows Azure Mobile Service. I's a little unclear however how much is actually the good old BizTalk we love and hate. There is also a holiday schedule mode to randomly trigger actions in the macro for a set period of time. In our example case, this is done by pulsing relay port 1 of a CF Mini to close for 1 second.
Then wait for the schedule time to come around and use the communications log to watch what is happening on the CFLink bus. The IR Functions tree will then be populated with a list of the commands stored in the IR File.
An alternative to this is to override the knockout-validation function that creates the error messages on the page.
The strange thing is that rather few people I meet know about it so I thought I'd remedy that ignorance somewhat by posting an overview here on my blog. This can be a pain since the number has to end with a correct checksum digit, so I wrote a simple web service that creates a random SSN and returns it. The reason for this is the continuing bashing of Windows 8 tablets (especially the RT variant) that occurs online and in printed media.
I bought the iPad to use it on the commuter train and I wanted it to be easy to handle, quick to start up and have stable apps.
I have even tried to install Oblivion, a 3D role-playing game a few years old, and it played really well. It uses much weaker ARM-based hardware than the Surface Pro and it's a wide-screen device which makes it much better suited for watching movies than the iPad.
The criticism is also unfair when comparing the Surface RT to Android tablets and iPads – they can't run Windows desktop applications either! Again, no other tablet can do this (Samsung has something similar for their tablets but it's a more manual process).
I have also started to appreciate Microsoft Office OneNote (I think the pen made it feel very natural to use that application). It's also not likely to be an update that Acer will support on an older tablet like mine.
Mark is one of the best speakers I've seen in our industry (together with Scott Hanselman), entertaining and incredibly knowledgeable. It's a much smaller conference than TechEd NA but there were still an abundance of sessions to attend, generally about 15-20 in parallel for each time slot. Also, there wasn't much on software architecture or best practises (except a little about Azure, of course). The planning seems very strange to schedule two Microsoft conferences of this large scale at the same time but I suspect there are explanations we aren't informed of.
Microsoft had to do these announcements before they could talk about Windows 8.1 at TechEd I suppose.
First time I've seen Android programming and iOS programming on a Microsoft event (and boy, is Objective C ugly!).
Without a doubt he gets the geek award of the day for his demo of his text adventure game compiler written in F#. They have new designers and this time you get to configure the entire path from source to destination from inside Visual Studio in an artifact called a Bridge. So choose the Relay action type and CF Mini target device, then select port 1 and set it to pulse for 1 second. If this tab is not visible, then the device you have selected is not capable of sending IR commands. Before any of these commands can be used, the IR file needs to be saved to the device memory by clicking on the 'Save to Device' button.
As it happens I have personal experience of Android tablets, iPad and both Windows RT and Windows 8 tablets so I'm in a good position to compare these systems to each other. I have mostly used it for watching video courses using the PluralSight app, watch movies or play the odd game.
No other platform makes it this easy, you often have to install a special app, Google for feed Urls, etc, but for iOS devices all this is already prepared for you. The builtin video player is good for supported files and it supports sub titles in m4v files, for example.
That removes the need to convert all files to specific formats as nPlayer supports most file types. The unit is a little heavier and thicker than a normal tablet but that can be forgiven when you consider that it's actually a full PC. The Surface RT has also been used a lot, mainly for web browsing and watching movies (from my NAS or the standard NetFlix Windows 8 app).
Microsoft have one unique absolute killer feature however, in that Surface Pro and it's brethren can run Windows desktops applications. A short description of this session that he describes real-world use of the SysInternal utilities (of which he is the creator) to find and solve Windows problems such as crashes, performance problems, hangs, etc.
That's lot indeed, but if you look in more detail about the contents of these sessions you find that most were targeted at the IT pro community. To me, being a an architect and developer, this makes TechEd a less relevant conference than I'd hoped it to be.
Earlier editions of Build have taken place in the autumn but I think that Microsoft wanted to announce Windows 8.1 before the summer in order to not loose more ground than they already have.
Kind of makes TechEd look like a second class conference, Build seems to receive considerably more focus from Microsoft. He was very proud to demo playing Zork, written in a grammar that was runtime compiled into MSIL by F#. If you have worked with BizTalk you know that today you define schemas and transforms in Visual Studio but you have to associate them with receive and send ports using the BizTalk administration tool, causing complex deployments. We want this rule to trigger every weekday, so we select the Weekly tab and tick each weekday, and leave it to recur every week. Once it's complete, you can use the Load from Device button to ensure that all schedules were successfully saved to the device. When that kind of tablet becomes smaller and with better battery life I think that much will happen in the tablet market. This was actually a repeated session from earlier in the week since the first one was full.
As Windows users we all experience these kind of problems so these sessions are both useful for getting insights to problems that can occur and also to get tips of how to use the SysInternals tools.
There were also one or two Business Intelligence sessions for each time slot leaving perhaps room for 2-4 developer sessions.
There was some consensus (at least among some of us delegates) that the IT pro side of things have been given more priority at TechEd than before. Steve Ballmer himself did the keynote at Build and all delegates receive generous giveaways.
That was actually not very impressive, it sounded a bit like my old Amiga 500 speech synthesis from the early nineties.
The integration between TFS Services and Azure is obviously something that Microsoft has put some effort into. Just this single feature make the new version very interesting but the main aspect is of course that integration is now available as a service in the cloud, with scalabitity, quick provisioning, and so on. Next we want to change the action type to Trigger Macro and select the macro we want to perform. Once this is complete, the IR codes can be tested by selecting a command from the 'IR Functions' tree, then selecting a port number from the Test Stored IR Codes area and pressing the Send button. I'm not sure about the reason for this but I have experienced the exact same thing on all my Android deviced I have owned (the HTC Desire and even the Samsung Galaxy S3 have the same problem). Also, if you have a Modurn UI app, they also will support file shares etc automatically as that support is built into the OS.
My Chrome + NetFlix + MediaHint use case is an example of the power that this platform brings to the tablet format.
I don't know if this is deliberate from Microsoft or if it just turned out this way, but in either case I will probably choose another conference the next time I get the chance to attend one.
Build was also announced much, much later than TechEd, indicating some urgency from Microsoft.
At TechEd we have gotten a rather good Surface tablet offer this year, being able to order a Surface RT and a Surface Pro with quite good discounts. BizTalk Server 2013 is also in the pipeline but for the moment these two offerings seem to be rather separate. On other platforms, each app has to rely on a third party library to cope with this and it seldom works robustly. This was the best session in this edition of TechEd so it was a great way to end this year's edition for me. The schedule will recur every week from this start date, so we will just leave it as today's date. We do not need to use any of the advanced settings in this example, so leave them disabled.