02.09.2013
News: Check out the photo gallery link above or >click hereto see photos of recently announced products!
I think you are leaving out a couple of other manufacturers who were big dogs at that time, Wile E.
Speaking of MANTUA, it looks to me that MODEL POWER took them over and are putting out MANTUA items under the MODEL POWER label.
I am both a (currently) budgeted model railroader, and that I also enjoy classic HO-scale train stuff (especially from Bachmann, Tyco, IHC, Life-Like and Atlas.) So I thought that for my basement model train layout I can use a lot of that stuff, yet still continuously update it for the new millenium. So far, I have my trains running mostly on Atlas nickel-silver track, a mix of Code-100 and Code-83 (some of it is True Track.) A little of it is steel, but I am not going to bother with brass track on my layout. The (5) near mint+ cars are tucked neatly into theei original styrofoam molded areas of the boxes which are in excellent+ condition. Tyco Toys!Originally an offshoot of Mantua, Tyco was popular during the 1960s, 1970s and early 1980s. I am also thinking about getting a newer Athearn engine, along with a Santa Fe Proto 1000 F3A locomotive.Unlike old locomotives in many cases, the old low-end rolling stock will still usually look good on freight trains, particularly if they are weathered.
Tyco and Bachmann were the two big HO train manufacturers of the 1970s (HO was the ONLY scale Tyco manufactured trains in), and they both offered a wide variety of sets, locomotives and rolling stock, buildings and action accessories.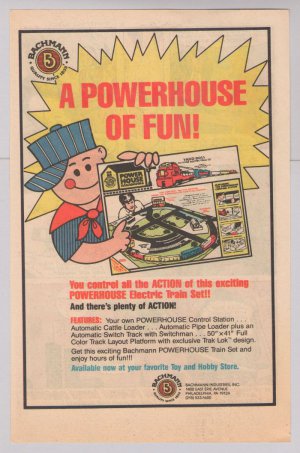 They were a bit cumbersome to work with at first, but after a while they turned out to be pretty good! I have it set up on a 4x8 sheet of plywood, because that's all we have room for, but you can get a lot done on a 4x8 layout anyways. But like I said, many of those old Bachmann X2Fs cannot be easily replaced due to their somewhat proprietary design (I think). This was often used back when knuckle couplers were somewhat of a premium back in the 1980s and 1990s, instead of being the norm like today.
I got this because just about every town needs a post office, and I like the small size of it.Plasticville school house.
It came with X2F horn-hook couplers (one of them was damaged), so I replaced them with E-Z Mate couplers, because I prefer knuckle couplers over the X2Fs.Tyco crane car and maintenance tender, made some time in the 1970s. I only have two: a small Tyco diesel switcher and an 0-8-0 Chattanooga steam locomotive and tender car. The front coupler I found really difficult to remove, but I was able to replace the back coupler with an E-Z Mate knuckle coupler, to make it more compatible with my rolling stock, which I also mostly retrofitted with knuckle couplers (Tyco and Life-Like stuff mostly gets the SceneMaster knuckle couplers from Walthers.)Tyco freight unloading depot. You press a button and hold it down, and the little plow scoops a pipe section off the flatcar.

Unlike the Bachmann electronic steam whistle accessory, this uses an electrically-operated air whistle, similar to the whistles found in old Lionel steam engines, that is activated via a pushbutton. It also sounds better than Bachmann's diesel horn storage tank accessory!Life-Like dual operating crossing gate.
It works slightly similar to the crossing gate, but when the train runs over the pressure sensor, it activates a small wind-up bell housed in the loading dock, and the lights flash alternately.
This was introduced in the late 1990s, obviously to compete with Bachmann's Plasticville snap-together building kits. The blue-and-yellow one is made by Mehano, and I plan to replace its X2Fs with E-Z Mate couplers.
The two Life-Like engines on the left are a bit low-end, but do look nice (the hi-nose GP38-2 came with the Freight Runner set I mentioned), and the other three have more powerful can motors and smooth eight-wheel drive.