15.12.2014
Here is one I did for a customer at our shop a while back.He wanted track laid and basic scenery (ground cover). Thanks!When I came up with the design I wanted to be able to do two things: "operate" it, and "just run trains."The thing that was really neat--and that I didn't realize until it was done--was that when I want to "just run trains," it's not boring! Product Description"Blueprints for Ten True-Track Layouts" is a Level 1 HO Scale Book from Atlas.
This book will introduce you to the exciting world of model railroading and Atlas HO True-Track. True-Track sections snap together easily so building layouts is quick and easy for everyone! Product DescriptionNew and Improved HO Scale Manually Operated 9" Diameter Assembled Turntable for Model Railroad Layouts from Atlas Model Railroad Company.
Fully assembled 9" diameter turntable has the ability to stop at 21 positions, 15 degrees apart. Smooth manual crank operation; however, it can be easily motorized for remote control operation. I have built up the entire bench work and the main line section of the layout including the double wye. The problem I am having involves three locations where the engine I am using for testing derails. The other problem I have is a couple of locations where I didn't notice while building that there are small gaps in one rail where they join.
I abandoned the layout after I worked out the kinks (literally) and discovered that it was the classic bowl of spaghetti design.
Ed the bench work looks great but I don?t understand the reason for the four power districts.
One of the problems I am having is right in the middle of the left side 22" modification. I did figure out one of the derailments I was having, although I feel sort of like an idiot for this one. Upon further inspection of the area with the problem, I noticed a small bump in the road bed.
I was going to suggest the you already own the two best tools for finding track problems - your eyeballs and your fingers.
I would strongly suggest that you utilize 3 foot sections of flex track rather than the shorter segments of fixed radius track. WARNING: You may have to do a lot of 'shiming' with thin plastic scrapes to get everything working properly. Here are some pics of my modified Central Midland layout (HO), that I may have to sell soon as I may move out of the country. This trackplan is largely based on John Armstrong?s design, commissioned for Atlas Model RR, ?The Central Midland?, plan #HO-29. This RR is for someone who likes to run trains, as well as do some intricate switching work.
There is a mainline of over one-and-a-third scale miles in length, which is mostly double track. I made another significant modification to the trackplan that would allow for continuous double train operation without regards for the original single-track bridge restriction. I?m sure you?ve seen the smooth rolling ridges that mark the transition at the base of mountains to the flatter lands.
The symbolism here is the trek from the east coast city of Baltimore to the western mountains, either the Appalachians or Sierras.
There are lighting techniques, layering techniques with poster board materials, and thin single-sided plastic structures that could make this city scene come alive, even in its very ?flat presentation?.
This scene holds a lot of promise as well, depending upon the extent to which one wishes to fulfill it. In my imagination I would try to create a continuous?loop track for short logging trains that would meander through and around this foam mountain diorama. The track is all code#100 nickel-silver that has been painted a rust color to hide its extra rail height (except incomplete in the railyard). DCC was to be added later when things got all sorted out, both with DCC itself, and with this layout itself. The isolation blocks and the reversing sections are all controlled by traditional Atlas brand switches built for these purposes. The original 3 power packs have been replaced with 4, and these are not cheap small units, but rather the MDC 6200, ?Sound & Power? units.
The entire electrical wiring system is quite elaborate, but very well organized and bundled up nicely.
My second layout wound up with too much track in too little space, (Bowl of Spagetti) and it had less track in a larger space than the Midland Central. Agreed it was a bit 'busy' in this size, but I got a lot of different scenes into a relatively small layout. I also managed to divide it into three sections so it could be removed from the house without cutting it up. So I could run 2 long trains continuously around the layout, another short train around loop under turntable, a turntable operation, and a freight yard switching operation all at the same time. I may have time to convert it to DCC before I leave, and I may have a unique offer for transport to, and set up in the buyers location. So if you know someone that really should be getting their trains running, rather than just sitting in boxes, or on display, tell them about it. On the far left, the inside siding track can be a lead to a mine or timber or gravel 'industry thing' in the and above the 2 mains that crossover each other.
John, gives a little hint of these possibilities, with that little freighthouse at the bottom of the layout - again on a 'siding' , IF and when run as a single track mainline. All three Siding area's could be switched from the 'siding' off of the main - Not impeding a mainline run - His layout allows a mainline runner AND local freight ops at the same time!
His Layouts are like the very Best Bob Dylan song, the more you examine the more you see and learn.
1) Are you still dreaming of that certain perfect layout you've been planning for years?? 2) Are you tired of procrastinating about getting a layout, so you can actual run some of those fabulous model trains in your ever-increasing collection??
Okay I finally had to move the layout out of my old house and I've placed it in my Isuzu boxtruck till it gets sold or shipped somewhere.
Not only are there LOTS of isolated blocks (thus lots of wiring), but I manage to make the whole thing convertable from the original electrical design by Atlas, as well as my later sysyem that utilizes two power packs for each block on the layout.
Part of the 'organization of the wiring' was so I could continue to follow all the paths, and make changes in the future as need be. I am both a (currently) budgeted model railroader, and that I also enjoy classic HO-scale train stuff (especially from Life-Like, Atlas, Tyco and Bachmann.) So I thought that for my basement model train layout I can use a lot of that stuff, yet still continuously update it for the new millenium.
Because I will keep continuously adding onto the layout, currently not many things are permanently attached, except for some pieces of lichen. Until I upgrade to DCC, I could even try the old method of operating two trains using two power packs and some plastic insulating joiners. My Tyco Chattanooga came with the expanded set, and had the risers, but the tender drive just could not pull its train up and over. The entire track layout is now made up of Atlas True-Track, except for the operating railroad crossing accessories. At this rate, with the way it's coming along, I may have to write an article somewhere about doing the Tyco Layout Expander System plan using Atlas True-Track! I did a 4x8 as I downsized for the reason that I just dont have the time at this point in my life to spend on a large layout. With prototypical looking plastic roadbed that detaches from premium nickel silver HO Code 83 track. There are four insulators in the rails to allow for the operation of a PSX-AR for the unbuilt yard area. I see no problems with the tracks and don't 'feel' anything out of place, but at some speeds the engine derails. What I mean is I have four areas that are fed from the same booster through four circuit breakers (PSX-4).
I'm assuming the main yard on the lower left of the track plan is on a second level below the main line? Take a good 'wood paint sturr stick' and lay it on edge across the tops of your rails to see the height variations. But mine is in the ?reverse image? of the original, and modified in a couple of significant manners. Some might say too much, but I believe once it is all finished and scenery added with trees, rocks, painted backdrops, etc, it can pull it off.
The stone quarry will feature its own particular rock style wall at the inner perimeter of the surrounding track. There are also floodlight towers thru-out the yard, and one or two in the steam service area. There are corner mirrors standing at the edges of this scene that act to reflectively ?double the size? of this container yard, and also make the freight yard appear twice as long as it is. If a one or two of these staging tracks are left empty, then very long trains can be backed in from the mainlines and turned to run in the opposite direction via the ?double-track wye? formed at the entrance to the freight yard. This consists of a curved ramp that shortcut-links the upper inner mainline with the lower inner mainline in the ?access hole? area destined to be hidden by a removable foam mountain structure.
This creek then flows right to left bounded between the edge of a farm pasture land that hides the sub-lower tracks in front of the farm supply building, and a rock cliff face on which the upper rail line runs between its two single-span bridges.
Then imagine a series of rolling ridgelines stretched horizontally across this backdrop to transition from the mountain scene on the right, to the outskirts of the city scene on the perpendicular backdrop at the left.
My plan was to make this a city scene of Baltimore, an industrial city, home of the nations first railroad, and home of the famous B&O.
I had thought it could be possible to paint a coal fired power plant or steel mill onto a portion of this city scene down on the lower left hand side near the roundhouse area.
The ?centerpiece? would be the track crossing a steep wood trestle structure bridging over a waterfall (vertical falling stream) sculptered into the front face of this mountain. The plastic ties have all been stained also, and with the addition of ballast, it should look quite scale like. In the meantime there is a very complete block system installed, and different from the original Atlas plan in the expanded freight yard, and the newly designed zones such as the steam area, the new loops under the turntable, and the added staging area. Even after DCC is added, these numerous blocks will allow for seeking out and isolating a particular problem area. One power pack each for the two main lines, and two more throttles for the freight yard area, the steam area, and the loop industrial area. There are split-connectors pre-wired in to allow the layout to be broken down into three sections for relocation purposes. Although I'm building a once-through-each-scene narrow-shelf-around-the-walls layout right now, it's only because I have the space for it. I was thinking of a multi-single siloed Grain Elevater complex that would use only one or 2 tracks; Again switchable as the mainline crossover at the bottom lets a main train run freely, while switching along that right side.
I've maintained that same capability with my additions, both mechanically and electrically.
It only cost you $2600 to run your trains on this marvelous little layout for 1, 2,…6 years. It only cost you $2600 to run your trains on this marvelous little layout for 1, 2,?6 years.
There are only a few additional misc wires that do not have their own plugs, but these are readily obivous. In other words under the older non-DCC wiring I could still have any one of two different power packs controlling any one section (block) of track. So far, I have my trains running on Atlas Code-83 True-Track (I'm not going to bother with Bachmann's E-Z track or Life-Like's Power-Loc track for the layout anymore, and I'm staying away from any of those other companies' brass and steel track sections), which I think turns out to be the most realistic roadbed track I've ever seen. I currently have the tracks set up ala the track plan designed for the Tyco Track Layout Expander Set. I plan to decorate a few of the cows and pics, and paint a few more of the included figures. I recently replaced the rusted old steel rails with new nickel-silver rails, and it really made a difference.
I also installed fences around the Vollmer and Bachmann houses, due to them being next to tracks. The lights do not flash, but merely stay on steady, and it doesn't only come on when the train passes.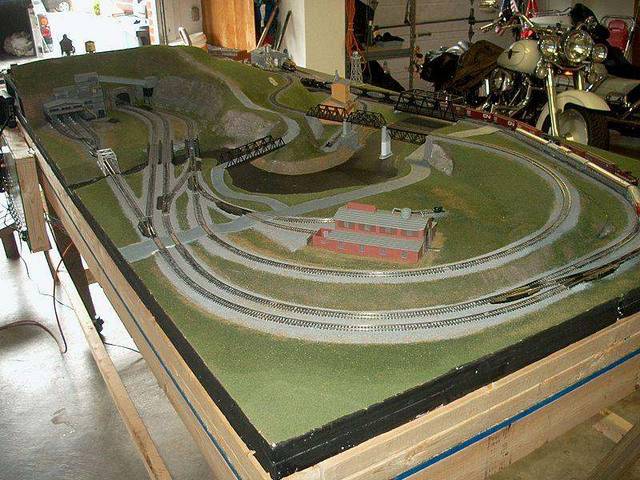 Life-Like recently started putting cowcatchers on their 0-4-0 steam locomotives that use tender cars.
One section has the entire grade glued onto the ties; the other has it only glued on one section due to the crossing being on two sections. True-Track has a different roadbed lock thingy than E-Z Track, plus True-Track is Code-83 while E-Z Track is Code-100.
I saw it go on Ebay a few years later, just as I delievered it + all his loco's and DCC system for less than half of what he paid me to build it, and he bought all the materials. You have to be very careful when laying track to this or you will end up with the turntable grinding into the track of one of your sidings so measure well, test, nail.
It would have been a lot easier to have planned for the below mounting switches than to try to mount them after. I will do some measurements to verify that I have the correct diameter for the 22" radius tracks.
I removed the nail by sliding a small putty knife under the road bed removing the nail , the problem disappeared. These kinks will manifest themselves in many derailments both in curvature and elevation discrepencies. For really finding subtle derailment spots run a 6-axle diesel engine with very small flange wheels across suppect portions of rail (like an Spectrum), and 3-axle truck will tend to rest on just two of the axles allowing the 3rd overhanging one to derail with the small flanges not preventing it. Rather it is a very condensed version of as-large-a-number of different scenes as one might find on a wide variety of model RRs. You can also manage to turn some very long trains around to run the layout in the reverse direction via the double wye?s, and the extended tracks of the additional staging area. And why not put this right up front where one?s collection of steam engines can be on display. There is provision (another turnout) for another spur line that would go out into an industrial park scene (or whatever), yet to be built off to the left of this subterranean loop. This link rail is a steep grade, but I have been able to run long trains both up and down the grade without derailing. It then exits out under the single & double span bridges at the rear of the layout, and into the painted backdrop scene labeled ?rolling farmland?.
There would be two distinctive images I thought I would include; 1) the infamous ?Bromo Selzer? tower*, and 2) the Mt Royal train station**. They are incorrect mountains?I am not suggesting the ?alps? here, but rather ?logging? type mountains you see in the foreground of these posters. A whole lot of effort has been spent to make the rail connections, elevations, transitions, etc as smooth as possible to avoid derailments. Two power packs can be linked to the yard areas and turntable areas each, so multi-train operation is possible.
There are toggle switches placed at each turnout location on the track plan diagrams, and their ?handles? are oriented so as to indicate the direction in which the track turnout is thrown. If my space was more constricted, I'd use the spaghetti-bowl approach because for me running trains is what model railroading is mostly about. I venture to guess that should you employ one of the professional layout building services to build such a layout, you would probably be talking $11-15K plus, plus.
AND the original Atlas plans called for the mainline power-packs to be able to run trains into the freight yard as well.
If you can run this engine around the layout without derailments then you have some pretty good track work. Per some of the ?backdrop signs ?posted in the photos, it was intended that the trains would travel through a mountainous scene, thru the rolling foothills of farmland, and thru a big cityscape. A very distinctive cattle billboard sign will announce to the train passengers that this is a major ranch (I have a great photo already).
In its simpler form, the two 90 degree backdrop walls could both be posters of mountains, and the loop of tracks would be covered with a large foam mountain scene that would lift out for access to the trains. Trouble-free operation has been a constant goal, and even to include the backing down of long trains. There is a master throw switch which allows the engr to utilize all of this new functionality, or to revert back to the original Atlas wiring plan. So choose the train?s route, throw all the applicable toggles to the desired direction, and then press the ?zone button? to activate the turnout operation. Two long trains running in the same direction get out of phase due to the difference in the length of the two loops. Maybe a rural hwy as well, and another farm with silos in the distance?.all painted-on of course.
I imagine it could be painted onto the backdrop, and include a dbl track portion that would appear to join the actual mainlines over in the back corner of the layout. This foam mountain could be hollow inside to allow for access to the tracks from underneath without having to lift it out of place.
The addition of DCC would eliminate some of this complication of using multiple power packs and blocks to control many trains in the freight yard and the roundhouse areas.
If your fingernail catches on something, there a good change your rolling stock will as well. I found one in a magnet type screwdriver I had and It now has its own special place that I am sure it will always be. There might even be several ?interchangeable? mountain dioramas; 1) Appalachian, 2) old time Western scene, 3) logging scene, 4) your imagination. Its ?sound? function can also be utilized to supplement sounds in the steam or diesel mode without the turntable also operating. Lastly, use you finger to run down the center of the grade between the two rails and feel for bumps or things that aren't level. I made a mistake and one fell out and it was a very, very long time before I got it back in.
The only thing I dislike about this item, is that it doesn't come with a small office near the turntable like other turntables you see.
I coudn't fix it without tearing up abut 50 feet of track so I decided to just run the trains over it and see what happens.