18.09.2015
You can view this video piece by clicking here, and then clicking again on the blue play button. City Quilter owners, Cathy Izzo and Dale Riehl, traveled to Japan in November to attend the Yokohama International Quilt Week exhibition in order to see these wonderful quilts, but also to spend time discovering new vendors.
In celebration of The City Quilter's 10th anniversary this past year, we organized an exhibition of 45 quilts started (and sometimes finished!) in one of our classes.
This quilt showcase took place at the Williams Club from January 15th through March 2, 2008.
25 City Quilter-themed blocks were contributed by the shop's friends in honor of our first decade, and these were made into a 10th Anniversary City Quilter Quilt that can be seen from time-to-time in the shop, and always on our web site. In celebration of its newly refurbished entrance, the Brooklyn Museum of Art commissioned Susan to create photo pillows for their gift shop.
Nancy started sewing as a child in Rockland County, taught by her mother who also taught her sisters and brothers to sew.
Her first foray into making dolls came in seventh grade when she made a cloth doll as part of a book report on Treasure Island. Nancy enjoys making dolls because it gives her a chance to use all of her skills, from clothing construction to embroidery, beading and felting. She teaches all kinds of doll classes at The City Quilter, ranging from traditional cloth dolls to whimsical creatures made of stray socks and gloves.
Barbara Feinstein started quilting when her sister Emily signed her up for a beginning patchwork class with Judy Doenias. Family responsibilities took her to to various places around the US and Europe, where she continued to teach, and to learn different crafts.
Emily Klainberg was destined to become a quilter, since she has been sewing and doing crafts for nearly her entire life.
Emily has also done embroidery, needlepoint, jewelry, (gold, silver and cloisonne enamel) beading, knitting and crochet.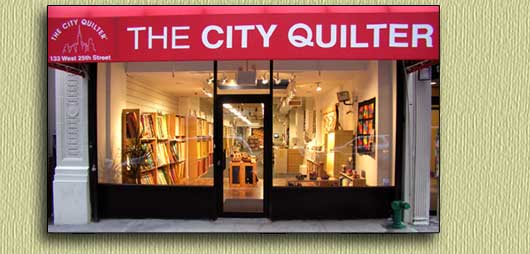 Emily learned to quilt when a friend convinced her to help with a quilt-in-a-day type of project. She loves to work on, and teach a variety of topics, from hand work to art quilts, and she continues to take classes to expand her horizons. Judy Doenias came to quilting as a second career, after working for 26 years for the government.
Her CQ classes run the gamut from beginners (Basic Patchwork by Hand, and Hand Quilting) to advanced (Everyday Best, and the wildly popular CQ University Log Cabin) as well as such novelty topics as Fabric Crochet, Locker Hooking and Toothbrush Rugs. She is a member and past president of Empire Quilters, and a former member of Manhattan Quilters Guild. Learning hand sewing as a child, I graduated to a sewing machine at age ten, making Barbie doll clothes, clothes for myself, and then clothes for my youngest sister (my own real-live doll).  My degree in textiles is from Seton Hill University ('73) in Greensburg, Pennsylvania. Most recently, I designed the 2008 Quilt Show Raffle Quilt, and headed the team of guild members who pieced and finished its construction. My personal quilting work tends to be traditional, with an artistic twist, usually upbeat colors, with machine quilting or hand embellishments.  I still like to make fabric gifts.
The show serves to highlight the work of the more than 3,500 students that have taken our classes over the past decade.
Copies are for sale at our shop as well as at quilt shops, chain stores, bookstores, and supermarkets nationwide. In Sweden, she learned tie dye and macramé, and in Italy she learned to knit and became a certified knitting instructor. One of her sons lives in Japan, and Barbara's work has been influenced by trips to visit him and his family. She especially enjoys teaching beginners, because she loves to see them blossom into full-fledged quilters. What they may not know is that she is also a great cook (she was once a sous-chef at a West Village bistro) and that she makes a mean cosmopolitan.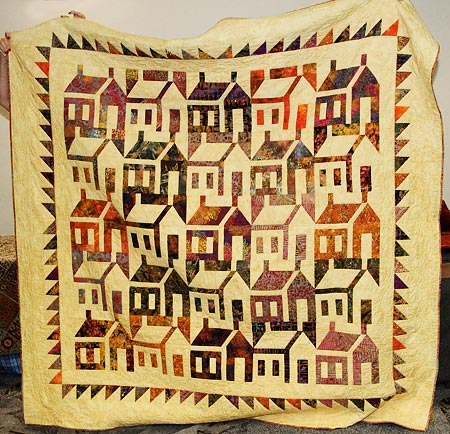 She has experimented with just about every technique, and her interests range from the most traditional topics like English Paper Piecing, Sashiko and Dear Jane, to such contemporary topics as Colourwash, Tessellations and her own particular fascination, Quilt As You Go.
Her teaching credits include many guilds, conferences, including Quilting By The Lake and The Great American Quilt Festival, as well as at the American Folk Art Museum.
I designed and sewed the gowns for my bridesmaids and myself when I got married, made soft sculpture toys and little dresses when my daughters were born. Like her sister, Barbara has been sewing all of her life, and also credits her mother with teaching her to sew.
Barbara (as well as her sister) attended the State University of New York at Cortland, where she received a BA degree in elementary education, and a BS in accounting.
She loves the challenge of adapting patterns from Japanese books and magazines to use in her classes. Her mother was a big influence for Emily, as well as for her twin sister Barbara, because, in Emily's words, "she did everything." Emily and her sister both learned a wide range of sewing techniques - in fact, all of their friends would come over for lessons as well! She enjoyed it so much, she decided to sign herself (and her sister) up for a beginning class with Judy Doenias. Her greatest joy is having a student come back after the class has ended, to buy more fabric for their next project. When not sewing or teaching, Emily enjoys theater, ballet, and travel with her husband, Dolph. She lives in Forest Hills, Queens, with eight sewing machines, thousands of yards of fabric and three cats. As an avid knitter and needlepointer, she was also attracted to colorful fabrics and the satisfaction of handwork.