04.03.2014
Flushing, QueensOne of the reasons for visiting Flushing was to do a photograph for an article being written by my wife for a Dutch magazine on the sub-prime mortgage issue.
The 7 train on the way to Flushing, QueensShea Stadium (left) and Citi Field (right) I took the 7 train out to Flushing to scout a location for later photography. She is an urban planner, currently working on the staff of Community Board 4 (Chelsea and the west side of Midtown). Along the way, I stopped at Shea Stadium where a new Mets stadium, Citi Field, is under construction.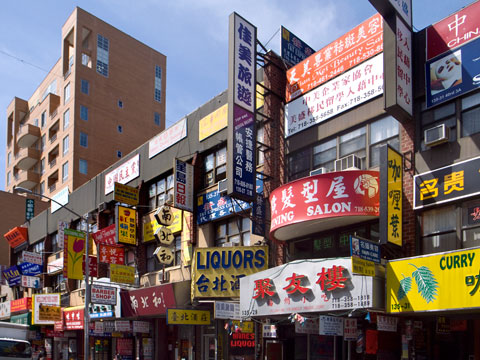 Most of the sub-prime-related foreclosures have been in the so-called outer Boroughs, Queens being one of the hardest hit. I walked through some surrounding residential neighborhoods where two and three story row houses are making way for tall apartment blocks, often in jarring fashion. I like some of the retro ballparks in other cities that relate to the surrounding urban fabric. It's clearly evidence of a hot real estate market, but whether the recent mortgage mess is slowing things down, I don't know.
In any case, I was pleased to get this somewhat enigmatic image of empty row houses surrounded by tall wooden fencing and apartment high rises under construction in the background.Grand Central TerminalBack in Manhattan. So, given the choice, the stadium designers went with downtown Baltimore a la Camden Yards.