17.02.2016
Model trains that run on the Chinley and Darley Green layouts are either owned by Famous Trains or are on loan from members.
These photographs just scratch the surface of the model trains that are either owned by Famous Trains or that members have prepared for use on the Chinley layout.
Class 4-6-2 No 34005 Barnstable pulls out of Chinley on an express run from London St Pancras to Manchester. The first British Rail diesel locomotive Co-Co No 10000 pulls out of Chinley for a test run to Manchester. Bachmann Class 66 locomotive in EWS livery hauling 24 Megabox wagons meanders through Chinley Station.
The Windhoff track treatment train, a model by Bachmann, runs past the farm next to the branch line. Probably British Railways' smallest named train, the Welsh Dragon was a three-coach push-pull train that linked Llandudno with Rhyl during successive summer seasons. The 1960s Tees-Tyne Pullman train, Newcastle to King's Cross, is headed by a Deltic Co-Co diesel electric, a favourite among railway enthusiasts. A long way from home, British Railways' Cambrian Coast Express passes through Chinley station. The lead engine is a Manor class 4-6-0, and the pilot (cut in behind, Western region style) is a 'Dukedog' 4-4-0.
Representing modern times, a model Virgin Voyager emerges from the tunnel under Darley Green village and farm.
2512 Silver Fox hauls the high speed Silver Jubilee express (1935) on the Chinley model railway. Two famous trains pass on our layout - the Bournemouth Belle (left) with rebuilt Merchant Navy 4-6-2 35018 British India Line at the front consists of 12 Hornby Pullman cars of which 10 are 12-wheelers, a really heavy train in real and model form.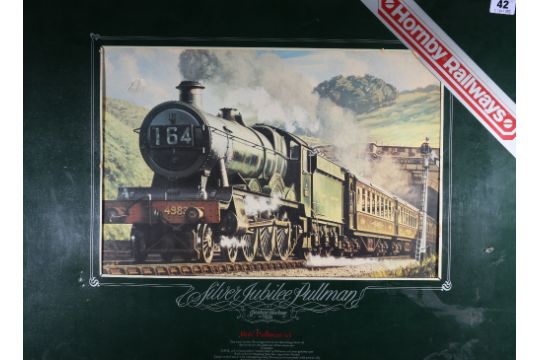 A loaded limestone train, headed by two Class 20 diesel locomotives, passes an empty working with a Class 56 at the front. The 16 ICI bogie hopper wagons on each train were made from plastic card by member Peter Swift and mounted on commercially-available bogies. The Midland Pullman diesel train passes through Chinley station, as the Palatine from Manchester Central to London St. This is Colin Boococka€™s model working some of Peter Stantona€™s mark 1 coaches, posed on the Neverwhere layout at MMRG. For photographs, we posed it and its train on the Duffield layout that belongs to the Mickleover Model Railway Group (MMRG) in Derby. The cookie settings on this website are set to 'allow all cookies' to give you the very best experience.If you continue without changing these settings, you consent to this - but if you want, you can turn cookies off on this website by clicking here. OO Gauge DMU Rolling Stock and accessories by various manufacturers including Triang Railways, Lima, Hornby Railways, Peco, Merit and others to include 3-car BR green Class 101 DMU, LNER Gresley style Composite Coach, 14 x Goods Wagons, (3 x Mineral, Hopper Wagon, Box Van, Bogie Box, various Open plus others), 9 x Peco points (4 have motors attached and 2 additional unattached motors), 1 x Hornby point, quantity of Ratio signals, 10 x Peco flexi-track pieces (not all are full yard length), quantity of Merit figures, animals and accessories, also packs of brick paper and card buildings, some are unopened - conditions range from Fair to Excellent Plus.
Triang a group of Transcontinental Locos and Rolling Stock comprising 5 x R55 red and silver powered A Unit, 3 x R57 non-powered A Unit, 2 x R58 non-powered B Unit, R159 blue and yellow double ended Diesel, Bo-Bo Diesel Switcher, 4 x all silver Passenger Cars (2 x R25 Vista Dome and 2 x R24 Day Coach), 2 x R130 Baggage Car, 2 x R115 Caboose, 2 x R116 Gondola, 2 x R114 yellow Box Van - conditions range from Fair to Excellent in Fair to Excellent. Triang unboxed Transcontinental, Locos and Rolling Stock comprising 2 x blue and yellow double ended Units (1 x Powered and 1 x Dummy), 2 x maroon Bo-Bo Switcher Units Nos.
Hornby Dublo 3-rail Steam and Diesel Locos comprising 3 x 4-6-2 Pacific type (Sir Nigel Gresley, Duchess of Montrose and Duchess of Atholl), 2 x 2-6-4 Standard Class 4 Tank (1 repainted), 2 x 0-6-2 Class N2 Tank (1 repainted), scratch built 0-6-0 Tank Loco from 0-6-2 type - condition Fair, boxed Bo-Bo Class 20 Diesel No.D8000, Loco body for A4 Mallard, along with 8-wheel Bogie Tender - conditions are Fair to Good with Bo-Bo in Fair box, also included boxed D1 footbridge - condition Fair in Poor box. Hornby Dublo Loco and Rolling Stock comprising 0-6-0 R1 Class Tank Loco (repainted), 2 x Royal Mail Operating Coach, 3 x crimson and cream tinplate Coach (2 x Brake Third and 1 x Composite), 2 x 4325 boxed superdetail Vent Van, 5 x further superdetail Goods Wagons (3 x United Glass & Bottle Company Open, brown Steel Sided Open, Toad Brake Van), Lowsided with Insul Meat Container, Bogie Well, 4620 boxed Crane with 3 Riding Trucks and 4 x Jacks (box has no insert), 2-rail line side apparatus for Royal Mail Coach, 5 x 2-rail buffer stop - conditions Fair to Good with items that are boxed in generally Good boxes. Hornby Dublo 3-rail Train Set and Trackwork comprising EDG7 LMS Tank Goods set containing 0-6-2 black Tank Loco No.6917, 3 x LMS Goods Wagons (Open, Box Van and Brake Van), along with oval of track and black controller, conditions are Fair to Good in generally Poor to Fair box, also included 2 x pairs of boxed points, silver Esso Tanker, 2 x Buffer Stop, 2 x uncoupling rail, small quantity of long straights, half straights, 1st radius curves and half radius curves plus transformer (untested), Hornby Dublo foldout catalogue 1953 and part of small catalogue plus The Trix Complete Engineering Manual with Dockside Crane to front, conditions generally Good. OO Gauge miscellaneous Buildings and Loco comprising Hornby Dublo D1 Through Station, D1 Footbridge, Hornby Railways R516 Diesel Maintenance Depot (unchecked for completeness), conditions generally Good in Fair to Good boxes, modified 3-rail Loco (was a Duchess of Montrose) now modified to a 460 wheel configuration and fitted with a Bristol Castle Tender and now reads 6041 "Saint Petroc", loco is using Bristol Castle chassis, condition Fair, the lot also includes a quantity of plastic buildings (2 x thatched cottages, 2 x shops, 4 x houses and 2 x Merit plastic trees), conditions Fair to Good.
OO Gauge Train Set, Locos and accessories comprising Lima 7307 Motorail Train Set containing Bo-Bo BR blue Class 33 Diesel No.33027 "Earl Mountbatten of Burma", Double Deck Bogie Car Carrier, ARC Procor Hopper, Bogie Flat, 2 x Lorry Tractor Units with Trailers, 3 x cars (one missing), yard crane, oval of track with crossover, Freightliner gantry crane and controller (untested) - conditions Good to Good Plus in Fair box. Hornby Railways LNER Locos and Rolling Stock comprising 2 x 4-6-2 LNER three-tone grey A4 Class Locos No.2509 "Silver Link" (one requires attention to hand rails and has mark to Tender sides), 5 x matching livery First Class Passenger Coaches with silver Jubilee coachboards to sides - conditions range from generally Good to Excellent.
OO Gauge Ever Ready TG10 battery operated underground Train Set consisting of Power Car, 2 x Trailer Cars plus circle of track and battery controller - conditions are generally Good in Poor to Fair box complete with insert and instruction leaflet attached to inside of lid.
Any translation using Google translate is a guide only - its accuracy cannot be guaranteed and it is used at your own risk.
These were built from kits for N class engines made at Woolwich Arsenal after WW1 to relieve uemployment.
In this form it appears as if it was a portion off a train from London Waterloo to the south-west, the portion destined for Lyme Regis which was always detached at Axminster in the days of steam.
Our model has the correct type of locomotive, a push-pull fitted Ivatt Class 2 2-6-2T, and runs in and out of the bay platform at Chinley station. 1000 is a Hornby Railroad model that many modellers shun because of its apparent simplicity. In this picture it is posed on the Duffield layout that belongs to the Mickleover Model Railway Group (MMRG). 5007, 2 x blue and yellow Daycars, blue Transcontinental Operating Mail Coach, 2 x silver and red Transcontinental Passenger Coach (Day Coach and Vista Dome), 7 x Brake Cars, 2 x Speedy Service Box Car, 2 x red Shell Bogie Tanker, Express Delivery Gondola, red Operating Oar Wagon, Refrigerator Car. 6 "Percy", R104 Cattle Van - conditions Good to Good Plus in Fair to Good boxes, unboxed 0-6-0 Thomas the Tank No.1, Annie and Clarabelle Coaches, 2 x Troublesome Trucks (Box Van and Open Van), Brake Van and Tidmouth Milk Tanker - conditions are Good to Good Plus.