10.04.2014
The Columbia University Department of Art History and Archaeology is located on the 8th floor of Schermerhorn Hall.
Five bus lines (M4, M5, M11, M60, M104) and one subway line (the No.1 Bronxbound local) serve the Columbia neighborhood. Take the New York Thruway (I-87) or the New England Thruway (I-95) south to the Cross Bronx Expressway (I-95) in the direction of the George Washington Bridge. Take the Long Island Expressway or the Grand Central Parkway west to the Cross Island Parkway north.
Trains to New York arrive at Grand Central Station or Pennsylvania Station, while buses stop at the Port Authority Bus Terminal, where a visitor can take either public transportation or a taxi north to the campus. For visitors coming into LaGuardia, Kennedy, or Newark airports, taxi service is available to the campus (about $20 from LaGuardia, at least $40 from Kennedy), and there is bus service to Grand Central Station and the Port Authority Bus Terminal. The 512-520 Garage is located at the corner of 112th Street and Amsterdam; the Riverside Church Parking Garage is located on 120th Street between Claremont Avenue and Riverside Drive. Bus service directly from LaGuardia airport to Columbia, the M60 city bus, is also available.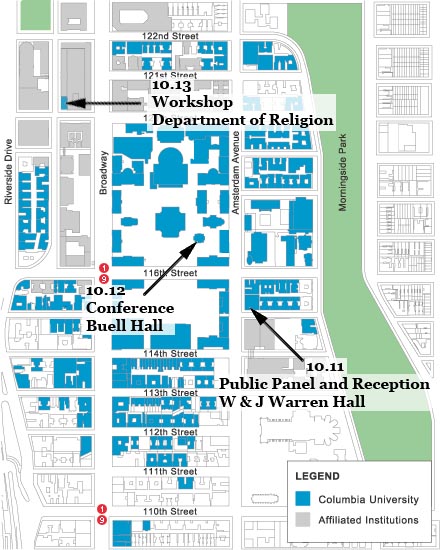 Exit the Parkway at West 95th Street and Riverside Drive and follow the directions from Riverside Dr.