23.04.2015
Product DescriptionThis is the DT-3 Single-Direction Grade Crossing Detection Unit from Circuitron. Single-direction unit for crossing where bi-directional detection is unnecessary, such as a mainline with trains traveling in only on direction.
Product FeaturesKit provides a realistic "rotating beam" effect with moving parts or mechanical assemblies.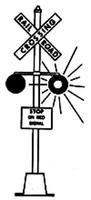 Bulb rapidly ramps up to full brightness, then slowly dims to give the illusion of a rotating beacon. This gives a more realistic look to any lighthouse, rather than using a permanent "on" or flasher-type bulb.