23.07.2014
The cookie settings on this website are set to 'allow all cookies' to give you the very best experience.If you continue without changing these settings, you consent to this - but if you want, you can turn cookies off on this website by clicking here. Hornby OO Gauge Tank Locomotive 0-6-0 GWR green, together with 9 x assorted unboxed Coaches, Shell Tank Wagon, Kellogg's Van, Fine Fish Van, North Stand Limited Fish Docks Grimsby, A. Hornby Dublo 0-6-2 Tank Locomotive repainted black Southern 2752, mechanism converted to 2-rail, Hornby Coach converted to a BR(W) Parcel Service Railcar, various Hornby Dublo boxed Accessories including 2 x 2450 buffer stops, 2 x 2711 6 half-rails curved, 2710 curved rails, 2701 12 straight rails, D1 loading gauge, 2735 diamond crossing and 2734 diamond crossing, various switches and other items. A collection of assorted railway related Books and Ephemera including books: V2 Class Green Arrows Super Profile, Model Railways on a Budget by Cyril J Freezer, From Shedmaster to the Railway Inspectorate by Christian H Hewison and The Deltics A Symposium by Cecil J Allen and GF Fiennes, and others, a photocopy of a North Eastern Railway Report on the proposed electrification of the mainline from York to Newcastle dated June 1919, a folder containing various learning materials relating to the Stockton and Darlington Railway issued by The University of Newcastle, Triang Hornby Minic Edition 15 catalogue, framed slogan "What separates the men from the boys is the price of their toys", a print of Deltic with headboard The Flying Scotsman, various railway photographs (most appear to be copies), various other booklets, first day cover of The Liverpool and Manchester Railway, railway coasters, book Everybody Family Doctor in box with LNER paid stickers to end, reproduction LNER poster of The Grand Hotel Scarborough and a modern LNER Mallard commemorative plate.
Hornby Railways OO Gauge R316 Class 47 Diesel Lady Diana Spencer 47712, Excellent, box Good Plus and R157 BR Diesel Power Car and Trailer Coach set, both Excellent, box Good to Fair, showing some signs of water damage, together with R075 Class 47 Diesel repainted, box Good to Fair. Hornby Railways 5 x Diesel Outline Locomotives: R068 BR Class 25, blue, R072 BR Class 25 D7063, blue, R758 BR Hymek D7063, blue, R348 Class 37 Railfreight, grey and R337 Class 29, blue, generally Good Plus to Excellent, boxes Good.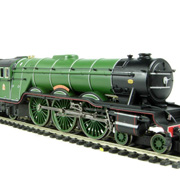 Dapol OO Gauge D14 Class 56 Diesel Locomotive West Yorkshire Enterprise, Railfreight 56075, grey, Excellent, box Good Plus, Airfix 54101 A1A-A1A Class 31 Diesel BR 31126, overpainted, 4 other Diesel Locomotives in incorrect (Lima and Hornby) boxes and 2 x Hornby Dublo 2750 hand-operated points, both boxed. Hornby Railways 4 x Steam Outline Locomotives: R099 LNER A4 Pacific 2512 Silver Fox, Excellent, box Good to Fair, R855 LNER Pacific 4472 Flying Scotsman, Excellent, box Good, Battle of Britain Class Southern 21C 155 Fighter Pilot in Golden Arrow livery and Streamlined Coronation LMS 6222 Queen Mary, blue, both the latter 2 are Excellent, boxes Fair, incomplete and lacking identifying labels from end. Hornby Railways OO Gauge 4 x Steam Outline Locomotives: R378 4-4-0 LNER 2753 Class D49 Cheshire, R055 2-6-4 LMS 2300 Tank Locomotive Class 4P, maroon, R303 BR 6005 King George II, green, R380 4-4-0 Southern 928 Schools Class Locomotive Stowe, generally Excellent, boxes Good and R360 BR Class 86 Electric Locomotive Phoenix 86219, blue, Excellent, box Good.
Airfix OO Gauge 5 x 54201 Intercity 1st Class Open Coaches, GMR (Airfix) 5 x 54206 BR Mk.2 Open Coaches, generally Excellent, boxes Good to Fair, Dapol 3 x B507 Blue Spot Insulated Fish Vans, Lima Regional Railways DMU Power Car, Central Coach and Trailer Coach, all Excellent, unboxed, Scot Rail DMU Trailer Coach, boxed and 12 x assorted Continental Outline Goods Wagons by Piko, generally Excellent.
Trix HO Gauge 24361 Container Wagon with triple Hoyer liquid containers on DB Cargo Wagon and 24330 similar Hoyer with 2 x containers, both Near Mint, boxes Excellent; Roco 2 x 66793 SBB Low-Sided Wagon with large container load, both Near Mint, boxes Excellent, Hag Coop Rail Shop with pantograph, Roco SBBCFF Buffet Car with pantograph, SBBCFF all 1st Corridor Coach, orange livery, all Near Mint, 6703 twin pack of SBB Goods Wagons with telescopic opening, small number of assorted loose unboxed Wagons and Locomotive Bodies, generally Excellent. Hornby a collection of assorted Passenger Coaches and others including 6 x Scot Rail, 2 x Intercity 125, 2 x Intercity, 8 x LNER including 2 x Sleeping Coaches, generally Good Plus to Excellent, unboxed, together with Toplink R367 Class 91 BR Intercity Diesel Sir Henry Royce, Excellent, box Good, another similar locomotive St Nicholas, Excellent, unboxed, R739 Operating Breakdown Crane, Excellent, box Good Plus, Triang R357 A1A-A1A Diesel Electric Locomotive D5572, Excellent, box Good to Fair, together with 2 x power controllers, empty boxes, assorted Wiking HO scale cars, assorted wagon loads and other items.
Glassware a collection of assorted commemorative railway related Glasses and Tankards including North Yorkshire Moors Railway, London & South-Western Railway 150th Anniversary, North Norfolk Railway 1887 - 1987, Armada 400 1588 - 1988, Ffestiniog Railway, Eurostar, Great Eastern Railway and others, 15 in total, together with a commemorative Plate The Royal Highland Fusiliers Regiment 1678 - 1978.
Hornby Railways OO Gauge R410 Operating Turntable and R404 Operating Ore Wagon Set (lacking wagon) otherwise both Excellent, boxes Excellent, together with a small collection of Catalogues and other paperwork including track plans 3rd and 5th editions, catalogue 1978, catalogue 1979, catalogue 1977 and Hornby Railways 29th edition 1983 catalogue, all Excellent.
Hornby Railways OO Gauge 2 x R743 GWR Composite Coaches, 2 x R232 Operating Ore Wagons, all Excellent, boxes Good Plus, R512 Booking Hall, R629 Level Crossing, R515 Waiting Room, R019 Plate Wagon, R102 Mineral Wagon NCB, R518 Signal Box, R505 Water Tower, generally Excellent, boxes Excellent, together with a Lima Tarmac Hopper Wagon, Mainline ICI Ammonia Liquor Tank Wagon, both Near Mint, boxes Excellent and 10 x Merit Accessory blister packs on cards including cycle and stands, coal man and scales, fog man hut and brazier, track signs, electric trolley, trailers and drivers, and others, all Excellent, boxes Excellent. Bodell Coal Van and others, together with Intercity 125 Diesel Locomotive 43010 with Dummy End No.43011 and 4 x Intercity Coaches blue and silver livery, together with a Hornby 900 Power Control pack and track, generally condition Good.