25.05.2014
See the article in Model Railroader (October, 2008) part 2 of Expand you layout in just 4 weeks, for ideas on how to run your wiring.
But getting it all to work made me go with Peco code 55 for my next layout, despite the looks.
I noticed the code 55 turnouts seem to only be for use with undertable switch machines or ground throws. I'd used Peco code 55 track on Tehachapi III, and liked it very much, so I was planning to use it again. They worked well with the code 55, but stuck out too far from the track to be used in yards.
I put a small piece of cork under my ground throws so that the bottom of the ties and the ground throws are the same height.
To install them I put the throw arm straight up and centered the points of the turnout and then placed ground throw into position using track nails. Then I saw Atlas's new code 55 flextrack and was smitten.The Atlas ties were considerably smaller than Peco's and spaced closer together, making the Atlas track more realistic.
I use some Goo between the cork and the ground throw after Ia€™m sure that the position of the ground throw is correct.
Peco's track was well made, sturdy, and reliable, but since I was virtually starting over, I decided to convert.
I'm happy I did, but I ran into a couple of challenges you should know about, if you don't already. Soon after Atlas code 55 was introduced, modelers discovered that Micro-Trains cars made a little tickety-tick sound as they rolled along because the flanges were bumping on the molded spike heads. This wouldn't have been such a big deal with other brands, but these were Micro-Trains cars, revered among most N scalers as leaders in realism.This compatibility problem was compounded by the fact that Micro-Trains trucks were also sold separately, and many N scalers used them to replace the trucks that came with some other brands of rolling stock. Micro-Trains trucks were extremely free-rolling, and if you bought the trucks that came with couplers attached, swapping out trucks was an easy way to convert equipment to the popular Micro-Trains couplers.The wags among us call Micro-Trains wheels "pizza cutters" because of their large flanges. Modelers who wanted a more realistic wheel profile could replace them with smaller-flanged wheels. Also, this combination rolls even more freely than a stock Micro-Trains truck.In the meantime, Micro-Trains continued releasing cars with the large flanges, but also began including a set of its low-profile wheels for those who wanted to switch. The company is no longer doing that, and instead has introduced a new wheel with mid-sized ­flanges. The last two Micro-Trains cars I bought have these, and they look and run great on Atlas code 55 track.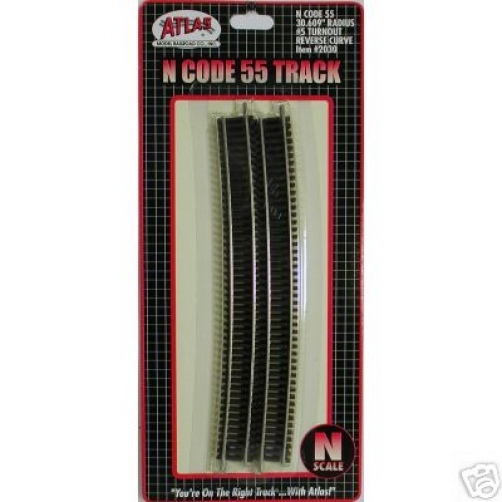 I also discovered that my locomotives were derailing on the Atlas code 55 turnouts, and all the filing and tweaking I did on the points, frogs, and rail joints didn't help.
It was heartbreaking to watch a beautiful new Kato SD40-2 roll smoothly into a turnout and then flop over on its side.Finally, the lightbulb over my head switched on. If the turnouts check out with the National Model Railroad Association standards gauge and all my cars go through them just fine, then the problem has to be with the locomotive. Usually I can move the drivers by twisting with my fingers, but if they prove stubborn, I use a gear puller.
On others, you'll find a tab at one end that can be disengaged with a small screwdriver.This has been an exasperating business. I still have many locomotives to go, but I've gotten better at it and it goes more quickly now. I have it down to about 30 minutes per unit. The best news is that some of the engines I've bought recently haven't had the problem, which means the manufacturers may have caught on to it and are correcting.