02.05.2016
Note from Editor: The core of this article appeared in the South Eastern Pennsylvania Garden Railway Society newsletter in September, 2004.
Compound means a system that uses steam twice, with one set of pistons larger than the other. Simple articulated means an articulated locomotive that sends the same pressure to all cylinders. Even with large and efficient Mallets, the railroads found a few drawbacks: 1) back pressure caused the front cylinders to lose efficiency over 15-20 mph, 2) the large cylinders and small wheels limited counterweights to balance wheels at lower speeds, and 3) the huge front cylinders meant the railroads needed larger tunnel clearances.
In 1919 the Pennsylvania Railroad designed a large Simple Articulated that was ahead of its time: when it was used at the front of a train, it broke the couplers far too often.
The quest for high power and high speed culminated in the Union Pacific's Big Boy (below), a huge 4-8-8-4 that could run 70 mph with heavy trains. In the 1940's the Pennsylvania Railroad experimented with the idea of building engines with four pistons instead of two, so that the reciprocating machinery could be lighter and thus capable of higher speed. Several coal-hauling railroads attempted to develop new types of locomotives to use coal as fuel. Union Pacific's Big Boy is often called the largest locomotive ever built, but even if it wasn't the biggest, it was certainly one of the best. Union Pacific's Challenger 4-6-6-4 was just as fast, although not quite as large or powerful.
Norfolk and Western's Class A 2-6-6-4 was a fast, powerful, efficient locomotive used for both freight and passenger trains. The Norfolk and Western's Y-class (2-8-8-2) and A-class (2-6-6-4) locomotives were featured in many fine photographs taken by O. The Southern Pacific owned more articulateds than anyone else, 207, including 195 Cab Forwards. Chesapeake and Ohio's tough-looking Allegheny 2-6-6-6 was possibly the most powerful steam locomotive ever built.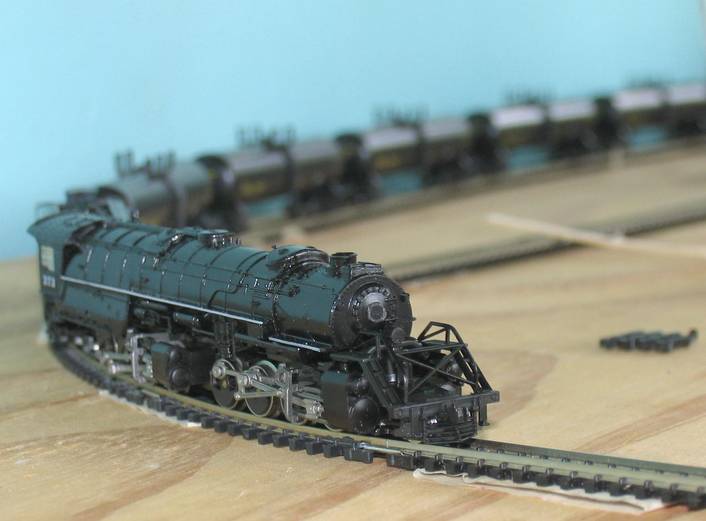 HO and N have had many mallet models for decades, including Big Boys, and 2-8-8-2s patterned after the N&W Y-series engines. Bachmann's Large Scale 2-6-6-2T represents a number of industrial locomotives that were used throughout North America, especially on mining lines, where the trains were short and slow, but often very heavy. The following locomotives represent several "common carrier" mainline locomotives that kept up regular operations as late as 1960 on major railroads across the country. AristoCraft's 1:29-scale 2-8-8-2 is based on a USRA-style Mallet that was popular with many lines, especially the Norfolk and Western. USA Trains' 1:29 take on the Big Boy is die-cast, 57" long, and about 4X as expensive as the other locomotives on this page. Bachmann's On30 2-6-6-2 represents the lightweight articulates that ran on logging, mining and other industrial railroads between 1880 and 1930. Note: Several of the Bachmann On30 articulated locomotives are currently being offered at discount by vendors at Amazon. MTH's O-31-capable Allegheny, Challenger, Y6b, and Cab Forward locomotives are die-cast for excellent traction and pulling power. The following Amazon links take you to some of the Bachmann On30 2-6-6-2 models to help you see what variety is available. All listings sold via Auction are subject to a 15% Buyer's Premium which will be collected at checkout.
They were huge and powerful and looked like articulated engines, but actually had a rigid wheelbase.
They were not considered a successful design because of maintenance problems; and they were all retired within 6 years. The Pennsy tried with a locomotive that had a turbine mounted directly to the running gear.
During WWII, N&W had an excess of them, and other railroads were running low on working locomotives, so these found their ways to several other lines for a time.
The Triplex was designed to handle huge freight trains, at a time when freight cars and couplers weren't designed to withstand the kind of pulling power the Triplex could offer.
All information, data, text, and illustrations on this web site are Copyright (c) 1999, 2000, 2001, 2002, 2003, 2004, 2005, 2006, 2007, 2008, 2009, 2010, 2011, 2012, 2013 by Paul D. The Norfolk and Western had plenty of need for high-power low-speed locomotives, so they continued to develop their Mallets into successively better locomotives right up to the late 1950's. Then the Great Northern built a Simple Articulated with larger drivers that could run at much higher speeds. The freight version was the Q-2 4-4-6-4, the longest and most powerful steam locomotive in the world. The Norfolk and Western tried with the "Jawn Henry," in which the steam turbine powered a generator which sent power to traction motors at the wheels. This explains why some of the models are labeled for roads that never ordered these from the factory.
This was the "drag freight" era for railroads, where speed was not as important as train length, and the Mallet fit in nicely. Several railroads, including the Reading and B&O, converted their existing Mallets into Simple Articulateds. None of these designs worked well enough to compete against the diesel-electric locomotives that were already replacing steam. This model is 45" long counting the tender (which comes in Vanderbuilt or "ordinary" style depending on the road name).