16.11.2015
The Transit Tourist takes a look at other transit systems across the globe from the first person perspective of a visitor. Last year, Fred Camino inaugurated The Transit Tourist series with an excellent post about his trip to London. So without further ado, here are my thoughts on transit in New York City using Fred's categories. Two of the three major airports serving the New York area can be reached by train plus a people mover; the other airport, LaGuardia, is served by several bus lines. Overall, my city-to-airport trip was pretty typical for the city as a whole — you can expect to take at least an hour to get to JFK from Manhattan or places near transit in the other New York boroughs. Like many transit agencies across the country, New York's MTA has had to raise fares recently to make up for recession-endued budget problems. Transit riders can obtain MetroCards for free and add value to MetroCards at ticket vending machine. In lower Manhattan, only a fraction of stations -- those above -- are fully accessible to New Yorkers with disabilities. By contrast, the Metro Rail system is completely accessible to people using wheelchairs — every station has either a ramp or elevator to reach the station platform. Another thing worth noting is that New York is still in the early process of adopting real-time arrival displays and automated station announcements. While Fred had a particularly positive experience in this regard in London, I can't say I had much interaction with customer service.
I will say that when I needed to lug my suitcase through a service gate en route to JFK, an attendant was on hand to buzz me through — without the horrible alarm going off.
An airport rail connection that gets the job done, although many trips from JFK Airport to the city will require at least two transfers. The city's leadership has embraced trying new things to get the most out of its existing system, in particular by turning over space formerly dedicated to cars to transit vehicles, bicyclists and pedestrians. The station facilities were in pretty rough shape — lots of trash, dirt and weird smells. The subway system fails to accommodate passengers with limited mobility in a meaningful way.
At the end of the day, New York transit shows that the value of a transit system is measured in how quickly you can get to your destination safely, comfortably and affordably.
I'm an LA transit optimist, and having just gotten back from an NYC venture myself, I noticed a few other things. First, a lot of small subway stations don't have a platform that allows you to cross from one side to the other without returning to street level.
Third, I only took a few bus rides, but in every case the bus was at least a few minutes late, and in one case it was so late I ended up taking a cab instead. What can Metro learn from how these other systems treat the uninitiated – and often bumbling – tourist?
It was pretty much the same one I rode during my last trip in 2009, but it was interesting to see how it works in a new, more critical light — that of a transportation planner-in-training.
Tourists generally have different needs than the daily commuter, but my feeling is that when a tourist's needs are met a transit system is doing a good job at two things: providing an easy to use system that also serves many destinations.
The train ride from Brooklyn involved a trip on the L Train, a free transfer to the A Train and a hop onto the AirTrain people-mover.
It offers frequent service, 24-7, on lines and stations that blanket most of the city's core.
But I was surprised and dismayed to see how inaccessible the majority of stations are to individuals with limited mobility, i.e.
No American city can compare with the mobility this transit system offers the average commuter. Metro does a good job on the latter three in my book, and the Measure R transit projects will expand the number of destinations within quick access.
Metro has implemented this on the Orange Line, but what about all the other Rapid Bus lines? In other words, if a system works for an outsider, it's probably going to work for local residents as well.
Typically, traveling into the city is not a problem even at that time, because most of the New York transit system runs 24 hours a day. The whole trip took about 1 hour and 15 minutes, door-to-terminal, and cost $2.25 for the L and A trains and another $5 for the AirTrain. Even adding another 30 minutes for the free shuttle would get you to the airport in the same amount of time, covering roughly the same 15 miles for only $3. Unlimited weekly and monthly passes cost $29 and $104 respectively in New York City, compared to L.A.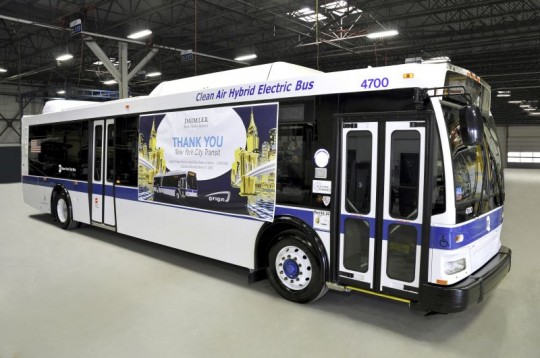 This map [PDF] from Just Urbanism shows how limited the system is if you aren't able to spring up flights of stairs. The system offers a variety of service levels, including local, limited stop and express service.
Bringing that design emphasis to bear on existing and future stations will go a long way towards convincing more Angelenos to embrace public transit. There was a hitch, however: The AirTrain people mover that connects the airport terminals to the train system was shut down overnight for scheduled maintenance.
To add another layer of complexity to the comparison, Angelenos have the option of buying an $84 monthly EZ Transit Pass that works on 24 different transit operators in the greater L.A.
The one thing, however, that struck me on this visit is how much the system is showing its age.
Angelenos would probably recognize this type of bus rapid transit service as something like a cross between the Wilshire Rapid and Orange Line. The poor state of affairs really reflects more on America's general underinvestment on transit, than on New York MTA.
Orion's history of innovation continued with the introduction of lithium-ion energy storage technology for series-production buses in 2008.
The new development reduced the weight of the brand's buses, thereby further improving fuel economy. The system powers the bus with a 6.7-liter diesel engine, a generator, an electric motor, and a lithium-ion energy storage unit. The components are arranged in series and were configured especially for the Orion VII hybrid bus. Acceleration and deceleration are accomplished by varying the speed of the electric motor rather than the diesel engine.