26.01.2015
Boardwalk Empire returns for its second season September 25th and HBO's promoting the prohibition era drama with a literal trainload of advertising. The nostalgia ride will be around for four weekends, running through the 25th of September, and will stop at 96th, 72nd, and Times Square-42nd street stations only. The Village Voice, reluctantly seduced by the gambit, is also excited to learn that "brand ambassadors" will be giving complimentary MetroCards away on the weekend of the show's premiere. City Room looks at how New York City Transit uses Twitter to post service updates, information on weekend maintenance, and even trivia about the nation's largest subway system. Weekend updates on track and station maintenance keep riders informed about work that's very important to the quality and safety of their ride, but often felt as an inconvenience when they only see a notice posted in their station.
Supporting an ongoing effort like this requires an organizational commitment of staff, time, and resources.
If there is more of a human voice behind these updates, that's because they are primarily the work of a single human. To celebrate the holiday season, MTA New York City Transit runs a special 'Nostalgia Train' every Sunday through December and we managed to hook up with the vintage train at 53rd Street.
The train runs along the 6 Avenue (V) line between the Queens Plaza and Lower East Side 2 Av stations, and features carriages dating back as far the early 1930s, complete with archive adverts, rattan seats and porcelain-covered hand straps. The trains run along regular lines, so passengers can hop on and enjoy the ride for no extra supplement. Through its Twitter account, the transit agency is able to show people what's being improved in more detail, and at a less frenetic pace that complements the necessary notices in stations.
Sarah Kaufman, projects coordinator, provides information for most daily tweets and posts them herself, while Susie Dippel, deputy director, Corporate Communications, generally handles the weekend service updates.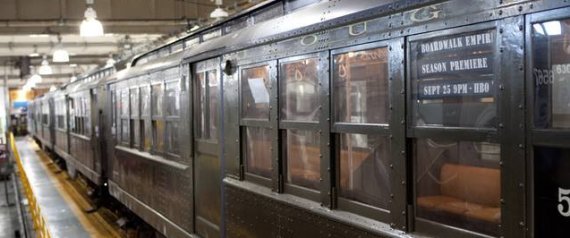 Originally operated by the Interborough Rapid Transit (IRT) system, the train began service back in 1917 and will once again be operational. The effort is managed by Paul Fleuranges, vice president of corporate communications at New York City Transit. Customers who have the opportunity to ride the vintage train will be transported back in time to the Prohibition era with authentic details such as rattan seats, ceiling fans and drop sash windows, as well as a custom branded interior featuring Boardwalk Empire-inspired period artwork.