20.04.2014
New York's City Hall station isn't open to the public, but in-the-know subway riders can still see its hidden beauty. As riders of the New York City City, we're all familiar with the rats and supposed mole-people, the trash and mold, and have come to ignore–or accept–the many unpleasantries of the NYC subway.
The original Interborough Rapid Transit Company pulled in artists to create civic works specifically to enhance the subway experience. You'd be sad to miss these cobalt blue faience tiles ornate with scrollwork and paterae at the ultra-modern Bleecker Street station. Catch these impressive terra-cotta reliefs at the Brooklyn Borough Hall station on the R train. The Astor Place station, named for John Jacob Astor, is adorn with ceramic beavers in honor of the wealthy fur-trader. Aside from these great ornamental textual signs, there are also miniature tile images of Christopher Columbus' ship, easily missed in this busy station.
For SubwayNut's complete documentation of the often overlooked 79th Street Station, click here.
This is only one of the five wonderful tile illustrations at the Fulton Street station but they were actually moved from the McAlpin Hotel and installed at Fulton Street in 1989.
Of course, we didn't forget the decommissioned City Hall station in Downtown Manhattan.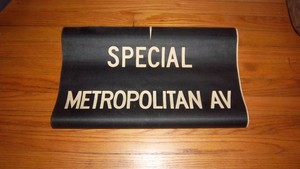 Artist Adam Chang took it upon himself to digitally illustrate every ceramic design at all 118 subway stops in Manhattan.
To find some of these on subway memorabilia,  see our 10 Geeky but Awesome Gifts for NYC Public Transit Buffs. Posted in Graffiti, Photography, Trains & Subways and tagged Bruce Davidson, Richard Sandler. DISCLAIMERWe do not condone, promote or encourage vandalism or destruction of property either public or private.
All it takes is patience: Simply stay on the 6 train instead of getting off at Brooklyn Bridge, the last stop. What we often forget is that the MTA had originally planned for a ride on the subway to be a luxurious experience, as evidenced by the glorious (and decommissioned) City Hall subway station.
At the time of the international Arts and Crafts Movement, architects and artists designed ceramic ornament for subway signage.
Above ground, there's a replica of the cast-iron subway entrances that once adorned every stop on the IRT line.
This photograph shows the station while under renovation, when original prototype tiles hidden away for more than a century were discovered. Read more about the tiles in our behind-the-scenes at the Fulton Center construction, as well as discover the cast-iron gate also moved from the hotel.
For more photos of the incredible tile work by Guastavino at this hidden gem, see our Touring the Old City Hall Station.
The train actually makes a turnaround through City Hall station as it starts its return trip uptown. By combining art and technology, New Yorkers back in 1904 had high hopes for their new underground.
The signs not only announced the name of the stop, but planners also hoped that color, design elements, and eventually illustrations would be recognizable by non-English speakers so that they could orient themselves.
His virtual tour project is called NY Train Project, which he plans to extend to the outer boroughs in the near future. Here's an old diagram showing its location in relation to the Brooklyn Bridge station.
Most of the tile designs were done by Heins & LaFarge (1901–1907) and Squire Vickers (1906–1942). For more on Adam Chang's work, see Beautiful Graphics of NY Train Project Celebrates NYC Subway Tile Mosaics.