12.09.2015
LaGuardia Airport (LGA) is the only major airport in the New York metro area without a rapid transit connection, and much of western Queens lacks easy access to the subway for local travel. The LGA corridor was identified as needing shorter term, lower cost transit improvements by area residents as part of the Bus Rapid Transit Phase II study in 2009. With this in mind, DOT requested and received funding from the Federal Transit Administration to conduct a LaGuardia Airport Access Alternatives Analysis. M60 SBS: This route would upgrade the existing M60 route to LGA on 125th Street and Astoria Boulevard to potentially include dedicated bus lanes, transit signal priority, off-board fare payment, limited stops, and low-floor, three-door articulated buses. Webster Avenue Select Bus Service to LGA: The proposed Webster Avenue Select Bus Service corridor in the Bronx would be extended on selected trips across the RFK Bridge and along Astoria Boulevard to LGA.
Guided by the goal of providing faster and more reliable transit to LGA at a low cost and within a short timeframe, the Alternatives Analysis identified Bus Rapid Transit (BRT) as the transit mode best suited to improving service to LGA. The transit market to LGA is comprised of numerous sub-markets, from air passengers to airport employees to local non-airport bus riders. The typical air passenger originates in Manhattan below 96th Street and currently travels by taxi or hired vehicle.
Airport employees travel to LGA from Queens neighborhoods close to the airport, Upper Manhattan or the Bronx. Bus riders on LGA-bound routes not traveling to the airport are also a key market because their regular ridership helps to bolster the frequency of routes serving LGA.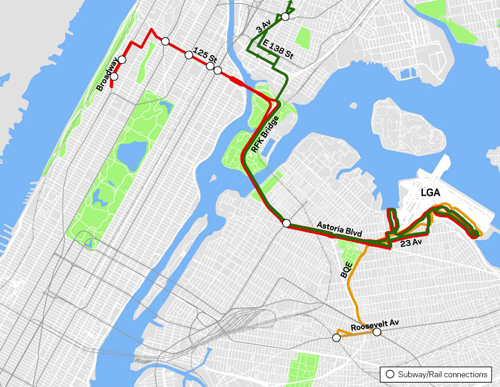 The study concluded that BRT with the standard MTA transit fare offering robust local and regional transit connections would be best positioned to serve the key markets traveling to LGA. As part of the Alternatives Analysis, DOT hosted a series of public meetings throughout the study to gather public input on transit needs and improvement alternatives. New York City Subway Line designs are printed on heavyweight 100% cotton short sleeve tee shirts.
The idea of providing rapid transit for the airport and the surrounding community has been studied many times over the years, but nothing has ever been implemented.
In particular, the area generates a high density of transit trips that are a long distance from the subway. The Alternatives Analysis began in May 2011, with a focus on improvements that can be implemented at a low cost within a short timeframe. DOT, MTA NYC Transit, MTA Bus, and the Port Authority of NY and NJ will work with local stakeholder to develop, plan, and implement these routes. M60 SBS would connect to twelve subway lines (1, 2, 3, 4, 5, 6, A, B, C, D, N, and Q) and Metro-North Railroad.
This route would be accompanied by adjustments to parallel local routes currently serving LGA, in order to improve local service reliability in Jackson Heights and East Elmhurst. This extension would provide a valuable connection to a major employment center for Bronx residents.
BRT has been implemented successfully in New York City under the Select Bus Service brand name on Fordham Road in the Bronx, on First and Second Avenues and 34th Street in Manhattan, and on Hylan Boulevard in Staten Island. To understand these markets, the study team collected and reviewed PANYNJ data, Federal Aviation Agency air passenger surveys, bus rider surveys, public outreach input, and interviews with representative airport employers. For example, nearly 10,000 daily riders of the M60 route are traveling entirely on 125th Street. DOT, in partnership with MTA NYC Transit, MTA Bus, and the Port Authority of New York and New Jersey, held a public meeting on the Alternatives Analysis on June 22, 2011. The corridor is currently served by the M60, Q33, Q47, Q48 and Q72 bus routes, but service on these routes is often slowed by narrow streets and long dwell times. DOT has worked closely throughout the study with the Port Authority of New York and New Jersey (PANYNJ), the Metropolitan Transportation Authority, and other City and State agencies.
The study concluded that leisure travelers are most likely to switch to transit if faster and more reliable service is available. Air passengers tend to value convenience when choosing a travel mode to the airport, particularly those traveling for business.