28.05.2015
An aerial view of the construction site, taken in July 2011, features newly planted trees and granite memorial pools. While few people chose to travel in pursuit of tragedies, occasionally a tragedy helps put a destination into meaningful context.
Viator is extremely proud to work with the non-profit Ground Zero Museum Workshop in New York City. I admit I had reservations about opening the museum and I thought perhaps nobody would visit, but I was so very wrong.
So this museum is not about me but about those who died and those who need to come here for healing.
Suson: Guests can hear 100 moving stories behind well-known images from Ground Zero, including images from the subway tunnels below WTC, the WTC Bible Page, Honor Guard images, K-9 Recovery Dogs and more. It is unfortunate that artifacts were thrown away on a daily basis at Ground Zero, so I sometimes asked permission to retain a few that appeared in my images. Viator: I read in the NY Times that you wandered the dark subway tunnels below Ground Zero by yourself.
A variety of shops, offices, a park, and the subway system will be open to the public as well. The museum is located in the Meatpacking District on West 14th Street, a short subway ride from Ground Zero itself. I no longer conduct tours as it isn't healthy for me, but I sit in from time to time and answer questions.
I was so heavily involved, both as the official photographer at Ground Zero for the uniformed firefighters association, and as a recovery worker, that I never really was on the outside looking in. I cannot turn a blind eye when I see someone is upset, so I often try to be strong for them. So many businesses were wiped out and many residents moved, leaving the real estate market in the doldrums. One of the problems with the rebuilding process has to do with engineering conflicts and the subway system.
It just so happens I was one of only two photographers in the world allowed full access to the WTC site, so I felt I must do something meaningful with the collection or it would collect dust.
Artifacts include WTC window glass, steel, a clock frozen at the second the first Tower collapsed, a calendar page from 9-11 and more.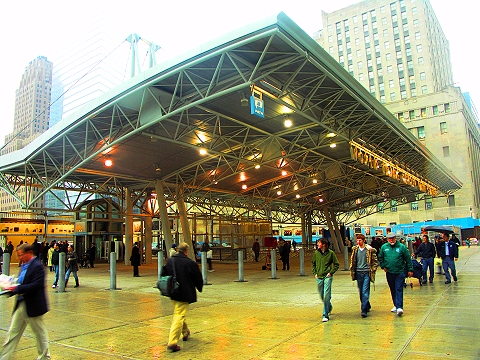 I remember one day in 2001, I was on the phone with my mom in Chicago, Sherry Suson, and she said, "I don't want you going down there any more! Port Authority Executive Director Chris Ward released a series of construction-site photos showing progress made since construction began. The attacks of September 11, 2001 are easy to overlook nowadays; almost a decade later, New York is healing, moving on, looking forward not back. If I ever felt there were no need for the museum to exist, I'd close it in a heartbeat, but as of today, people are still visiting us. The recovery workers at Ground Zero were unsung heroes as the public has no idea what they went through over 9 months trying to recover the remains of 3,000 victims.
I was so honored to be there and help out in any way and have tried to help others who were affected in a negative way.
However, recently there has been a surge in rentals and new businesses as people are realizing that the Battery Park City area can be great, once again. I am not personally involved with the politics of the rebuilding process, nor would I want to be.
A historical treasure trove of artifacts were disposed of and if I could turn back the hands of time, I would have asked permission to save more of them. I didn't come to New York City from Chicago for a photography career nor to be a museum curator. I am still attending school getting my Bachelors Degree in Fire Science and knew that when I finished EMT school I needed to fly to New York from Florida and see the Trade Tower site and feel the beauty and pain of the horrific day. Visitors are also allowed the rare opportunity to pick up and hold World Trade Center steel and window glass. I no longer lead museum tours, so I am happy we have a staff that communicates my message and experiences for me since I cannot do it anymore.
It is inspiring to me when I see the emotions conveyed by guests from UK to Australia to France to Germany to Holland. As a side note, having to carry around all these Ground Zero stories in my head was driving me mad, so I am happy they are now permanently recorded in the self-guided audio tour.
One day, I will release the video footage I shot down there and whoever views it will probably get freaked out.
Truth is, I am honored that I was able to use my early childhood training in photography to do something meaningful concerning a national tragedy.
As a Fire Fighter it gives you the closer and allows you to be apart of the amazing family and brother-ship that is in the world of a fire fighter. My mom preferred the old days when all I did was photograph our horses and dogs on our Barrington Hills, Illinois farm. 11 attack, a lift on a hydraulic jack hoisted the Subway restaurant up the signature skyscraper that marks the rebirth of the trade center's 16 acres. The museum shows a side of the recovery that is seldom scene and portrays patriotism at its finest. I toured the trade tower site and was impressed with the future plans they have and over joyed of the progress being made but still felt a sort of sadness and emptiness. Everybody knows what happened that day but they don't know what happened inside Ground Zero in the 9 months that followed. I then found Gary's museum and found a place of peace and suddenly everything made sense. The museum is set up in a small, cozy environment and there you listen to hundred of heart-felt stories and re-live the moment but in a positive way. There, they'll be stacked on a hydraulically powered platform near two cranes at the building's core. It was so nice and comforting NOT to see the towers fall and the pain in the faces that day. Visiting the museum that day changed my life forever and it was something I wasn't expecting!
But workers will have a view that keeps improving when they sit to dine atop One World Trade Center, the tower's future address. But after visiting this museum I learned that the 343 fallen fire fighters that lost their life in the line of duty that September day, went they way they wanted to, with the brothers, and their family, and doing what they LOVED!