15.03.2016
Minot Airport International Inn Arbys Taco Johns Minot Daily News Trinity-St. Iowa Interstate ES44AC 510 leads an SD38-2 and another GEVO down Subdivision 2, their rickety branchline from Bureau to Peoria, Illinois.
On the third day of 2008, the Iowa Interstate has brought their interchange down to the Indiana Harbor Belt and are taking headroom at the far east end of IHB's Riverdale Yard in Blue Island, Illinois.
In 2006, IAIS chariman Henry Posner III, owner of Railroad Development Corp., purchased two Chinese Class QJ 2-10-2 steam locomotives and shipped them to the United States. SD38-2 157 is poised and ready to depart from Iowa Interstate's Burr Oak Yard, their Chicago terminus in Blue Island, Illinois, with the west train, BICB. The Iowa Interstate shares its rails with numerous other railroads across its system: Metra from Blue Island to Joliet, CSX from Joliet to Utica, and the UP out in the Des Moines, IA area.
Iowa east train CBBI holds in Rockdale near the transition from CSX to Metra trackage, waiting for permission on into the city.
On the brink of sunset, Iowa's BICB road frieght sprints through New Lenox, Ilinois, operating over Metra trackage and passing under the former Wabash mainline, now also served by Metra's Southwest Service. BICB is out on time this evening, following the Metra rush out of the city, the train is just west of Tinley Park, IL running over Metra trackage. Western Illinois and Iowa have been hit hard by snow this winter creating amazing scenes like this. The frozen ice and snow begin to melt as the sun rises on this extra BIRI westbound in Bureau, Illinois.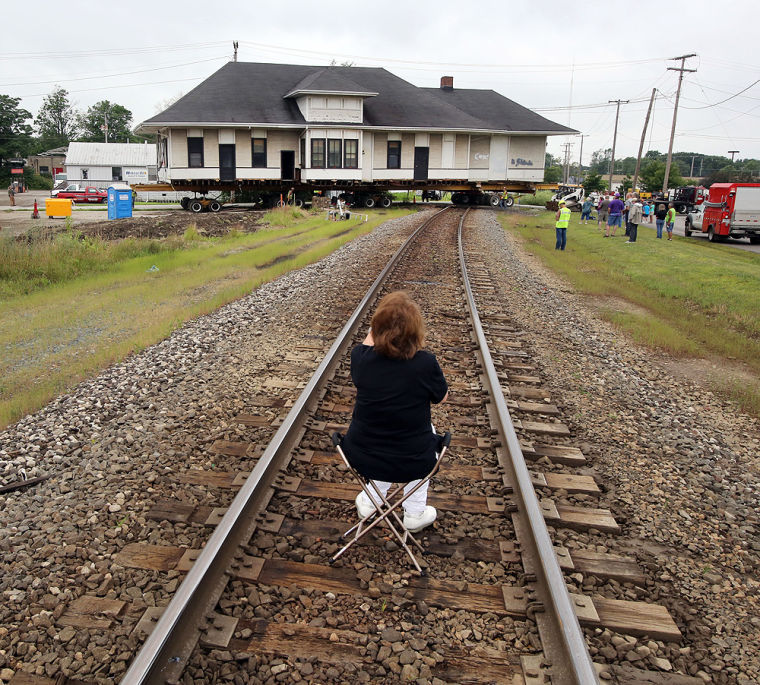 After several rocky years of bankruptcy and uncertainty, the old Chicago, Rock Island & Pacific turned its last wheel on March 31, 1980.
Most if not all of the jointed rail on this line dates back to the Rock Island days, along with their restored depot here in Chillicothe. With an IAIS Blue Island Switcher (BISW) crew, and a IHB pilot, they need to find a home for all 124 cars while an IHB pull down job and a CSX rack train patiently wait their turns. They arrived on the property in June of that year and have ever since graced the IAIS rails about once a year, operating various specials across the system. Also of note, IAIS Rock Island Heritage unit 513 is third out, making for a rather unique consist on April 4, 2010. Their is also a lift bridge in Joliet controlled by the CSX, and the crew on IAIS 712 is patiently waiting out the bridge tender.
IAIS 513 has the honors this evening, glinting brightly in her attractive Rock Island heritage paint. The train is slightly over powered this evening, due to congestion down on the IHB and Metra windows, the Blue Island Switcher was unable to get the bulk of the west trains traffic up into Burr Oak yard before departure. The crew just added 45 cars to their already mile-long manifest, and will shortly continue west toward Silvis, Illinois.
The new Iowa Interstate Railroad was formed on November 2, 1984 to operate the former Rock Island line between Chicago, Illinois, and Omaha, Nebraska. This is the Bureau Switcher (BUSW), normally operated with a pair of GP38-2's, they are using the big power on December 11, 2009 to retrieve a loaded coal train from the Tazewell and Peoria.
On Oct 18, 2008, the pair of 2-10-2's were called to service to operate a photo frieght, lugging IAIS's scheduled Iowa City to Rock Island (ICRI) manifest across Iowa. In modern terms, the IAIS shares trackage rights with the Canadian Pacific (old IC&E), and BNSF, from Rock Island, to East Moline, IL. Historic Route 6 parallels the IAIS's entire system from Blue Island, IL to Council Bluffs, IA, and used to be the quickest way to chase Rock Island trains back in the day, now adjacent Interstate I-80 is preferable in built-up western burbs of Chicago. Each photo should be no smaller than 14 inches (or 1024 pixels) across at 72 dpi (no verticals, please). Here we see the two steamers putting on a magnificant show, meeting IAIS's normal westbound Blue Island to Council Bluffs (BICB) road frieght at the east end of Walcott, Iowa. Here we see CP local B73 coming off the joint running in Rock Island, getting ready to pass through IAIS's former Rock Island yard and get back onto their own tracks on the other side of the Mississippi River. Join photographer Chris Lastovich as he takes us on a brief tour of modern IAIS operations. Oddly enough, the GP38-2 pictured is older then the steamers manufactured in 1985 and 1986.