24.10.2015
An official map of Boston's T system emphasizes subway and major bus routes together. Lest the regional rail feel slighted, they have a separate map emphasizing that system by itself, which they place in location where it's most useful, aka within the regional rail system. Stick these in every subway, elevated, trolley, and city regional rail station, and then we're talking! Although let's be honest, most people are trying to avoid a transfer whenever possible because of price and inconvenience.
Re the quadrants: if you see a big map with a listing of all the stations (ie on the platforms at 30th St) the individual stations are listed with their quadrants, presumably to make them easier to find on the map.
Nice to know that Broad Street is PA highway 611, and that I-676 cuts across town (though I hope you can't actually board a bus on the Vine Street Expwy), but irrelevant to SEPTA riders. I am horrifically late to this comment thread, but I absolutely agree with everything on here. In addition to support, we offered some little-known facts about the relatively robust extent of current overnight services, and wondered outloud if some better signage or other collateral might drive more would-be riders to overnight buses, trolleys, and late night weekend regional rail. SEPTA has a lot on its plate and, like us and other public agencies, is working with limited resources on a broad set of projects and policies.
Splitting the current system map into two, depending on where you are in the system: One emphasizing city transit, including major bus lines, and one emphasizing regional rail.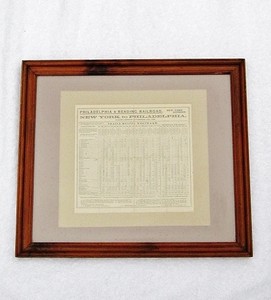 It's a great keep-at-home reference, but not a practical thing to post in stations or bus shelters. Center City District installed a first step of this recently at Center City stations, with exit signs indicating major landmarks you will encounter if you take this staircase or that one. They're supposed to help you find stations on the big map by telling you that West Trenton in the NE.
This got us thinking more generally about the way we disseminate and absorb transit information. None that we've found have ever tried to integrate major bus lines, which is the piece we think could really take City Transit station info to the next level. Hopefully, someday, SEPTA's budget or grant monies will allow for our transit system to take its wayfinding signage to the next level.
Rte 13 shield on Baltimore Pike that is several times larger than the SEPTA rte 13 trolley label on Chester Ave.
Most riders understand that on generic system-wide maps, a lot of complexity is ignored or distilled.
Our example is from Paris because we couldn't find a google image of one from New York City, where they are also ubiquitous. In the meantime, let us know what you think in the comments. Do you feel that this sort of information is what you've been missing?
Take the current map as an example, the five trolley lines final destinations are suggested by arrows, rather than spelled out. The idea is simple: allow people to get their bearings at platform or mezzanine level, showing the specific corners where the exits take you to the street, and any nearby bus connections or landmarks.
Is there some other aspect of the transit experience that you'd rather have hanging on a station wall?
Could a similar crowd-sourcing approach with the print design community yield equally smashing results when it comes to giving SEPTA's onsite maps and signs a fresh look?
Not enough, in any event, to make the interface of the regional rail lines with the subway lines the most important thing to put out there. For all we know, SEPTA might be doing this already, in which case we imagine we'll be speaking to them about it at some point.