14.12.2015
Kimmy + Garrett's bohemian woodland wedding was full of sweet moments + lots of lovely, one-of-a-kind details! Big thanks to Maharaj Photography for the gorgeous photography and congrats to Kimmy + Garrett! Our Favorite Memory From The WeddingWe decided that on our wedding day we wanted to walk down the aisle together instead of the more traditional procession of the bride and father. I love that the wedding has been designed around their shared interests of nature and you can really tell this from every aspect of the detailing – from the brides hair garland to her bouquet, the table decorations and the outdoor setting, it all fits perfectly together. Woodland inspiration is by far one of my favorites and when it comes to cakes, there are just so many creative possibilities.
We are very inspired by nature so we loved the idea of highlighting aspects of wild and untamed nature, as seen in the floral arrangements, decorations, and in our venue choice.
For this reason, our favorite moment was holding hands walking down the aisle and looking around at all of our closest family and friends smiling back at us. This is a bohemian wedding unlike any other and I love the fact they brewed their own beer – what a great personal touch! My husband and I commissioned a "birch bark" style cake for our wedding. It was absolutely gorgeous, but there honestly wasn't much time to enjoy it during the reception (gazing at it or eating it for that matter) and unfortunately the photographer didn't come away with any great photos of it either.
And Kimmy + Garrett walked down the aisle together, hand-in-hand, which made for a truly unique + romantic processional.
We are also inspired by simplicity and touch of the hand so all of the decorations were made by us and our closest friends. On the morning of our wedding we decided to participate in our every day yoga practice just the two of us and looking back, this time together was exactly what we needed.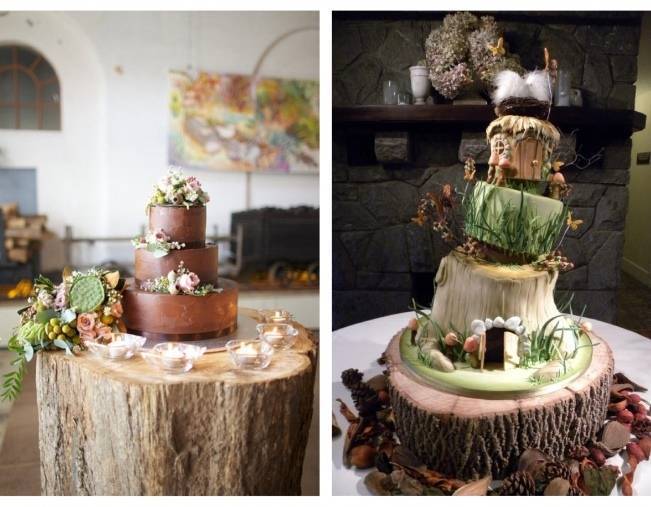 My advice to you, no matter what style your cake, would be to make sure you get some great photos so that you can enjoy the artistry that went into it, long after its gone.
I've collected here some of my favorite woodland cakes from around the web to inspire you – from little mushrooms and ferns, to mossy tree-stands and even magical little fairy houses built into the tiers.