08.05.2015
These are three types of zones in active directory 2008, which are forward lookup zones, reverse lookup zone and conditional forwarders.
Primary zone is the read write copy of zone, this mean that if this zone answers the query then it is an authoritative answer. To understand stub zone suppose you have users in your network which are continuously accessing your business partner's network, printer and other resources and this network is not manage by you. Creating primary DNS zone in active directory is straightforward, open DNS from Administrative Tool. Reverse lookup zone allows the client to get the name of the corresponding IP address by querying, in reverse lookup zone we can create the PTR (Pointer) again any host.
Notice that from China its taking 23.34 secs, while from any other country it takes less than 3 secs to load the page. After cursing The Great Wall; just as we were exploring options for hosting our server inside The Great Wall, we noticed something strange.
Hmmm…somehow the content served by our Windows Server is triggering a check inside the Great Wall.
Wait a sec….we serve our content via HTTPS, could the Great Wall be looking for keywords inside a HTTPS stream?
May be it has to do with some difference in the headers, since most firewalls look at header info to take decisions. Firewall settings on the Windows Server: It was easy to rule this out, since we had disabled the firewall for all requests coming from our Reverse Proxy Server.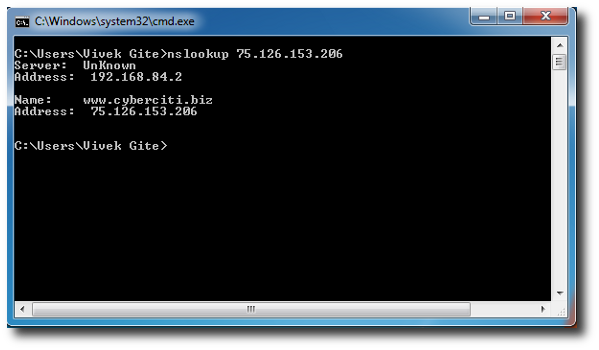 To verify this, we installed Wire Shark on our Windows servers to monitor Reverse DNS Lookup.
I found a piece of logging code, which was taking the User IP and trying to find its host name.
On further investigation, I figured that our Windows Server did not have any DNS servers configured for the private Ethernet Interface we were using, while Linux had it. Eliminated the useless logging code and configured the right DNS servers on our Windows Servers.
Lattu[Abbot] unable to access my RCP application on CI box At my previous client, we were using Lattu [Abbot] for testing RCP applications. Reverse Sourcing Yes I'm talking about Reverse Sourcing and not the tradition outsourcing. Windows Registry Hell Currently I'm developing a webApp, which is deployed using Tomcat 5. DATABASE ERROR CODE: 257 in SQL Server Of late, we have been getting the following error every now and then. Then right click on forward lookup zone and click on new zone, click next to start this wizard. In other word condition forwarder tells the DNS server that if you got the query for particular IP subnet then forwards this request to specific DNS server.
But then soon we realized the since traceroute and web access (http) uses different protocols, they could use completely different routes to reach the destination.
The actual content being served from Windows or Linux servers should be transparent to clients. Have the exact same content served by both Windows and Linux box and see if it made any difference. When he heard 14 secs delay, he immediately told me that it sounds like a standard Reverse DNS Lookup timeout. Besides if we did it in our code, both Windows and Linux Servers should have the same delay.
Just out of curiosity, one night, I search our whole code base for any reverse DNS lookup code.
Then it good to create a stub zone for these queries, which only contain the enough information to send your client to your partner's DNS so that other DNS resolve your client queries. On further investigation, we realized that all pages served from our Windows servers were slower by at least 14 secs compared to pages served by our Linux servers.
Interestingly the exact same content served from Windows server is still slow by at least 14 secs. Since our application does not have any country specific code, who else could be interfering with this?